Boris Johnson's Awkward News Conference With John Kerry
The U.K. foreign secretary was repeatedly asked about his past comments about President Obama and others.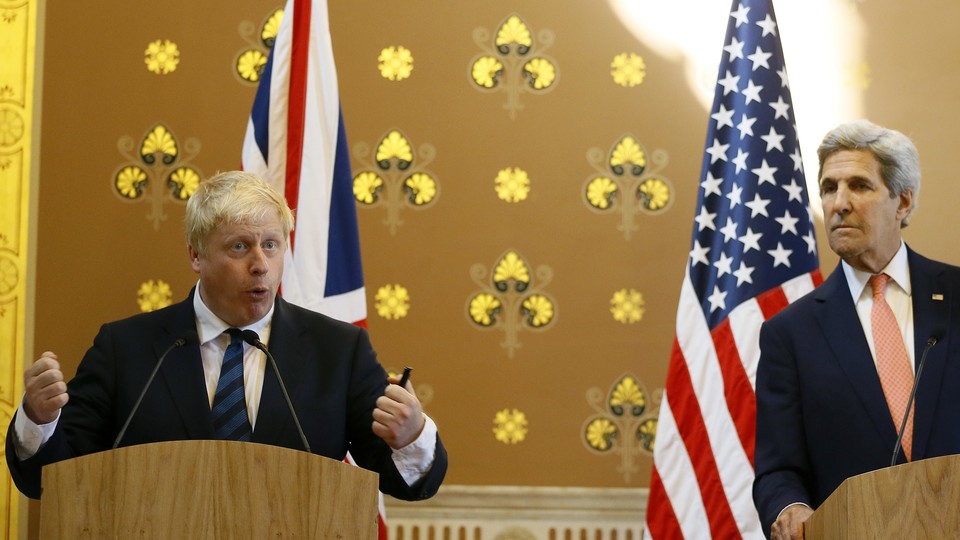 Boris Johnson is discovering first-hand the perils of the long career in journalism he used to skewer institutions, continents, and world leaders. Part of the first question to Johnson at his first news conference as foreign secretary:
"Can I give you the opportunity to apologize to the world leaders you may or may not have been rude to over the past 12 months, and ask what your strategy is to build trust?"
And that was from the BBC—the apparent home team.
The reporters from the Associated Press and The New York Times, who were traveling to London with John Kerry, the visiting American secretary of state, were far harsher. To wit:
You've accused the current U.S. president, Barack Obama, of harboring a part-Kenyan's 'ancestral dislike for the British empire' while claiming, I think, untruthfully at the time that he didn't want a Churchill bust in the White House. You've described a possible future U.S. president, Hillary Clinton, as someone with "dyed-blonde hair and pouty lips, and steely blue stare, like a sadistic nurse in a mental hospital.' You've also likened her to Lady Macbeth. Do you take these comments back or do you want to take them with you to your new job as some sort of indicator of the type of diplomacy you will practice?
And:
You have an unusually long history of wild exaggerations and, frankly, outright lies that, I think, few foreign secretaries have prior to this job. And, I'm wondering, how Mr. Kerry and others should believe what you say considering this very, very long history?        
Reporters from outlets in the U.S. and the U.K. each asked two questions, and each question contained some variation on one theme: Johnson. The foreign secretary, who led the charge for the U.K. to leave the EU, looked visibly uncomfortable as he chuckled and mumbled his way through the answers. At one point he responded:
There is a rich thesaurus of things that I have said that have one way or the other I don't know how that has been misconstrued. Most people when they read these things in their proper context can see what was intended, and indeed virtually everyone I have met in this job understands that very well particularly on the international scene. We have very serious issues before us today we have an unfolding humanitarian crisis in Syria that is getting worse. We have a crisis in Yemen that is intractable and a burgeoning crisis on Egypt and those are to my mind far more important than any obiter dicta you may have disinterred from 30 years of journalism.
TL;DR: I've said many things, but we have more important things to focus on. One of which was Turkey, the scene of last week's coup attempt and the home country of Johnson's paternal grandfather—a country Johnson apparently misidentified as Egypt in his reply.
The questions to Kerry, when they weren't about the U.K.'s decision to leave the European Union, or the U.S.-U.K. special relationship, or global trade, were about Johnson.
"In all your years as as statesman," he was asked by one reporter, "have you ever come across anybody quite like Boris Johnson?"
Kerry's reply was—how to put it—diplomatic?
"I've spent 28 years in the United State Senate, a year-and-a-half, two years, as a lieutenant governor. I was a prosecutor for many years. I ran for president of the United States, and I've now been secretary of state for three-and-a-half years," he said. "I've met everybody in the world like Boris Johnson—or not. I don't know even know what you mean: like Boris Johnson."
But his feelings about the questions directed at his counterpart are perhaps best summarized by this image:
Still, Kerry played the seasoned diplomat. He noted that Anthony Gardner, the U.S. ambassador to the EU, was a friend of Johnson's from Oxford.  He "told me this man is a very smart and capable man," Kerry said.
Johnson's response: "Fantastic, I can live with that ... Phew! We can stop there."
"It's called diplomacy," Kerry replied to laughter.
And for once the former journalist and London mayor, who reads Voltaire in French and sings in German, and drops Latin phrases like a very clever schoolboy, was without a fitting riposte.
"I think," he said, "we got through that one all right."