Bombings in Baghdad
At least 175 people were killed in attacks in the Iraqi capital Sunday.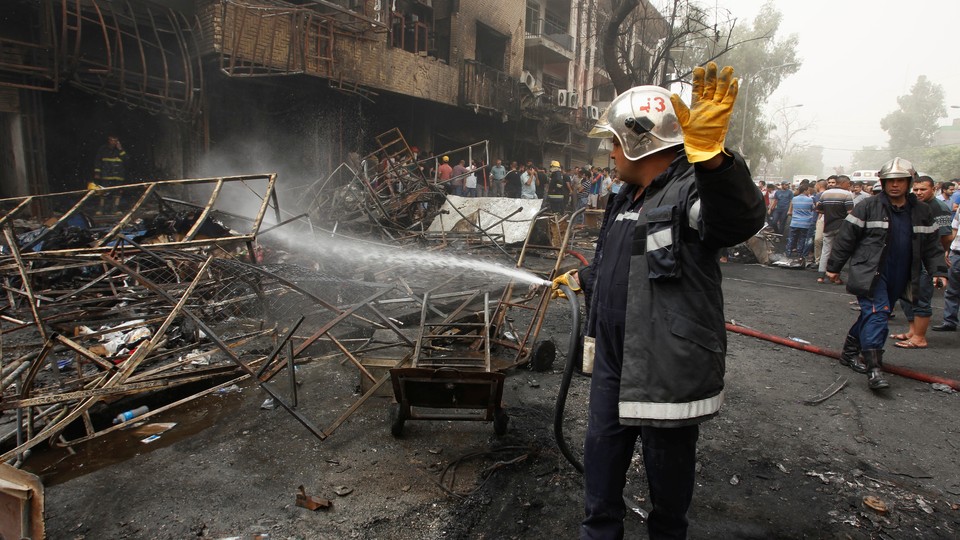 Updated July 5 at 5:40 p.m. EST
The death toll of a truck bombing in a crowded street in Baghdad rose to 175 on Tuesday, and more casualties are expected as rescue workers search for missing people in the charred rubble of a commercial building, according to the AP.
Other news outlets report the number of fatalities has topped 200.
The attack occurred in the Shiite Karrada district of the Iraqi capital outside a shopping center Sunday. A suicide bomber detonated explosives inside a pickup truck in front of the building, instantly killing dozens and wounding nearly 200. Photos from the scene showed the charred remains of the building, its front blown out, and the street in front of it.
The Islamic State terrorist group claimed responsibility for the attack in a statement circulated online, Reuters reported Sunday.
Rescue workers are still searching the debris of the building for bodies. People came to the site Monday looking for relatives and friends they knew were there at the time of the bombing. From CNN:
One couple at the scene was searching for their teenage son who'd gone to a cafe with his friends to celebrate his birthday.

Another man was looking for five of his relatives, including children, who were buying new clothes for Eid-al-Fitr—the celebration that marks the end of Ramadan on Tuesday.

A second attack Sunday occurred in Baghdad's northern Shaab area, when an improvised explosive device detonated, killing five people and wounding 16 others. No group said it was responsible, but ISIS is suspected.
The bombings are the latest in a string of attacks in Iraq and elsewhere during the fasting month of Ramadan. As this year's holy month approached, jihadist propagandists told their followers to carry out attacks against so-called "infidels."
The Baghdad attacks come days after ISIS militants stormed a restaurant in Dhaka, the capital of Bangladesh, and killed 20 people, mostly foreign nationals. And it comes one week after the Iraqi military declared the city of Fallujah, located about 50 kilometers, or 30 miles, west of Baghdad, "fully liberated" from ISIS after a weeks-long military offensive. Fallujah was the first Iraqi city to fall to ISIS in early 2014. At the end of that year, the militant group controlled about one-third of the country, but by 2016 had lost significant territory.