The Hundreds Arrested in Protests Over Police Shootings
Protesters and police clashed Saturday during demonstrations over police violence against African Americans.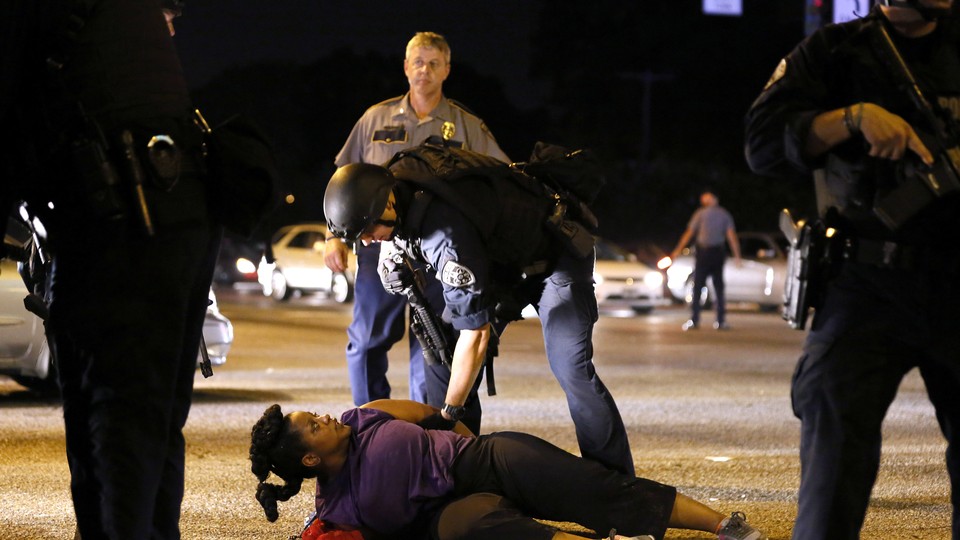 NEWS BRIEF
Protests against police killings of black men led to road closures, clashes with police, and hundreds of arrests in cities across the United States on Saturday night.
About 100 demonstrators were arrested each in Baton Rouge, Louisiana, and St. Paul, Minnesota, NBC News reported Sunday, the sites of two fatal shootings last week that have sparked widespread protests and renewed debate over racial disparities in American law-enforcement practices. DeRay McKesson, a prominent activist in the Black Lives Matter movement who ran unsuccessfully for mayor of Baltimore this year, was among those arrested in Baton Rouge.
It was the third straight day of widespread demonstrations after police shootings that occurred within a day of each other, and which were captured on video that was widely circulated online. On Tuesday, Alton Sterling, 37, was killed by police in Baton Rouge, where he was selling CDs in the parking lot of a food mart. Bystanders filmed his death on their cellphones. Sterling allegedly had a gun in his pocket, but it was not visible when an officer shot him. On Wednesday, Philando Castile, 32, was killed by police in Falcon Heights, a suburb of St. Paul, Minnesota, during a traffic stop for a broken taillight. Castile's partner, Diamond Reynolds, streamed the aftermath of the shooting on her cellphone using Facebook. In the video, Reynolds said the officer shot Castile after Castile said he was carrying a gun and had a permit.
On Thursday, the first night of nationwide protests, a gunman opened fire on police officers at a demonstration in Dallas, killing five officers and wounding seven others. The gunman, identified as Micah Johnson, a 25-year-old Army veteran who served in Afghanistan, was killed by a remote-controlled robot bomb after an hours-long standoff with police. Officials said Johnson said he was upset by the shooting deaths in Louisiana and Minnesota and "wanted to kill white people, especially white officers."
Protests took place Saturday night in New York, Philadelphia, Chicago, Nashville, and other cities. Dozens were arrested in New York and Chicago, CNN reported Sunday. In Baton Rouge, demonstrators chanted and carried signs that read "I can't keep calm I have a black son" and "am I next?" In St. Paul, dozens of people marched along Interstate 94, a major highway, shutting it down to vehicle traffic. Some protesters threw rocks, bottles, and other objects at police, injuring at least three officers, Reuters reported Sunday. Photos from the scene show police officers using pepper spray against demonstrators. Around midnight, police deployed smoke bombs in an attempt to clear the demonstrators blocking the highway.