An Attack in Bangladesh's Capital
The army says 20 people, all foreign national nationals, were killed. ISIS claimed responsibility.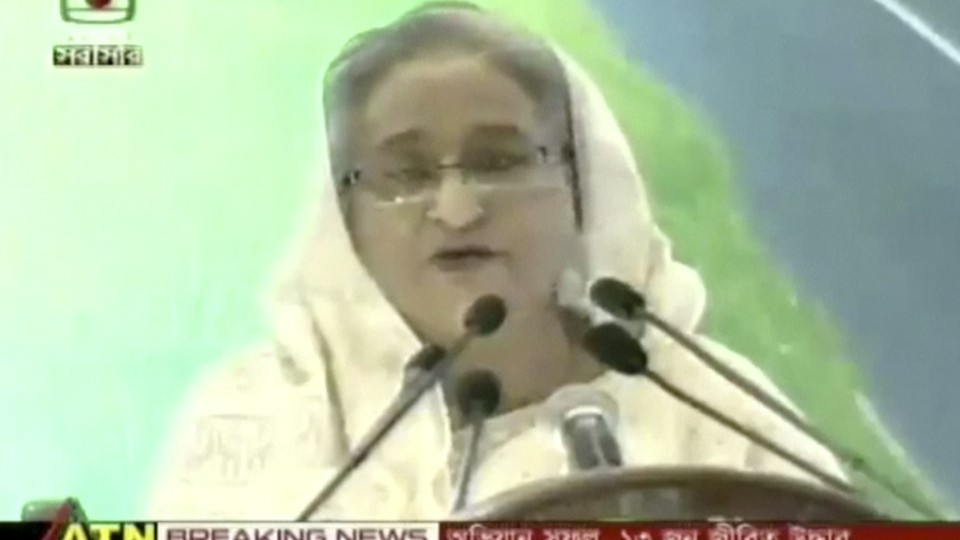 What we know:
—Bangladesh's army says 20 foreign nationals were killed in the attack on the Holey Artisan Bakery in Dhaka.
—The police raided the restaurant early Saturday morning after gunmen took multiple hostages there Friday night.
—Police officials said at least 6 gunmen are dead and 13 hostages are safe. At least two policemen also died during the standoff's early stages and another two dozen officers were injured.
—ISIS claimed responsibility for the attack, which struck in the city's diplomatic quarter.
—We're live-blogging the major updates, and you can read how it all unfolded below. All updates are in Eastern Standard Time (GMT -5).
---
7:22 a.m.
The Bangladesh military says 20 foreign nationals were killed in the attack, including, according to Italy's prime minister, several Italian nationals. Bangladeshi Prime Minister Sheikh Hasina called it "an extremely heinous act."
---
1:30 a.m.
Much remains unclear, but early reports suggest at least five bodies have been found, which may be those of the gunmen, and that the Japanese government says at least 12 hostages were rescued. The Associated Press has more details on the raid:
At least 35 people, including about 20 foreigners, were trapped inside the restaurant, said kitchen staffer Sumon Reza, who was among more than 10 people who managed to run to the rooftop and escape when the militants moved in Friday night.

With the sound of gunfire and explosions, local TV stations reported that the rescue operation began at 7:40 a.m. It included army personnel with automatic weapons and at least seven armored vehicles. Several ambulances were on standby.

Local media reported that an Argentine and two Bangladeshis were rescued from the restaurant early Saturday, but details about their condition were not immediately available.
---
Updated on July 1 at 10:56 p.m.
Details are scarce, but multiple news agencies report Bangladeshi authorities have launched an operation to end the standoff.
BREAKING: Gunshots, explosions heard as security forces move to end Bangladesh hostage standoff.
We'll update with more information when it becomes available.
---
4:56 p.m.
The U.S. State Department in a statement said the American Embassy in Dhaka had confirmed all its personnel were safe and unhurt. It said it was working to determine if U.S. citizens of Bangladeshi staff were affected. The statement said it was assessing ISIS's claims of responsibility for the attack.
---
4:14 p.m.
Harsha de Silva, Sri Lanka's deputy minister of foreign affairs, tweeted that at least two of the hostages may be Sri Lankan.
---
4:03 p.m.
In a subsequent tweet, SITE noted that Amaq, the news agency affiliated with the Islamic State, claimed multiple people had been killed. There is no independent verification of this claim.
---
3:36 p.m.
ISIS has claimed responsibility for the attack in Dhaka.
Police are negotiating with the gunmen who took over the restaurant in Dhaka.
Benazir Ahmed, the head of the city's anti-crime force, told the Associated Press:
"Some derailed youths have entered the restaurant and launched the attack. We have talked to some of the people who fled the restaurant after the attack. We want to resolve this peacefully. We are trying to talk to the attackers, we want to listen to them about what they want."
Meanwhile, police confirmed the death of a second officer, Rabiul Islam, the assistant commissioner of the detective branch Dhaka police.
---
3:25 p.m.
President Obama has been briefed on the unfolding situation in Dhaka, a White House official said Friday.
Lisa Monaco, assistant to the president for homeland security and counterterrorism, led the briefing and will keep the president informed as the standoff continues.
---
2:40 p.m.
Gunmen are holding around 20 hostages in Holey Artisan Bakery, a restaurant in the Dhaka popular among expatriates.
John Kirby, a spokesman for the U.S. State Department, told reporters Friday that the U.S. government has accounted for all Americans working at the U.S. Embassy in the Bangladeshi capital.
While the standoff is still ongoing, Salahuddin Ahmed, a deputy commissioner for the Dhaka police, was killed in the attack, the Dhaka Tribune reports. The BBC reports there could be as many as nine gunmen.
---
1:13 p.m.
Police and gunmen are exchanging fire at a restaurant in the diplomatic area of Dhaka, Bangladesh's capital.
Several hostages are reportedly being held, including several foreigners. Although it's unclear if there are casualties, several media outlets are reporting shootings. The Daily Star reports there are five assailants, who have allegedly thrown bombs.
Sumon Reza, a kitchen staff of Holey Artisan Bakery, who managed to escape said several armed assailants entered the restaurant around 8:45pm and took the chief chef hostage.

"They blasted several crude bombs causing wide-scale panic among everyone. I managed to flee during this confusion," he said.
After these reports, the U.S. Embassy in Dhaka tweeted:
Reports of shooting and hostage situation in Gulshan 2, Dhaka. Please shelter in place and monitor news.
Gulshan, the area of Dhaka under attack, is an affluent neighborhood that hosts many NGOs and embassies, including the U.S. Embassy.
Earlier Friday, ISIS claimed responsibility for killing a Hindu priest in his temple in southwestern Bangladesh.
Shyamananda Das, the 52-year-old priest, was hacked to death by alleged Islamist extremists while he was gathering flowers that would be offered in prayers. Gopinath Kanjilal, assistant superintendent of police in the Jhenaidah district, told CNN:
"Three men rode up on one bicycle. They were wearing helmets. They jumped off, attacked the priest, and then rushed away."
This is just the latest in a series of attacks against religious minorities and secularists in the predominantly Muslim, but officially secular, South Asian country. Das is the second Hindu priest killed in that district in the last month.
Bangladeshi authorities continue to deny that ISIS and its sympathizers are operating in the country.