A Call to Activism by Professional Athletes
Four NBA stars asked their fellow athletes to join the fight against racial injustices and police brutality.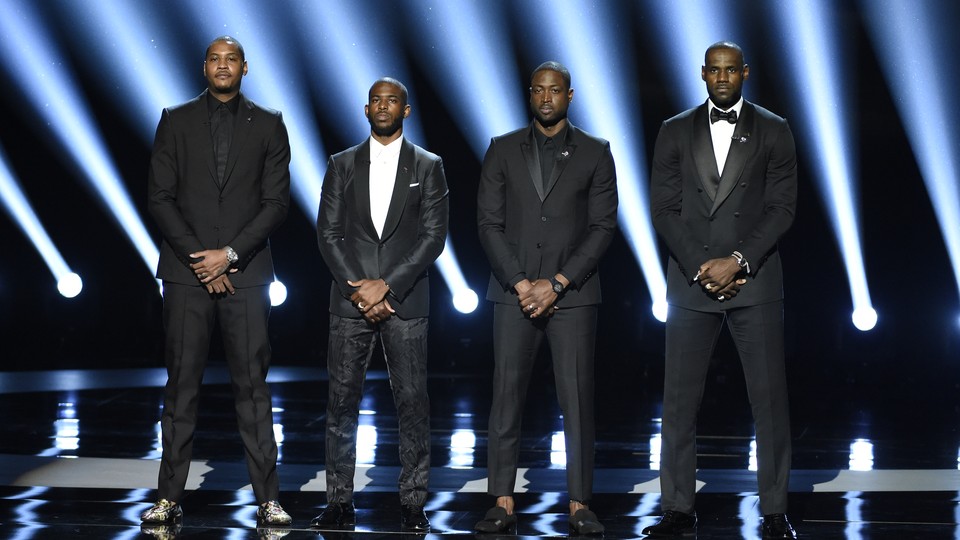 NEWS BRIEF Some of the biggest stars in professional sports want to start a movement among their peers to embrace political activism and speak out against racial injustices.
NBA players Carmelo Anthony, Chris Paul, Dwyane Wade, and LeBron James spoke at the start of the ESPY Awards Wednesday night, before an audience of fellow athletes and sports fans, pleading for change and new voices in the debate over police brutality. "The system is broken," said Anthony, a guard for the New York Knicks. "The problems are not new, the violence is not new, and the racial divide definitely is not new. But the urgency to great change is at an all-time high."
Paul, who is a nephew of a police officer, named recent victims of police shootings, while Wade, a Chicago native, spoke out against gun violence tearing apart communities across the country. James, for his part, challenged other athletes to educate themselves on these issues.
Anthony this week already sent out a call for action, writing for The Guardian Wednesday, "We athletes can no longer remain on the sidelines in the struggle for justice." On Saturday, four players for the Minnesota Lynx WNBA team held a news conference before their game to address the recent violence. Sidelined from activism for decades, there is finally movement among professional athletes to join crucial debates of the country.
The stands taken by athletes have sometimes spurred angry reactions from police officials and their unions. Indeed, after the Lynx made their activism public, four off-duty Minneapolis police officers, who were working private security at the game, quit, and the president of the union that represents Minneapolis police officers praised them for walking off the job. Nor are all athletes' views as benign: Isaiah Crowell, the running back for the Cleveland Browns, posted an image on social media that appeared to show a police officer's throat being slit. He apologized after the backlash.