Rebranding Infidelity
Ashley Madison, the website for cheaters, is replacing its "life is short, have an affair" tagline with "Find your moment."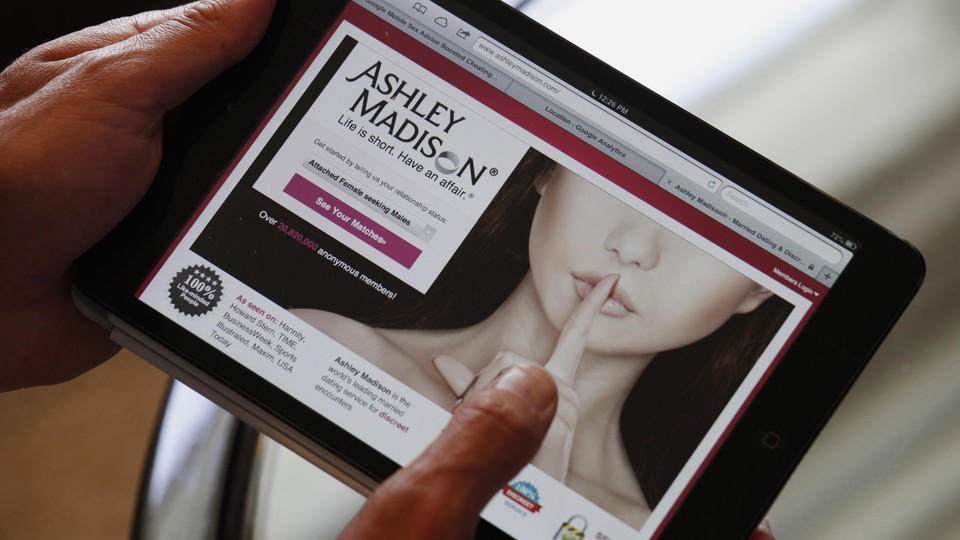 It seems life is no longer so short we should have an affair.
Ashley Madison, the website for cheaters, is out Tuesday with a new ad campaign that drops its infamous tagline, "Life is short, have an affair," and replaces it with the "UNDERSTATED, ELEGANT" (the caps are theirs, not ours) tagline, "Find your moment."
The announcement reflects what the company says is a change in how people use the service, according to James Millership, the company's president.
Close to 45% of our members are single, over 50% are attached and they are interested in a wide range of experiences. While remaining true to our roots, Ashley Madison needs to evolve, grow and attune to modern sexuality in 2016.
Ashley Madison released three new television ads along with its rebranding, showing men and women, married or otherwise, flirting with strangers, primarily through smiling and warm looks, in public places, like so:
In 2015 Ashley Madison dealt with the national embarrassment of having its 37 million users leaked to the public by hackers, which could explain the new ad campaign.
The company behind the Ashley Madison website, Avid Life Media, is also changing its name to "ruby" because the name, according to Millership, "has a sensual, feminine quality, connotes value and fits with the fresh start our company is undergoing." The "global leader in open-minded dating" will continue its other brands Cougar Life and Established Men.
The rebranding is part of an effort by Ashley Madison to restore its credibility, which was badly damaged following the hack last year. Millership and Rob Segal, the Toronto-based company's CEO, told Reuters this week that Ashley Madison was the subject of an investigation by the Federal Trade Commission. The two were hired in April. Here's more:
[Ashley Madison] faces a mountain of problems, including U.S. and Canadian class action lawsuits filed on behalf of customers whose personal information was posted online, and allegations that it used fake profiles to manipulate some customers. The site's male-to-female user ratio is five to one, the executives said.

An Ernst & Young report commissioned by Avid and shared with Reuters confirmed that Avid used computer programs, dubbed fembots, that impersonated real women, striking up conversations with paying male customers.
The two executives told Reuters that the company, which was the subject of much mirth as well as disapprobation, and, presumably, user interest before the hack, was spending millions to improve security. Apparently, in its new guise, Ashley Madison is also trying to find its moment.