The Chicago Cubs Embrace a Controversial Baseball Player
Aroldis Chapman, an ace pitcher, served a 30-game suspension this year for allegedly choking his girlfriend.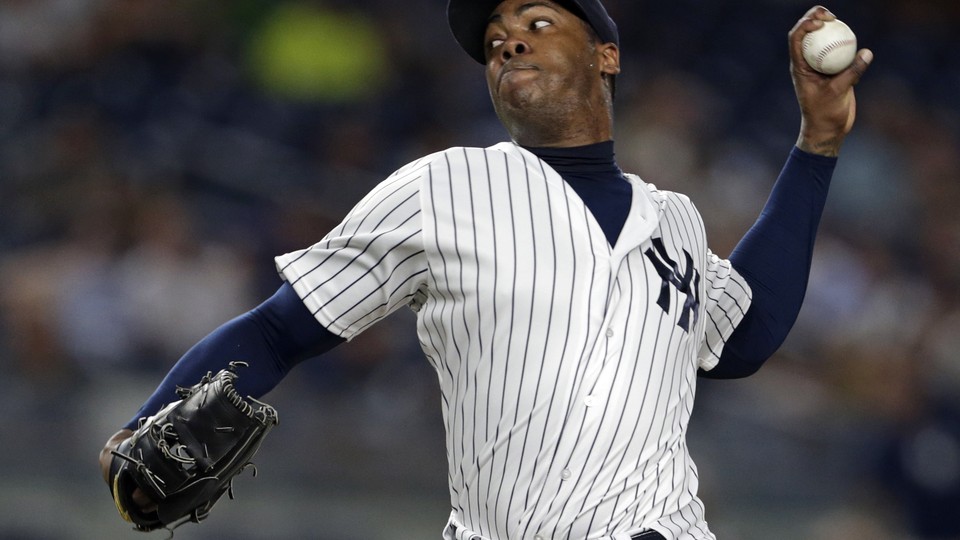 The Chicago Cubs just acquired one of the best closing pitchers in professional baseball. But some fans aren't excited about the man they're getting in the trade.
Aroldis Chapman, who was traded from the New York Yankees, was suspended for the first 30 games of this season for violating the league's domestic-violence policy. In December, he allegedly pushed his girlfriend against a wall and choked her. He also fired his gun eight times in his garage during the argument, according to a police report of the incident.
Cubs owner Tom Ricketts acknowledged Chapman's suspension when Ricketts announced the trade Monday. But he quickly tried to ease concern, saying Chapman "takes responsibility for his actions." He said:
I shared with him the high expectations we set for our players and staff both on and off the field. Aroldis indicated he is comfortable with meeting those expectations.
Chapman acknowledged his history in a statement Monday:
I regret that I did not exercise better judgment and for that I am truly sorry. Looking back, I feel I have learned from this matter and have grown as a person. My girlfriend and I have worked hard to strengthen our relationship, to raise our daughter together, and would appreciate the opportunity to move forward without revisiting an event we consider part of our past.
Major League Baseball policy does not specify the number of games a player is suspended from if they commit an act of sexual or domestic violence. Players usually return after their suspensions, just as Chapman did. Professional athletes at times are punished through the league, and sometimes law enforcement. But after they serve their punishment, they're back to being handsomely paid athletes competing for teams that fans invest a great deal of emotional and financial support. They return to receiving praise for their talent. Chapman, for instance, allegedly choked his girlfriend but he can also pitch 105 miles per hour.
In the sports world, reports of domestic violence, or even sexual assault, can become footnotes in the larger story of their athletic prowess and statistics. This was the only mention of Chapman's incident from popular sports columnist Bob Nightengale's article in USA Today about the trade:
He missed the first 30 games of the season after being suspended for a domestic violence incident with his girlfriend, but has been successful in 20 of 21 save opportunities this year. He's 3-0 with a 2.01 ERA, striking out 44 batters in 31.1 innings, with a fastball that has been clocked as fast as 105 last month.
After Patrick Kane, a star hockey player for the Chicago Blackhawks, performed well in the months that followed a rape investigation, the Chicago Sun Times framed it as a "rough patch" that he overcame with the longest NHL point streak in more than two decades.
A zero-tolerance policy could help alleviate this problem—an athlete commits an act of domestic violence and he is out of the league forever. That's the way Steve Spurrier, the former University of South Carolina football head coach, sees it. "Never, ever, hit a girl. If you do this, you're finished as a Gamecock football player," says the player's manual for the team.
But this policy is not widespread. In 2014, the White House pushed the NFL to have a zero-tolerance policy, saying in a statement:
Many of these professional athletes are marketed as role models to young people and so their behavior does have the potential to influence these young people, and it's one of the many reasons it's important that the league get a handle on this and have a zero tolerance.
After former Baltimore Ravens running back Ray Rice was caught on video punching his then-fiancée in 2014, the league was widely criticized for botching its reaction before eventually suspending Rice indefinitely. The league would later institute a new policy in which players are suspended for six games for their first incident of domestic or sexual violence and banished from the league in a second offense.
Rice later won his appeal to play football again, but he has yet to find a team willing to sign him. He has even pledged to donate his entire salary this upcoming season to organizations working to prevent domestic violence if a team lets him play.
Some football teams don't want the risk of being associated with someone accused of these crimes. After Montee Ball was arrested for throwing his girlfriend into a table in February, the New England Patriots cut him from the team four days later. No team has picked him since the incident.
Professional sports leagues are still riddled with men who have committed domestic or sexual violence, like Chapman. The Cubs picked him up because they felt he could help them win the World Series.