An Internet Star's Murder in Pakistan
Qandeel Baloch, a popular and outspoken social-media celebrity, was killed Friday in an alleged honor killing by her brother.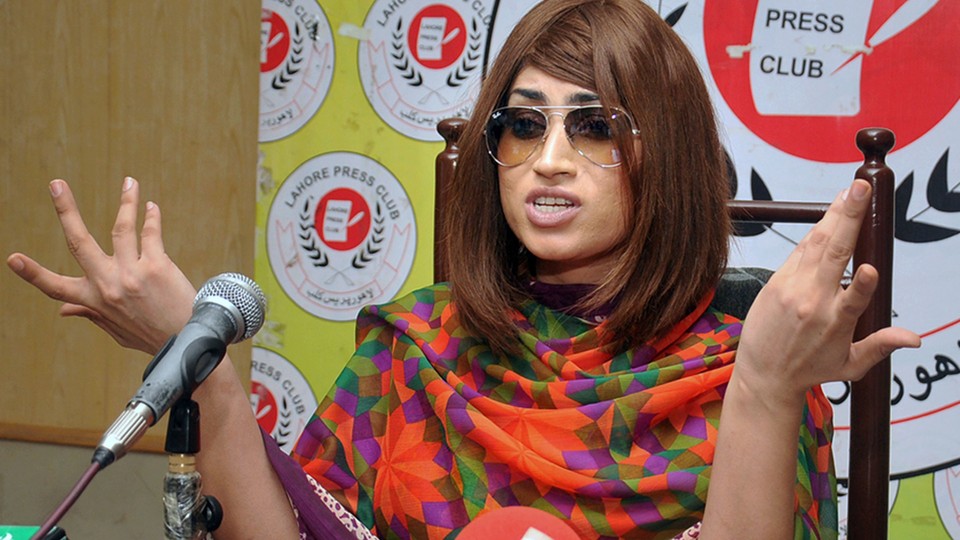 Qandeel Baloch, a singer and Internet celebrity whose outspokenness on social media brought her fame and notoriety in Pakistan, died Friday night in what local police described as an honor killing allegedly committed by her brother.
Baloch, who was 26 years old, first rose to prominence after appearing in a Pakistani singing-competition show. Using Twitter and Facebook to post racy videos where she opined on controversial topics, she rapidly became one of the country's most widely known social-media figures.
Her posts were met with hostility from conservative elements of Pakistani society: recent ones included twerking and a promise to strip for the national cricket team captain if they won a world championship.
Baloch also used her prominence to criticize Pakistan's cultural norms towards women and gender. That outspokenness and willingness to defy social taboos brought criticism and threats. The BBC has more:
In one of her last posts on Facebook before her murder, Qandeel Baloch wrote: "No matter how many times I will be pushed down, I am a fighter, I will bounce back…

"Qandeel Baloch is an inspiration to those ladies who are treated badly and dominated by society. I will keep on achieving and I know you will keep on hating. Damn, but who cares."

It was for such provocative views that Ms. Baloch was loved, derided and mocked.

She instigated a debate in Pakistan on whether choosing to defy family and societal norms symbolised women's empowerment or was cheap narcissism.
In a series of posts on Twitter shortly before her death, Baloch urged women to stand up for themselves and each other.
Pakistani law-enforcement officials are searching for Baloch's brother for his alleged role in her death, according to the Express Tribune, a major Pakistani newspaper. He reportedly opposed her social-media use as a dishonor for the family's name.