An Attack on a German Train
ISIS claimed responsibility for the attack that resulted in police killing the attacker, a 17-year-old Afghan asylum-seeker.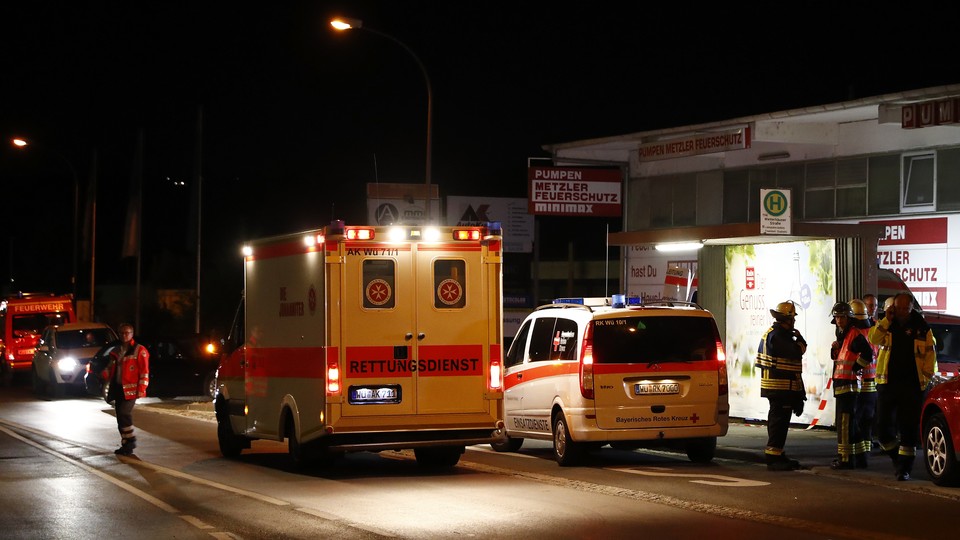 What we know on Tuesday:
—A 17-year Afghan asylum-seeker, armed with an axe and a knife, attacked a passenger train in central Germany, injuring four people. He was shot by police and killed on the scene.
—The Islamic State claimed responsibility, but a senior Bavarian official said it appears the suspect acted alone.
—We're live-blogging the major updates. All updates are in Eastern Daylight Time (GMT -4).
---
10:25 a.m. Tuesday
A video reportedly released by the Islamic State on Tuesday appears to show the person who authorities say is responsible for the attack. In it, he speaks to the camera with a knife in his hand.
Prosecutors now say that two of the victims in Monday's attack are suffering from "acute life-threatening" wounds.
---
7:12 a.m. Tuesday
The Islamic State claimed responsibility for the attack via its Amaq news agency. SITE, the terrorism-monitoring center, pointed out that Amaq said the attack was carried out by an ISIS "soldier," language similar to what it used to claim the attack last week in Nice, France.
Bavarian Interior Minister Joachim Herrmann, speaking on television, said a hand-painted ISIS flag was found in the room of the 17-year-old who carried out Monday's attack. He said the suspect had lived in Wuerzburg since March, in a home for minors who had traveled alone to Germany to seek asylum. Here's more via Deutsche Welle:
Herrmann had earlier said investigators were following every lead to determine the teenager's motive and it was too early to say whether he had an Islamist background. So far, it was understood that he had acted alone.
The teenager, Herrmann said in another TV interview, had boarded the train in Ochsenfurt, where he was living with a foster family. Here's more:
"He suddenly attacked passengers with a knife and an axe, critically injuring several. Some of them may now be fighting for their lives."

The Afghan national reportedly shouted "Allahu Akbar," Arabic for "God is great," before launching the attack, wielding a knife and axe.

"The perpetrator was able to leave the train, police left in pursuit and as part of this pursuit, they shot the attacker and killed him," a police spokesman said. On Tuesday, Herrmann added that a police special unit happened to be in the area and was able to respond to the incident quickly.
Herrmann said four people—all members of the same family from Hong Kong—were injured in the attack. Two of them were in critical condition.
---
7:21 p.m.
Wuerzburg police said three people suffered serious injuries from the attack, while another person was injured less severely. While initial reports said there were more than 20 victims, police say 14 people were treated for shock on the scene.
---
7:16 p.m.
Germany has become a home for many of the refugees fleeing Syria, Afghanistan, and other war-torn countries in recent years. In 2015 alone, Germany registered 1.1 million asylum seekers, among them 150,000 Afghans. From January to June of this year, Germany has accepted 220,000 asylum-seekers.
The prospect of an Afghan asylum-seeker getting refugee status in German is considerably lower than that of a Syrian, Iraq, or Eritrean.
While Germany has been one of the more welcoming European nations for refugees, there has been an increasingly difficult debate there over the future of its refugee program.
In May, the German government approved legislation designed to help refugees in Germany integrate better into society by expanding permanent residency from two years to five years. To qualify, refugees are required to have elementary knowledge of the German language, have a job, and take courses on German culture and society.
Unlike the U.S. or Canada, where refugees can stay permanently, asylum-seekers to Germany who are granted refugee status must reapply after that five-year period. Under the law, they can stay—or be repatriated—based on the conditions in their home countries.
"We expect that people take the opportunities that we offer to integrate themselves," German Chancellor Angela Merkel said.
The move was also to reassure Germans concerned with the problems other European nations face in Muslim communities, isolated from mainstream society and more prone to radicalism.
The motives of Monday's attacker, himself an asylum-seeker from Afghanistan, is still unknown.
---
6:35 p.m.
In an interview with BR public television, Bavarian Interior Minister Joachim Herrmann said:
"I am appalled about this. He injured a number of people, slashing around himself with a hatchet and a knife."
The suspect was shot dead, police now say.
---
6:24 p.m.
In May, a man with a four-inch knife attacked a group of passengers at a train station near Munich, killing one person and wounding another three.
Authorities said the man, a 27-year-old German national, suffered from psychological problems and drug addiction. While he did shout "Allahu akbar" ("God is great" in Arabic), authorities found no connection to Islamist extremists.
---
6:06 p.m.
Bavarian Interior Minister Joachim Herrmann says the suspect is a 17-year-old Afghan, who came to Germany as an unaccompanied refugee.
Innenminister #Herrmann in
Rundschau Nacht: Täter v. #Würzburg war 17-j. Afghane, als unbegleiteter Flüchtling nach Deutschland gekommen.

— BR24 (@BR24) July 18, 2016
---
6:01 p.m.
Three people were "seriously injured" in the attack Monday, German police said. More than a dozen others were also injured.
These are still initial reports and numbers like these will often change.
---
5:40 p.m.
The suspect was shot by police on the scene, reports Deutsche Welle.
Bavaria's Interior Ministry confirmed shortly after that the suspect was shot by police as he attempted to flee the scene.
There are varying reports on injuries from German media, however there has yet to be a tally from officials.
---
5:32 p.m.
Several people were injured Monday on a train in Germany when a suspect with an axe attacked passengers, according to local media reports.
The train was between Würzburg-Heidingsfeld and Ochsenfurt in the central part of the country, 90 minutes from Frankfurt. The train line has been closed.
Auf der Bahnstrecke #Würzburg-#Ochsenfurt soll ein Mann mehrere Menschen mit einer Axt angegriffen haben. Offenbar gibt es 21 Verletzte.

— tagesthemen (@tagesthemen) July 18, 2016
We will update this breaking news story as more information becomes available.