It's a Bird, It's a Plane, It's a Delivery Drone
The British government will allow Amazon to test a system that uses drones to deliver packages.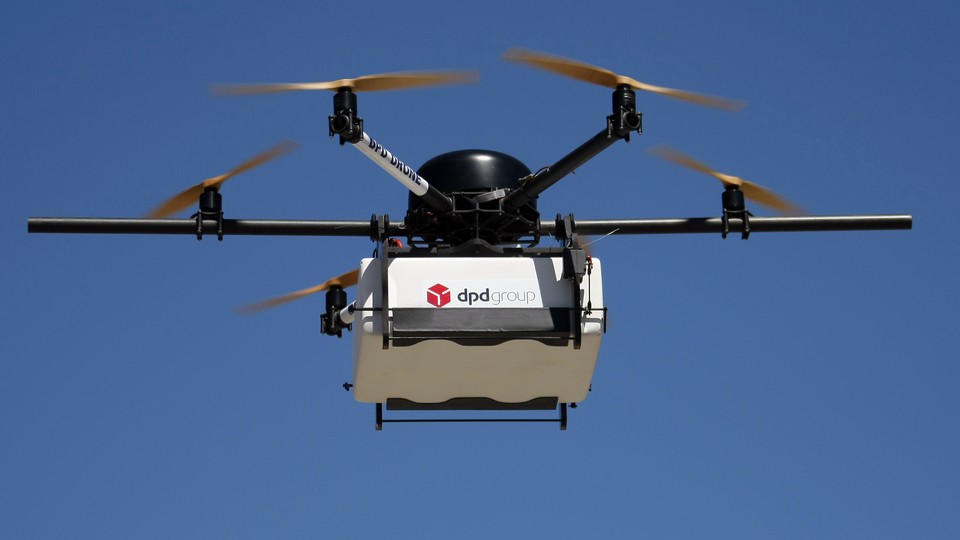 NEWS BRIEF Jeff Bezos, the founder and CEO of Amazon, said in 2013 he dreamed that soon the packages his online company shipped to homes across the world would be delivered by drones. Amazon was founded in the U.S., which is also its largest market, but there the federal aviation regulations would not allow for drone delivery.
On Monday, Amazon announced it had come to an agreement with the British government that eased laws enough to allow Amazon to test its drone-delivery system. The deal will allow operators to pilot the machines beyond the line of sight, to test automatic obstacle-avoidance technology, and to see if one person can safely pilot multiple drones simultaneously.
Under the new agreement, Amazon can test drones carrying deliveries that weigh up to five pounds, which makes up 90 percent of the packages the company delivers. Drones are also restricted to flying below 400 feet.
Typically, the British government's regulations on drones are not that different from those in the U.S., as The Guardian reported:
Beyond special testing scenarios such as that granted to Amazon, current UK legislation dictates that drones cannot be flown within 50 metres of a building or a person, or within 150 metres of a built-up area. Drones also have to remain in line of sight and within 500 metres of the pilot, which has hampered attempts to use drones for delivery or surveillance purposes before.
But in the U.S., the Federal Aviation Administration has repeatedly denied drone makers who have lobbied to ease restrictions enough for drone delivery. Those lobbyists have argued it would cut down on transportation costs. In June, the FAA allowed for commercial drone use for machines under 55 pounds as long as the operator passed a written test, piloted the drone during the day, and the machine stayed within eyesight. That last regulation has been a deal breaker when it comes to drone delivery.