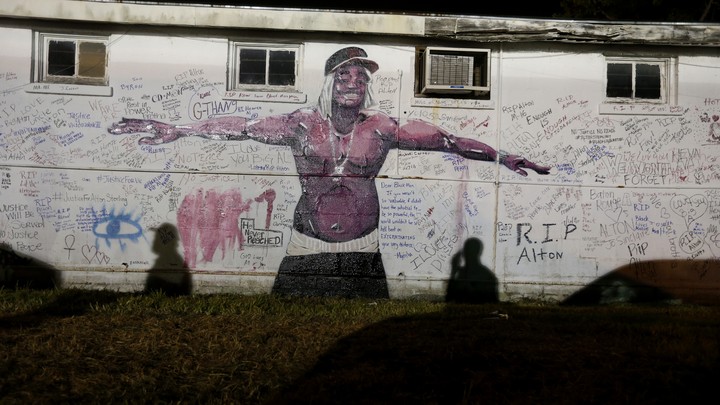 There's a strong chance no one beyond Baton Rouge, Louisiana, would know of Alton Sterling's death if it weren't for a convenience-store owner wary of police and a former gangster nicknamed Silky Slim.
But because of these two men, in one video, the world watched the view from inside a car at the Triple S convenience store's parking lot as officers tackled Sterling to the ground. Then the second video, from a different angle only a few feet away, showed the officers stick a gun in the 37-year-old man's chest and shoot him several times; it cut out shortly after one officer rolls off Sterling's bleeding body. The second video came from the store's owner, Abdullah Muflahi, who knew Sterling for years and let him sell CDs on the property. The first video, the one that caused the initial wave of outrage, came from a group, founded by Arthur "Silky Slim" Reed, that chases police-scanner chatter.
Reed, his bio says, grew up on the outskirts of Baton Rouge near the Mississippi River. In the 1980s, he became involved with gangs, work that ultimately landed him in prison. After he was released, Reed was in a car crash that killed everyone but him, which he took as a sign from God to change his life. Reed's nonprofit, Stop The Violence, Inc., began as a way to dissuade young people from gang violence. One program he developed puts volunteers in cars with police scanners that help them find shootings––or, as was the case Tuesday, confrontations that could lead to shootings. Reed's group then strings the footage together in hopes the images will scare young people away from gangs.
This is why, after midnight, a cellphone held in a car parked at the Triple S convenience store caught two officers as they yelled at Sterling to get on the ground. Reed will not say who shot the video of Sterling's death (he said it was not him), but he told the The Washington Post that, after some deliberation, he and his team uploaded it to social media Tuesday around 5 p.m.
Normally, police would keep any surveillance footage from the public until the investigation is complete. But by releasing it, Reed shifted the narrative from the version likely to have been offered by the  Baton Rouge Police Department. Indeed, on Wednesday the U.S. Department of Justice opened an outside investigation into the shooting.
Muflahi, the convenience-store owner, also kept his video secret from officers. While Reed's footage is jumpy, taken from the driver's side of a car parked a couple spots away, Muflahi's video tells the same story but offers a clearer, closer angle. Muflahi is almost on top of the officers as they kneel on Sterling, their arms tangled. Then one officers shouts, "You fucking move––I swear to God." A moment later, Sterling lies bleeding from his chest, and the officer rolls off, then sits up and pauses, as if in shock. Reed's footage might have helped lead to an independent investigation by the Justice Department, but Muflahi's angle seems much more likely to help determine if Sterling tried to reach for a gun hidden inside his pocket, which the officers noticed seconds before they shot him.
Muflahi released his video Wednesday afternoon through a lawyer, Joel Porter, who told The Advocate he kept it from police because he doesn't trust them. Instead of giving up the potential evidence for police to use, Muflahi released the video to The Advocate, as well as to the FBI.
"There is additional footage," Porter told The Advocate. "We'll let Baton Rouge city police create a narrative, and then we will knock it down inch by inch."
We want to hear what you think about this article. Submit a letter to the editor or write to letters@theatlantic.com.