A Massive Bombing in Kabul
ISIS claimed responsibility for twin blasts at a protest in the Afghan capital, killing at least 60 people and wounding more than 200 others.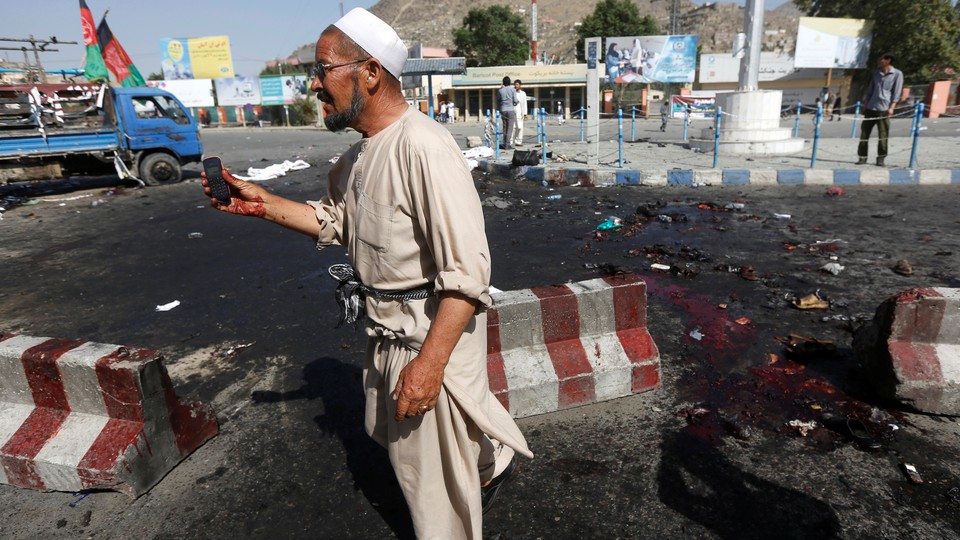 NEWS BRIEF Two explosions ripped through a protest in Kabul on Saturday, killing at least 61 people and wounding 207 others in one of the deadliest bombings to strike the Afghan capital since 2001.
ISIS claimed responsibility for the attack through Amaq, the organization's de facto media arm, which said two bombers detonated suicide belts in the crowd.
Al Jazeera has more details:
Mohammad Ismail Kawoosi, a spokesman for the Afghan health ministry, warned that the death toll could rise further.

Graphic television footage from the site of the blasts showed many dead bodies lying on a bloodied road in Deh Mazang circle, close to where thousands of the Hazara had been demonstrating over the route of a planned multimillion dollar power line.

"I was in the crowd of protesters when a loud bang occurred nearby. Many people have been killed or injured - I am in deep shock," demonstration organiser Jawad Naji told the AFP news agency.
The blasts targeted a demonstration by the country's Hazara ethnic minority, which makes up between 10 and 20 percent of Afghanistan's population. According to the Guardian, protesters had gathered to demand the Afghan government divert a planned power-transmission line to Turkmenistan through two provinces with large Hazara communities.
ISIS-linked militias in Afghanistan control far less territory than their counterparts in Iraq and Syria. But its growth and resilience in some of the country's rural provinces in recent years has drawn international concern. In January, President Obama authorized U.S. forces stationed in Afghanistan to launch offensives against ISIS militias. The Taliban has also vied with local ISIS militias for control of key towns and smuggling routes.