Munich Mall Shooting: What We Know
Nine people are dead in a shooting near a popular shopping mall in the German city, police say.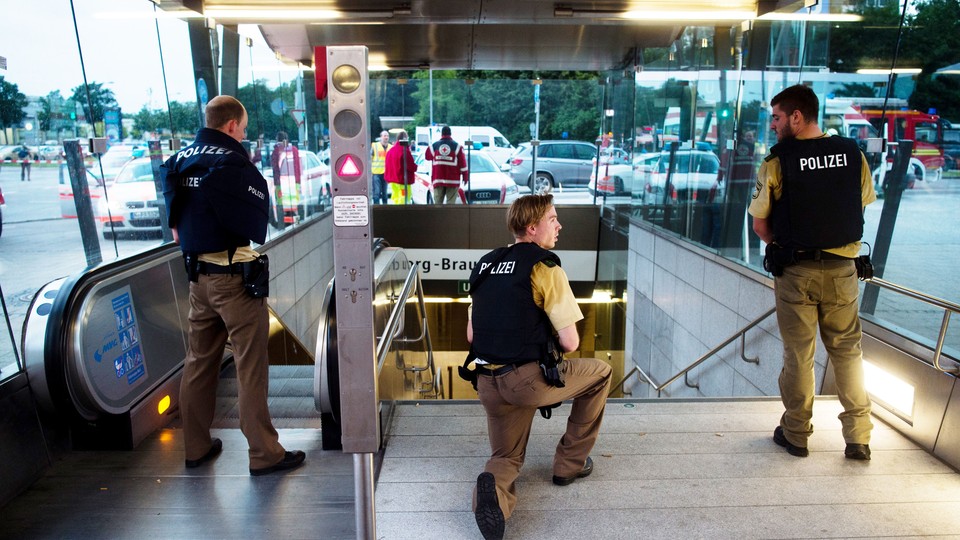 What we know:
—Nine people are dead and 10 injured in a shooting near a shopping center in Munich, Germany, local police said.
—A lone gunman, identified by police as an 18-year-old German of Iranian descent, is also dead after taking his own life.
—Officials said the gunman does not appear to have any links to ISIS.
—This is a developing story and we're live-blogging the major updates. All updates are in Eastern Daylight Time (GMT -4).
---
11:08 a.m.
German authorities said Saturday morning the gunman's attack doesn't appear to be politically motivated. Investigators also found no connections to ISIS or other terrorist organizations. The New York Times has more:
---
Updated July 22 at 8:59 p.m.
German authorities raised the death toll to 9 victims and one gunman, who they believe acted alone. The gunman, identified only as an 18-year-old German of Iranian descent by police, took his own life.
---
6:22 p.m.
Munich police say 10 people were injured in the attack; they previously said there were several injuries, but did not provide a number.
---
6:06 p.m.
Rukmini Callimachi, The New York Times reporter, is in Munich and is reporting on the story of one family that became separated after the attack. We'll embed her tweets below:
---
6 p.m.
From the German Foreign Ministry:
---
5:45 p.m.
Peter Altmaier, Chancellor Angela Merkel's chief of staff, told ZDF television, that Merkel was being briefed on the developments and, "cabinet ministers concerned are on their way to Berlin." Merkel will convene her security council Saturday to address the killings, he said.
---
5:41 p.m.
Donald Trump, the GOP presidential nominee, has a statement out:
---
5:09 p.m.
Special forces from Bavaria and other states, as well as the Federal Police, are taking part in the operation in Munich. Public transport and the electric rail-transit system are closed.
---
4:50 p.m.
Here's more from Munich police:
---
4:39 p.m.
The police are saying there may be another ninth person killed, but it's unclear if that person is an attacker.
---
4:28 p.m.
Munich police have raised the death toll in the shooting in the city to eight.
---
4:15 p.m.
Hillary Clinton, the presumptive Democratic presidential nominee, said:
She was scheduled Friday to name her running mate. It's unclear if that will now happen today.
---
3:30 p.m.
Ned Price, a spokesman for the National Security Council, said Lisa Monaco, the president's senior adviser, "apprised the president of the developing situation in Munich, Germany. The president will continue to be updated as the situation warrants."
---
3:25 p.m.
We have new numbers from the Munich police: six dead and an unknown number of injuries.
Only one crime scene has been confirmed, the department said in a separate tweet—at Hanauer Street, which adjacent to the shopping centre.
---
3:20 p.m.
President Obama said he is being updated on the unfolding situation in Munich, telling reporters before a meeting at the White House Friday that the U.S. will support Germany any way it can. More from the president:
---
3:01 p.m.
It's worth noting that today is the five-year anniversary of attack in Norway by Anders Brevik, a neo-Nazi, who killed 77 people and wounded 319. Brevik is serving a 21-year prison term for his actions, the maximum allowed under Norwegian law. That sentence can be extended indefinitely.
---
2:59 p.m.
Several news organizations are reporting that Munich police are calling the incident an "acute terror attack."
---
2:56 p.m.
Munich residents have started using the hashtag #OffeneTür or #OpenDoor to offer a place to stay for anyone trapped in the city because of the shooting.
---
2:44 p.m.
The German Interior Ministry confirmed to Deutsche Welle that at least three people were killed in the attack. Other news organizations are reporting a higher death toll.
---
2:35 p.m.
The U.S. Consulate in Munich has warned American citizens to "shelter in place." Here's more:
The U.K. Foreign Office, meanwhile, issued a similar warning to its citizens.
---
2:31 p.m.
Deutsche Welle reports the city of Munich has declared a state of emergency because of the shooting, asking residents not to leave their homes.
---
2:22 p.m.
The shopping center is near Munich's Olympic Stadium. The city hosted the 1972 games, perhaps best known for the murder by Palestinian militant of 11 Israeli hostages.
---
2:13 p.m.
There are reports of more gunfire in Munich, police say.
---
2:05 p.m.
Munich police, in a Facebook post, say there may have been three different shooters, none of whom are in custody. Police have yet to release official numbers of those injured or killed.
---
1:49 p.m.
Munich police have asked the public not to take photos of the shooting scene and publish them on the internet. "Do not support the culprit," reads the police tweet.
Police say they are still searching for the person (or persons) responsible for the attack.
---
1:44 p.m.
A police spokeswoman, speaking with Deutsche Welle, said police believe they "are dealing with a shooting rampage," as there may be more than one shooter involved.
---
1:30 p.m.
Facebook has initiated its safety-check in the wake of the reported shooting. The company has previously initiated the measure after the attacks in Nice and elsewhere.
---
1:24 p.m.
Munich police say several people were injured and told people to avoid public places. The situation, they said, is unclear.
---
1:20 p.m.
Munich city officials have shut down the city's underground train network due to the shooting, Deutsche Welle reports.
---
1:07 p.m.
Munich police are asking people to avoid the area and stay in their homes.
---
12:59 p.m.
Casualties are being reported by Süddeutsche Zeitung, the major newspaper in Munich.
---
12:50 p.m.
Deutsche Welle, a German broadcaster, is reporting shots were fired at the Olympia Einkaufszentrum shopping center.
---
12:44 p.m.
Munich police say there's an operation underway at a major mall in the German city.
Friday's operation comes just days after the attack on a German train in Bavaria, where Munich is also located. Monday's attack, claimed by the Islamic State, injured four people. The circumstances of this operation are unknown.