Who Was Jo Cox?
The Labour Party member of Parliament, who was killed Thursday, was an activist and a passionate voice for refugees.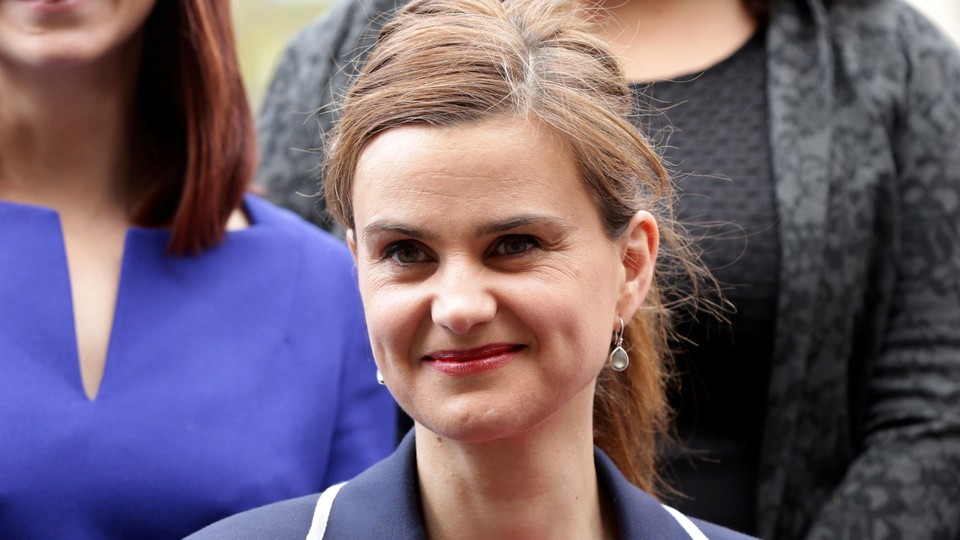 Jo Cox, the 41-year-old Labour Party member of Parliament for Batley and Spen who was killed Thursday, was a rising star in British politics.
The activist was elected to Parliament for the first time last year and quickly made a name for herself on matters such as immigration, Syrian refugees, and Britain's membership in the European Union. Prior to that, she spent a decade working at Oxfam, the British aid agency, in various senior capacities in the U.K., U.S. and Brussels. Immediately before she was elected to Parliament in May 2015, she worked at the Freedom Fund, an anti-slavery organization, and at the Bill and Melinda Gates Foundation, according to a biography on her website.
Cox represented an area in which she was born and raised—and of which she was proud—in Yorkshire, as can be seen in her maiden speech to Parliament.
But that speech is notable not just for her touting of her constituency's "typically independent, no-nonsense and proud Yorkshire towns and villages," but also for her reference to how diverse the area is.
Our communities have been deeply enhanced by immigration, be it of Irish Catholics across the constituency or of Muslims from Gujarat in India or from Pakistan, principally from Kashmir. While we celebrate our diversity, what surprises me time and time again as I travel around the constituency is that we are far more united and have far more in common with each other than things that divide us.
Cox also lauded her constituency's "spirit of nonconformity"—a spirit she herself exhibited on several occasions as an MP. She was one of 36 lawmakers who nominated Jeremy Corbyn to be the Labour Party leader, but she voted instead for Liz Kendal, his rival, in the leadership election. She later said she regretted nominating Corbyn, who is now the party's leader. Last month, after the party's disappointing election results, she said: "I don't think it's time for a leadership challenge against Jeremy, but I do think Jeremy needs to personally recognize that this isn't good enough."
Nor was Corbyn the only target of her criticism. She called David Cameron, the British prime minister, and President Obama a "huge disappointment" on Syria, where she favored "ethical" military action to end the civil war and bring President Bashar al-Assad to the negotiating table. She also supported the U.K. admitting 3,000 child refugees from Syria—a controversial stand in a country where the issue of immigration is contentious. You can watch the full speech here. Here's an excerpt:
I recognize that this is not easy, but tonight we are being asked to make a decision that transcends party politics. Any member who has seen the desperation and fear on the faces of children trapped in inhospitable camps across Europe must surely feel compelled to act. I urge them tonight to be brave and bold, and I applaud the honorable and learned member for Sleaford and North Hykeham [Stephen Phillips] for an incredibly principled, personal speech.

In the shanty towns of Calais and Dunkirk, the aid workers I spent a decade with on the frontline as an aid worker myself, tell me that the children there face some of the most horrific circumstances in the world. Surely we have to do the right thing tonight and support the Dubs amendment.
Cox was also a passionate supporter of Britain's continued membership in the EU, and her Twitter feed over the last few days urged Britons to vote to remain in the referendum on June 23. She acknowledged that immigration—which supporters of the so-called Brexit cite as a major reason for wanting to leave—was a "legitimate concern" that didn't make someone a "racist or xenophobic," but said it wasn't a good reason to leave the EU.
"Over half of all migrants to Britain come from outside the EU," she wrote, "and the result of this referendum will do nothing to bring these numbers down."
Cox was born in Batley, England, on June 22, 1974. The BBC reports she attended Heckmondwike Grammar School and became the first person in her family to go to college. She studied social and political studies at Pembroke College, Cambridge, from which she graduated in 1995. Here's more:
After graduating, she worked as an adviser for the Labour MP Joan Walley and then Glenys (now Baroness) Kinnock. By the end of the 1990s she was head of campaigns for the pro-European pressure group Britain in Europe.
She is survived by her husband, Brendan Cox, and their two children,  Cuillin and Lejla.