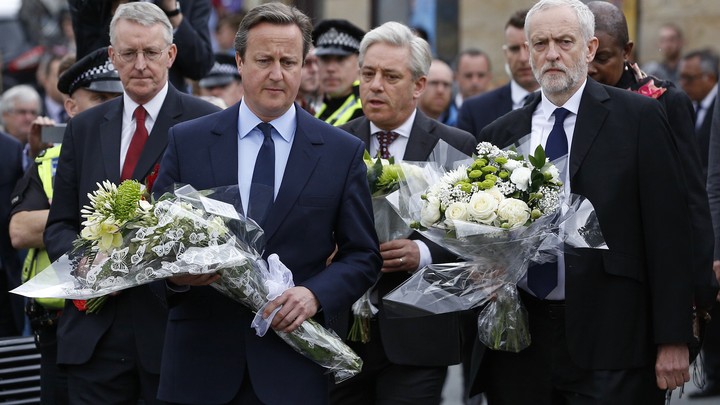 Here's what we know:
—Prosecutors formally charged 52-year-old Thomas Mair with the murder of Jo Cox on Saturday. When asked by the judge to give his name, he replied, "My name is death to traitors, freedom for Britain."
—West Yorkshire Police say they are investigating Mair's mental health, as well as possible links to extremist group.
—British Prime Minister David Cameron and Labour Party leader Jeremy Corbyn appeared together in Bristall on Friday, where Cox was killed Thursday.
—Follow the developing story below. All updates are in Eastern Standard Time.
---
Updated on June 18 at 10:41 a.m.
British prosecutors formally charged Mair with Cox's murder on Saturday at Westminster Magistrates' Court in London, as well as a charge of inflicting grievous bodily harm and two weapons-related offenses.
When the judge asked Mair to provide his name, Mair responded, "My name is death to traitors, freedom for Britain."
The Guardian has more:
Mair was not required to enter a plea and his lawyer Keith Allen said there was no indication of what plea would be given. He also told the court that legal aid had been applied for.

The deputy chief magistrate Emma Arbuthnot ordered that Mair be remanded in custody until his next appearance, at the Old Bailey on Monday. He will be held at Belmarsh prison, and Arbuthnot suggested that a psychiatric report be prepared, saying: "Bearing in mind the name he has just given, he ought to be seen by a psychiatrist."
---
Updated on June 17 at 1:15 p.m.
West Yorkshire Police says the mental health of the man who killed Jo Cox as well as his alleged right-wing links are clear lines of inquiry into the fatal attack on the Labour Party MP. Here's more from Dee Collins, the temporary chief constable:
We are aware of the speculation within the media in respect of the suspect's link to mental health services and this is a clear line of enquiry which we are pursuing.

We are also aware of the inference within the media of the suspect being linked to right wing extremism which is again a priority line of enquiry which will help us establish the motive for the attack on Jo.
Collins also said the attack on Cox "appears to be an isolated, but targeted attack." She also provided a timeline of the events that led to the attack on Cox:
We have now confirmed that just before 1pm yesterday (Thursday 16/06/16) Jo arrived in a vehicle in company with two colleagues outside the Library on Market Street and whilst enroute to the library where she had a scheduled constituency meeting, she was attacked and sustained serious injuries from both a firearm and a knife and despite assistance from passers-by, the ambulance service and police officers who were quickly on the scene, she sadly died of her injuries.

During the course of the incident a 77-year-old man bravely intervened to assist Jo and in doing so sustained a serious injury to his abdomen and although now stable he remains in hospital.
---
9:03 a.m.
The Southern Poverty Law Center (SPLC) says Thomas Mair, the 52-year-old man arrested in connection with Cox's death, was a longtime supporter of the National Alliance, a U.S.-based neo-Nazi group. Mair allegedly shot Cox, a rarity in a country where gun crimes are traditionally rare (though last year saw a 14 percent rise).  Here's more from the SPLC:
Mair purchased a manual from the NA in 1999 that included instructions on how to build a pistol.

Mair, who resides in what is described as a semi-detached house on the Fieldhead Estate in Birstall, sent just over $620 to the NA, according to invoices for goods purchased from National Vanguard Books, the NA's printing imprint. Mair purchased subscriptions for periodicals published by the imprint and he bought works that instruct readers on the "Chemistry of Powder & Explosives," "Incendiaries," and a work called "Improvised Munitions Handbook." Under "Section III, No. 9" (page 125) of that handbook, there are detailed instructions for constructing a "Pipe Pistol For .38 Caliber Ammunition" from components that can be purchased from nearly any hardware store.
There were reports Thursday that the killer had shouted "Britain first" while attacking Cox. This has not been officially corroborated.
---
Updated on June 17 at 8:49 a.m.
British Prime Minister David Cameron and Jeremy Corbyn, the leader of the opposition Labour Party, appeared together in Bristall, just feet away where Jo Cox was killed on Thursday.
David Cameron and Jeremy Corbyn lay flowers near where Jo Cox was attacked in #Birstall. https://t.co/NzWPb4VAMu pic.twitter.com/sjMAeu9FyG

— BBC Look North (Yks) (@BBCLookNorth) June 17, 2016
Meanwhile, the U.K.'s Parliament, which is on a break, is being recalled Monday to pay tributes to the slain Labour Party MP, as tributes continue to pour in for her, and flags flew at half-staff over City Hall and Number 10 Downing Street, the prime minister's residence.
---
Updated on June 16 at 9:33 p.m.
Krishnadev has a longer look at Cox's life and legacy:
The activist was elected to Parliament for the first time last year and quickly made a name for herself on matters such as immigration, Syrian refugees, and Britain's membership in the European Union. Prior to that, she spent a decade working at Oxfam, the British aid agency, in various senior capacities in the U.K., U.S. and Brussels. Immediately before she was elected to Parliament in May 2015, she worked at the Freedom Fund, an anti-slavery organization, and at the Bill and Melinda Gates Foundation, according to a biography on her website.
---
4:26 p.m.
Tributes are being paid in Bristall and London to Cox.
Floral tributes as Birstall remembers Jo Cox pic.twitter.com/tzHk1V7cgH

— Katie Spencer (@SkyKatieSpencer) June 16, 2016
Jo Cox's houseboat neighbours pay moving nautical tribute to MP hours after she was killed: https://t.co/pZK7pL7DVw pic.twitter.com/eV9BjKs7LY

— delcrookes (@hairydel) June 16, 2016
Jeremy Corbyn lead a moving vigil for #JoCox outside the parliament she joined a year ago https://t.co/TDPNQ7Ewrt pic.twitter.com/cVF4eQjGnQ

— LBC (@LBC) June 16, 2016
---
3:07 p.m.
British news reports have identified Cox's attacker as Thomas Mair. Here's the start's of The Telegraph's story on him:
The man arrested in connection with the death of MP Jo Cox was named as "loner" Thomas Mair, 52, who lived in a small semi detached house on the Field Head council estate in Birstall.

The neat semi in Lowood Lane was cordoned off and under police guard as neighbours spoke of the "very quiet but very helpful" suspect.

Neighbours said that Mair had lived in the house for 40 years and was living with his grandmother until she died about 20 years ago. Since then he has lived on his own and has never had any full time employment.
Neighbors said they had never heard him "express any views about Europe or anything like that."
---
3:01 p.m.
British publications are reacting to the fatal attack on Cox, and we're including a few editorials and op-eds:
A day of infamy (Alex Massie in The Spectator). The piece appears no longer appears to be on the magazine's website, but here's an archived version.
An attack on humanity, idealism, and democracy (The Guardian)
We'll update this list as more editorials emerge.
---
2:32 p.m.
Watch Jo Cox's maiden speech to Parliament in 2015:
---
2:07 p.m.
Oxfam and Save the Children said:
All @oxfamgb are devastated at the loss of our much loved and admired former @Oxfam colleague Jo Cox MP. Deep condolences to Jo's family

— Oxfam (@oxfamgb) June 16, 2016
Our heartfelt thoughts are with the family of Jo Cox. We're shocked and saddened by this horrific news. https://t.co/7o7RsIoe4F

— Save the Children UK (@savechildrenuk) June 16, 2016
---
1:47 p.m.
Gabrielle Giffords, the former Democratic congresswoman, who was shot and wounded in 2011, tweeted her condolences, as well:
Absolutely sickened to hear of the assassination of Jo Cox. She was young, courageous, and hardworking. A rising star, mother, and wife.

— Gabrielle Giffords (@GabbyGiffords) June 16, 2016
---
1:21 p.m.
Gordon Brown, the former British prime minister, and his wife, Sarah Brown, with whom Cox worked closely, have both responded to her death. The former prime minister said: "Our memories will be for ever scarred by this moment. Our hearts will always be hurt at our country's loss." Sarah Brown added:
I am heartbroken. Jo had a truly remarkable spirit and passion that shone through in her work with Oxfam and with me on our countless campaigns for women and children.

Jo cared about everybody but she reserved a special place in her heart for the most vulnerable and the poorest citizens of the world.

She was fearless, she was endlessly upbeat and she reached out to so many to join her cause. Her mission was to make the world a better place.

But above all else Jo had utter devotion to her husband Brendan and their two children Cuillin and Lejla.
---
12:57 p.m.
Brendan Cox, the husband of the late MP, said in a statement he will "fight against the hatred that killed her." He added:
She would have wanted two things above all else to happen now, one that our precious children are bathed in love and two, that we all unite to fight against the hatred that killed her. Hate doesn't have a creed, race or religion, it is poisonous.

Jo would have no regrets about her life, she lived every day of it to the full.
---
12:47 p.m.
As our colleague Matt Ford notes, Cox is the first MP to be assassinated in office since Ian Gow, a Conservative lawmaker who was killed in a car bombing by the Irish Republican Army in 1990. Irish republicans targeted members of Parliament from time to time during the Troubles, the spasmodic violence that wracked Northern Ireland for a half-century, but British legislators rarely faced security threats from elsewhere.
---
12:43 p.m.
Prime Minister David Cameron reacted to the death of Cox on Twitter:
The death of Jo Cox is a tragedy. She was a committed and caring MP. My thoughts are with her husband Brendan and her two young children.

— David Cameron (@David_Cameron) June 16, 2016
---
12:36 p.m.
Jeremy Corbyn, the leader of the Labour Party, said he was "in shock" following the announcement that Cox died from the attack. He said in a statement:
Jo died doing her public duty at the heart of our democracy, listening to and representing the people she was elected to serve. It is a profoundly important cause for us all...

In the coming days, there will be questions to answer about how and why she died. But for now all our thoughts are with Jo's husband Brendan and their two young children. They will grow up without their mum, but can be immensely proud of what she did, what she achieved and what she stood for.
---
12:25 p.m.
Cox has died from her injuries, multiple news sources report. Dee Collins, the chief constable of West Yorkshire police, said the MP was declared dead at 1:48 p.m. GMT by a doctor working with paramedics.
In a press conference Thursday afternoon, Collins also said a 77-year-old man was also attacked during the incident. However, details about the victim are still unknown.
Collins says police believe this was a lone incident and not part of a broader plot.
---
11:25 a.m.
Here's more background on Cox: She was born in Batley, part of the area she represents in Parliament, and graduated from Cambridge University in 1995. Before becoming an MP, she worked as a policy analyst for Oxfam, the aid agency, and also was an adviser to Sarah Brown, the wife of former Prime Minister Gordon Brown. After her election in 2015, she was one of three-dozen Labour MPs who nominated Jeremy Corbyn for the party's leadership. In the end, though, she voted for Liz Kendal, Corbyn's rival for the position, and later said she regretted nominating Corbyn, who now heads the party. She also strongly supported accepting 3,000 child refugees from Syria.
---
11:07 a.m.
Brendan Cox, Cox's husband who previously worked with Save the Children, tweeted this image of his wife:
June 16, 2016
---
10:54 a.m.
Initial eyewitness accounts of such incidents often vary from the final version, however multiple British news organizations are reporting that a witness at the scene heard Cox's attacker shout: "Britain first."  The Guardian is reporting that local police are talking to at least one witness who heard those words being shouted. Britain First is the name of a far-right U.K. nationalist party. The party's response:
Media desperately try to incriminate Britain First in shooting of Labour MP Jo Cox ... - https://t.co/1rENtmI7he pic.twitter.com/lGhohrf0RL

— Britain First (@BritainFirst) June 16, 2016
That image on the left, which was first tweeted by the BBC, reportedly shows Cox's attacker being apprehended.
---
10:33 a.m.
David Cameron, the British prime minister, says he's canceling his visit to Gibraltar where he was scheduled to campaign for Britain to remain in the EU.
It's right that all campaigning has been stopped after the terrible attack on Jo Cox. I won't go ahead with tonight's rally in Gibraltar.

— David Cameron (@David_Cameron) June 16, 2016
---
10:16 a.m.
Both of the main groups in the "Brexit" debate have suspended their campaigns in response to the attack on Cox.
We are suspending all campaigning for the day. Our thoughts are with Jo Cox and her family.

— Stronger In (@StrongerIn) June 16, 2016
Vote Leave also said it is suspending its campaign.
In a recent monthly column, Cox had explained why she would vote to remain. An excerpt:
I know for many people that this is a tough decision, that the debate has been highly charged and the facts difficult to pin down. But I believe that the patriotic choice is to vote for Britain to remain inside the EU where we are stronger, safer and better off than we would be on our own.

What's more a vote to remain is a vote for certainty. The EU may be imperfect and definitely needs reform but risking all the current advantages of being inside Europe to take a leap in the dark doesn't feel very patriotic to me.
And in a recent article she wrote that while immigration to the U.K—a reason often cited by backers of Brexit—was a "legitimate concern," it wasn't a good enough to reason to leave the EU.
---
10:09 a.m.
We'd earlier said it was unclear whether Cox had been attacked during or after her meeting with constituents at the Birstall Library. Her website says she was scheduled to meet with constituents from 1 p.m. to 2 p.m. GMT (9 a.m. to 10 a.m. ET). Police says they were called at 12:53 p.m. GMT, which suggests she was attacked prior to her meetings.
---
10:05 a.m.
Cox, in an op-ed last month in The Times, criticized the U.S. and U.K.'s approach to Syria, but noted:
I am a huge President Obama fan. I worked on his first campaign in North Carolina in 2008, I admire the leadership he has shown on everything from the financial crisis to climate change and the good advice he gave us recently on Europe. But on Syria both President Obama and the prime minister have been a huge disappointment.
---
10:01 a.m.
The BBC adds: "An eyewitness said the 41-year-old mother of two was left lying and bleeding on the pavement [sidewalk] after the incident."
---
9:54 a.m.
Politicians from across the political spectrum are reacting in horror to the attack on Cox. Here's a sampling:
Very concerned about reports Jo Cox has been injured. Our thoughts and prayers are with Jo and her family.

— UK Prime Minister (@Number10gov) June 16, 2016
Utterly shocked by the news of the attack on Jo Cox. The thoughts of the whole Labour Party are with her and her family at this time.

— Jeremy Corbyn MP (@jeremycorbyn) June 16, 2016
@BorisJohnson Early reports suggesting she was attacked by a Leave voter. Great company you keep.

— mchawk (@mchawk) June 16, 2016
Shocked to hear terrible news about brilliant MP and friend Jo Cox. Thinking of her and praying for her and family.

— Sadiq Khan (@SadiqKhan) June 16, 2016
---
9:39 a.m.
Cox broke with her Labour's party leadership and supported military action to end the Syrian civil war. She is also a campaigner for Britain's continued membership in the European Union. (Britons vote in a June 23 referendum on whether to remain in the bloc.)
She isn't the first British MP to be attacked. In 2010 Stephen Timms, also a Labour MP, was stabbed twice by a woman for his vote to support the Iraq war.
---
9:36 a.m.
The West Yorkshire Police have issued a statement on the attack and the arrest. Here it is in full:
At 12.53 today, police were called to a report of an incident on Market Street, Birstall, where a woman in her 40s had suffered serious injuries and is in a critical condition.

A man in his late 40s to early 50s nearby also suffered slight injuries.

Armed officers attended and a 52-year-old man was arrested in the area. There are no further details at present.

Police presence in the area has been increased as a reassurance to the community.
---
9:33 a.m.
Here's more on Cox from her website:
Jo … spent a decade working in a variety of roles with aid agency Oxfam, including head of policy, head of humanitarian campaigning based in New York and head of their European office in Brussels. Jo then went on to work closely with Sarah Brown to galvanise international action to stop mums and babies dying needlessly in pregnancy and childbirth. ...

Immediately prior to standing for Parliament Jo was working with the Bill and Melinda Gates Foundation and The Freedom Fund, a charity working to end the scourge of modern slavery. She was also in the process of launching UK Women, a new research institute dedicated to better understanding the views and needs of women in the UK. …

Jo is married and has two young children. She divides her time between her home on a boat on the River Thames and her home in Batley & Spen.
---
9:30 a.m.
The BBC is now reporting that a 52-year-old man has been arrested in connection with the attack.
---
9:28 a.m.
The latest from Sky News:
Here's what we know so far about the shooting of Labour MP Jo Cox in Birstall https://t.co/A5zwPZtsol pic.twitter.com/NpastUBFH1

— Sky News (@SkyNews) June 16, 2016
---
9:24 a.m.
Cox was reportedly stabbed either during or after—this is still unclear—meetings with constituents—which in the U.K. are called "advice surgeries"—The Telegraph reported. Cox, 41, is an MP for Batley and Spen. She was elected for the first time in 2015.
---
9:20 a.m.
The Yorkshire Post is reporting that Cox was attacked on the steps of Birstall Library.
---
9:16 a.m.
Jo Cox, a Labour Party member of Parliament, was reportedly shot and stabbed in Birstall, near Leeds, British news reports say.
Jo Cox, Labour MP for Batley and Spen, injured & taken by air ambulance to Leeds General Infirmary pic.twitter.com/8ZrcGnohyu

— BBC Breaking News (@BBCBreaking) June 16, 2016
Her condition is said to be serious and authorities have launched a manhunt for her attacker.
This is a developing story and we'll update it as we learn more.
We want to hear what you think about this article. Submit a letter to the editor or write to letters@theatlantic.com.
Matt Ford
is a former associate editor at
The Atlantic
.