Jo Cox Killing: What We Know
The 52-year-old suspect told the court "death to traitors, freedom for Britain" during a court appearance on Saturday.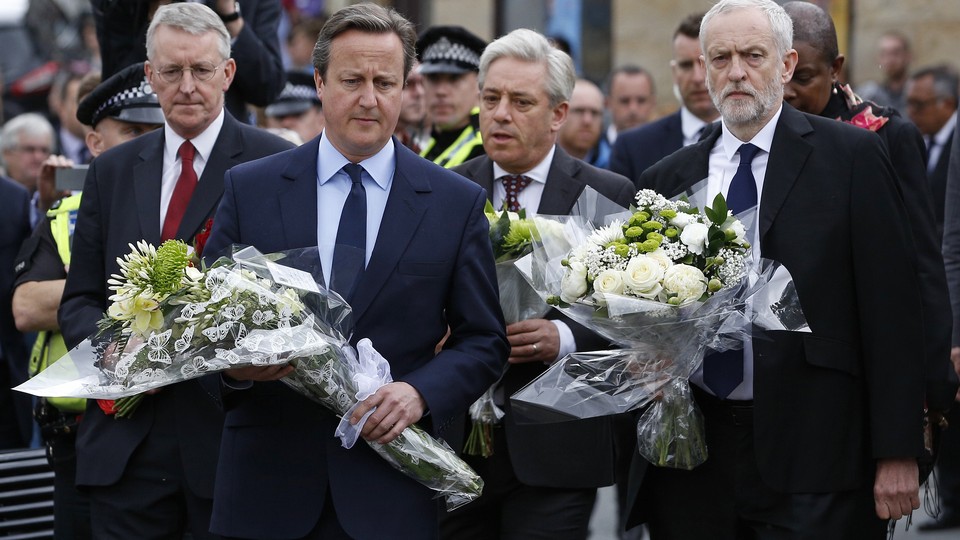 Here's what we know:
—Prosecutors formally charged 52-year-old Thomas Mair with the murder of Jo Cox on Saturday. When asked by the judge to give his name, he replied, "My name is death to traitors, freedom for Britain."
—West Yorkshire Police say they are investigating Mair's mental health, as well as possible links to extremist group.
—British Prime Minister David Cameron and Labour Party leader Jeremy Corbyn appeared together in Bristall on Friday, where Cox was killed Thursday.
—Follow the developing story below. All updates are in Eastern Standard Time.
---
Updated on June 18 at 10:41 a.m.
British prosecutors formally charged Mair with Cox's murder on Saturday at Westminster Magistrates' Court in London, as well as a charge of inflicting grievous bodily harm and two weapons-related offenses.
When the judge asked Mair to provide his name, Mair responded, "My name is death to traitors, freedom for Britain."
The Guardian has more:
---
Updated on June 17 at 1:15 p.m.
West Yorkshire Police says the mental health of the man who killed Jo Cox as well as his alleged right-wing links are clear lines of inquiry into the fatal attack on the Labour Party MP. Here's more from Dee Collins, the temporary chief constable:
Collins also said the attack on Cox "appears to be an isolated, but targeted attack." She also provided a timeline of the events that led to the attack on Cox:
---
9:03 a.m.
The Southern Poverty Law Center (SPLC) says Thomas Mair, the 52-year-old man arrested in connection with Cox's death, was a longtime supporter of the National Alliance, a U.S.-based neo-Nazi group. Mair allegedly shot Cox, a rarity in a country where gun crimes are traditionally rare (though last year saw a 14 percent rise).  Here's more from the SPLC:
There were reports Thursday that the killer had shouted "Britain first" while attacking Cox. This has not been officially corroborated.
---
Updated on June 17 at 8:49 a.m.
British Prime Minister David Cameron and Jeremy Corbyn, the leader of the opposition Labour Party, appeared together in Bristall, just feet away where Jo Cox was killed on Thursday.
Meanwhile, the U.K.'s Parliament, which is on a break, is being recalled Monday to pay tributes to the slain Labour Party MP, as tributes continue to pour in for her, and flags flew at half-staff over City Hall and Number 10 Downing Street, the prime minister's residence.
---
Updated on June 16 at 9:33 p.m.
Krishnadev has a longer look at Cox's life and legacy:
---
4:26 p.m.
Tributes are being paid in Bristall and London to Cox.
---
3:07 p.m.
British news reports have identified Cox's attacker as Thomas Mair. Here's the start's of The Telegraph's story on him:
Neighbors said they had never heard him "express any views about Europe or anything like that."
---
3:01 p.m.
British publications are reacting to the fatal attack on Cox, and we're including a few editorials and op-eds:
A day of infamy (Alex Massie in The Spectator). The piece appears no longer appears to be on the magazine's website, but here's an archived version.
An attack on humanity, idealism, and democracy (The Guardian)
We'll update this list as more editorials emerge.
---
2:32 p.m.
Watch Jo Cox's maiden speech to Parliament in 2015:
---
2:07 p.m.
Oxfam and Save the Children said:
---
1:47 p.m.
Gabrielle Giffords, the former Democratic congresswoman, who was shot and wounded in 2011, tweeted her condolences, as well:
---
1:21 p.m.
Gordon Brown, the former British prime minister, and his wife, Sarah Brown, with whom Cox worked closely, have both responded to her death. The former prime minister said: "Our memories will be for ever scarred by this moment. Our hearts will always be hurt at our country's loss." Sarah Brown added:
---
12:57 p.m.
Brendan Cox, the husband of the late MP, said in a statement he will "fight against the hatred that killed her." He added:
---
12:47 p.m.
As our colleague Matt Ford notes, Cox is the first MP to be assassinated in office since Ian Gow, a Conservative lawmaker who was killed in a car bombing by the Irish Republican Army in 1990. Irish republicans targeted members of Parliament from time to time during the Troubles, the spasmodic violence that wracked Northern Ireland for a half-century, but British legislators rarely faced security threats from elsewhere.
---
12:43 p.m.
Prime Minister David Cameron reacted to the death of Cox on Twitter:
---
12:36 p.m.
Jeremy Corbyn, the leader of the Labour Party, said he was "in shock" following the announcement that Cox died from the attack. He said in a statement:
---
12:25 p.m.
Cox has died from her injuries, multiple news sources report. Dee Collins, the chief constable of West Yorkshire police, said the MP was declared dead at 1:48 p.m. GMT by a doctor working with paramedics.
In a press conference Thursday afternoon, Collins also said a 77-year-old man was also attacked during the incident. However, details about the victim are still unknown.
Collins says police believe this was a lone incident and not part of a broader plot.
---
11:25 a.m.
Here's more background on Cox: She was born in Batley, part of the area she represents in Parliament, and graduated from Cambridge University in 1995. Before becoming an MP, she worked as a policy analyst for Oxfam, the aid agency, and also was an adviser to Sarah Brown, the wife of former Prime Minister Gordon Brown. After her election in 2015, she was one of three-dozen Labour MPs who nominated Jeremy Corbyn for the party's leadership. In the end, though, she voted for Liz Kendal, Corbyn's rival for the position, and later said she regretted nominating Corbyn, who now heads the party. She also strongly supported accepting 3,000 child refugees from Syria.
---
11:07 a.m.
Brendan Cox, Cox's husband who previously worked with Save the Children, tweeted this image of his wife:
---
10:54 a.m.
Initial eyewitness accounts of such incidents often vary from the final version, however multiple British news organizations are reporting that a witness at the scene heard Cox's attacker shout: "Britain first."  The Guardian is reporting that local police are talking to at least one witness who heard those words being shouted. Britain First is the name of a far-right U.K. nationalist party. The party's response:
That image on the left, which was first tweeted by the BBC, reportedly shows Cox's attacker being apprehended.
---
10:33 a.m.
David Cameron, the British prime minister, says he's canceling his visit to Gibraltar where he was scheduled to campaign for Britain to remain in the EU.
---
10:16 a.m.
Both of the main groups in the "Brexit" debate have suspended their campaigns in response to the attack on Cox.
Vote Leave also said it is suspending its campaign.
In a recent monthly column, Cox had explained why she would vote to remain. An excerpt:
And in a recent article she wrote that while immigration to the U.K—a reason often cited by backers of Brexit—was a "legitimate concern," it wasn't a good enough to reason to leave the EU.
---
10:09 a.m.
We'd earlier said it was unclear whether Cox had been attacked during or after her meeting with constituents at the Birstall Library. Her website says she was scheduled to meet with constituents from 1 p.m. to 2 p.m. GMT (9 a.m. to 10 a.m. ET). Police says they were called at 12:53 p.m. GMT, which suggests she was attacked prior to her meetings.
---
10:05 a.m.
Cox, in an op-ed last month in The Times, criticized the U.S. and U.K.'s approach to Syria, but noted:
---
10:01 a.m.
The BBC adds: "An eyewitness said the 41-year-old mother of two was left lying and bleeding on the pavement [sidewalk] after the incident."
---
9:54 a.m.
Politicians from across the political spectrum are reacting in horror to the attack on Cox. Here's a sampling:
---
9:39 a.m.
Cox broke with her Labour's party leadership and supported military action to end the Syrian civil war. She is also a campaigner for Britain's continued membership in the European Union. (Britons vote in a June 23 referendum on whether to remain in the bloc.)
She isn't the first British MP to be attacked. In 2010 Stephen Timms, also a Labour MP, was stabbed twice by a woman for his vote to support the Iraq war.
---
9:36 a.m.
The West Yorkshire Police have issued a statement on the attack and the arrest. Here it is in full:
---
9:33 a.m.
Here's more on Cox from her website:
---
9:30 a.m.
The BBC is now reporting that a 52-year-old man has been arrested in connection with the attack.
---
9:28 a.m.
The latest from Sky News:
---
9:24 a.m.
Cox was reportedly stabbed either during or after—this is still unclear—meetings with constituents—which in the U.K. are called "advice surgeries"—The Telegraph reported. Cox, 41, is an MP for Batley and Spen. She was elected for the first time in 2015.
---
9:20 a.m.
The Yorkshire Post is reporting that Cox was attacked on the steps of Birstall Library.
---
9:16 a.m.
Jo Cox, a Labour Party member of Parliament, was reportedly shot and stabbed in Birstall, near Leeds, British news reports say.
Her condition is said to be serious and authorities have launched a manhunt for her attacker.
This is a developing story and we'll update it as we learn more.