UCLA Shooting: The Suspect in the Murder-Suicide
The LAPD has identified the shooter in Wednesday's killing of an engineering professor.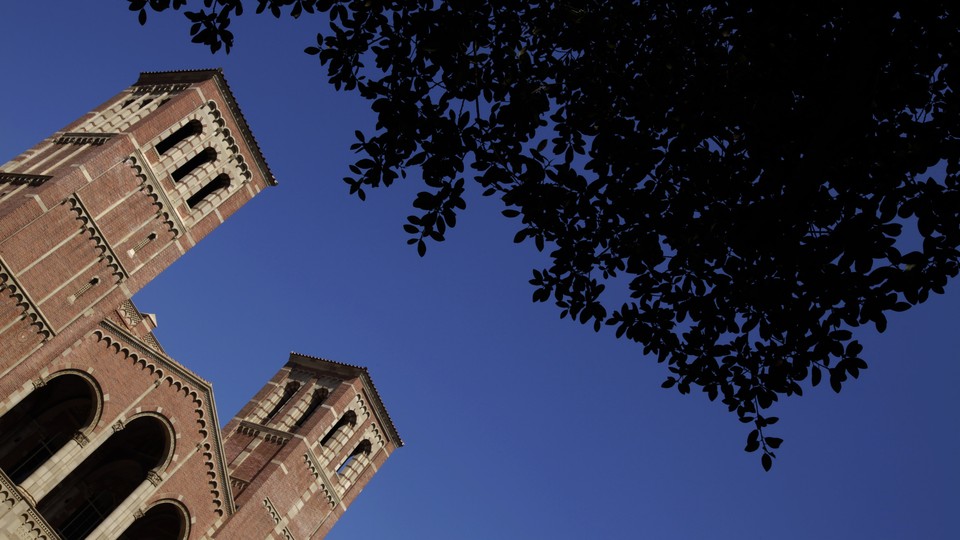 What we know so far:
—The gunman in Wednesday's shooting on the University of California, Los Angeles campus was identified as Mainak Sarkar, a former doctoral student of the victim, who has been identified as William Klug, 39.
—The shooting took place Wednesday morning at an engineering building on campus.
—Los Angeles police confirmed the shooting was likely a murder-suicide and lifted the lockdown.
Follow the story with updates below.
---
Updated on June 2 at 8:08 p.m. ET
CNN reports that the deceased Minnesota women is Ashley Hasti, who married Sarkar in 2011.
Here's more:
Hasti was Sarkar's wife, officials in Hennepin County, Minnesota, said. Those officials did not confirm Hasti was the woman found dead.

Hasti and Sarkar married June 14, 2011, Hennepin County Communications Officer Carolyn Marinan said. It was unclear if they were still married at the time of their deaths.

Police who searched Sarkar's Minnesota home found a note with an ominous title, Los Angeles police Chief Charlie Beck told reporters.

"Kill list," it said, spelling out the names of three people, according to Beck.
---
Updated at 1:05 p.m. ET
Sarkar may have also killed a woman in a small town in Minnesota before Wednesday's campus shooting, law enforcement officials said this morning.
Police officers found what LAPD Chief Charlie Beck described as a "kill list" in Sarkar's apartment Wednesday.
The Los Angeles Times has more:
Beck said that Sarkar had written two notes, one of which had a list of names that included Klug, the dead woman, and another UCLA professor. "It was a list that made the readers believe he was going to kill," Beck said.

Sarkar had driven from Minnesota to Los Angeles with two semiautomatic handguns, and investigators were still searching for the vehicle, which the chief described as a gray Nissan Sentra with Minnesota license plates 720KTW. Beck said police don't expect it to be "any significant danger" but asks anyone who sees it to call police.
After finding the woman's name on the list, the LAPD contacted police in Brooklyn Park, Minnesota, who found her dead inside her house Thursday morning with a gunshot wound, the Minneapolis Star Tribune reported. Her identity and relationship, if any, to Sarkar is unknown.
The unidentified UCLA professor also previously taught Sarkar and is unharmed.
---
Updated at 10:19 a.m. ET
BREAKING: Los Angeles police spokeswoman identifies UCLA gunman as Mainak Sarkar.

— The Associated Press (@AP) June 2, 2016
The Los Angeles Times reported Thursday that Sarkar was a former doctoral student at UCLA who has accused the victim—William Klug, 39— "of stealing his computer code and giving it to someone else."
Here's more:
Klug was an associate professor of mechanical and aerospace engineering and had been the target of Sarkar's anger on social media for months. On March 10, Sarkar called the professor a "very sick person" who should not be trusted.

"William Klug, UCLA professor is not the kind of person when you think of a professor. He is a very sick person. I urge every new student coming to UCLA to stay away from this guy," Sarkar wrote. "He made me really sick. Your enemy is my enemy. But your friend can do a lot more harm. Be careful about whom you trust."

A university source called the gunman's accusations "absolutely untrue."
---
Updated on June 1 at 3:41 p.m. EST
In a statement, UCLA confirms the situation is "contained."
"The campus has reopened and the lockdown is lifted. Classes are cancelled for the day and are expected to resume tomorrow," the university said.
---
3:13 p.m. EST
The Los Angeles Police Department is describing the shooting as a murder-suicide and lifting the lockdown, according to the Los Angeles Times:
LAPD Chief Charlie Beck confirmed that the shooter was one of the two men killed inside a small office in the campus' engineering complex.

"The important thing for people to take away from this is the campus is now safe," Beck told reporters in a news conference that took place shortly after noon.

The shooting, which led to a campus lockdown just after 10 a.m., prompted a massive response from local and federal law enforcement.
While stressing that the threat had passed, the LAPD also said it would continue to search the site of the shooting.
---
2:57 p.m. EST
The Los Angeles Police Department said in a statement it first received reports of shots fired on campus at 10 a.m. local time. According to NBC News, UCLA students are taking final exams this week.
---
2:27 p.m. EST
The university confirmed that the two victims shot earlier Wednesday have died.
Police confirm 2 dead in shooting at UCLA. Police are sweeping Engineering IV building for a possible shooter. Watch for updates.

— UCLA Newsroom (@UCLAnewsroom) June 1, 2016
Officials did not release the victims' names pending notification of their families.
---
2:07 p.m. EST
The University of California, Los Angeles campus is on lockdown after a gunman shot two people in an engineering building, the university said.
The condition of the two shooting victims is not known.
Campus officials issued the lockdown notice during morning classes on Wednesday.
BruinAlert: Shooting at Engineering 4. Go to secure location and deny entry (lockdown) now!

— UCLA Bruin Alert (@UCLABruinAlert) June 1, 2016
Law-enforcement officials have responded to the scene, including the federal Bureau of Alcohol, Tobacco, and Firearms, the agency said on Twitter.
We'll update this story with more information when it becomes available.