Twitter's Suspension of (and About-Face on) a Parody Account
The social-media platform suspended the popular @DarthPutinKGB account on Tuesday. A day later, the account is back online.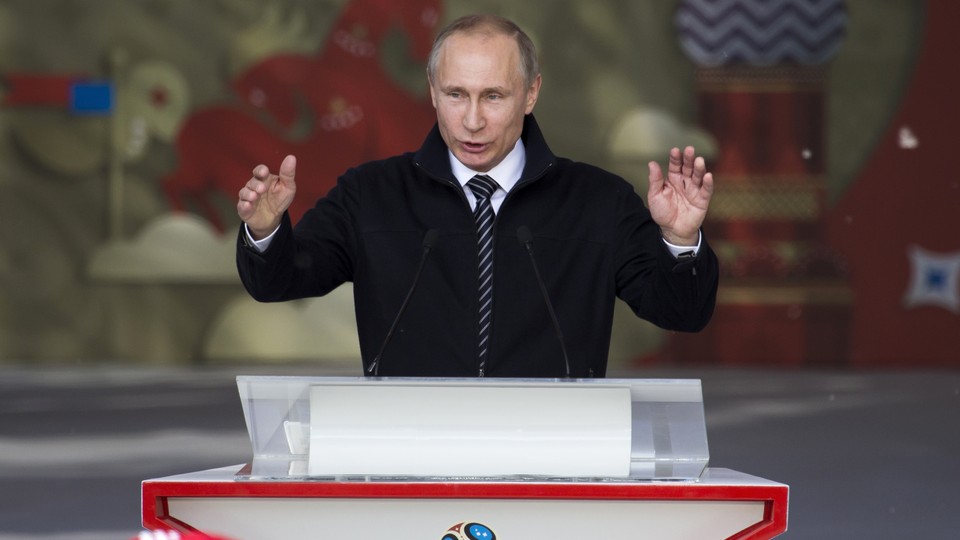 Updated on June 1 at 2:06 p.m. ET
Twitter appears to have reactivated Wednesday a popular account that satirized Russian President Vladimir Putin, a day after the @DarthPutinKGB account was suspended.
My security services have thwarted yet another CIA attempt at regime change in Russia. 😤

— Darth Putin (@DarthPutinKGB) June 1, 2016
I have noted the names of every single one of you who did not tweet to @Support against this fascist coup!!!

— Darth Putin (@DarthPutinKGB) June 1, 2016
The account, which has more than 58,000 followers, says in its bio: "146% of Russians didn't elect me. You don't visit Russia, I visit you. I serve tea to those that call this parody. Tweets made topless signed vvp."
Twitter's policies distinguish between accounts that are fake and those that are parodies. Here's the policy on fake accounts:
Impersonation is a violation of the Twitter Rules. Twitter accounts portraying another person in a confusing or deceptive manner may be permanently suspended under the Twitter impersonation policy.

An account will not be removed if:

the user shares your name but has no other commonalities, or
the profile clearly states it is not affiliated with or connected to any similarly-named individuals.

Accounts with similar usernames or that are similar in appearance (e.g. the same avatar image) are not automatically in violation of the impersonation policy. In order to be impersonation, the account must also portray another person in a misleading or deceptive manner.
And the policy on parodies or fan accounts:
Bio: The bio should indicate that the user is not affiliated with the account subject by stating a word such as  "parody," "fake," "fan," or "commentary," and be done so in a way that would be understood by the intended audience.

Account name: The name should not be the exact name of the account subject without some other distinguishing word, such as "not," "fake," or "fan," and be done so in a way that would be understood by the intended audience.
In a statement, Twitter told us:  "We do not comment on individual accounts, for privacy and security reasons."
And, it added: "When we receive a valid impersonation or trademark report about an account that violates our parody policy, we temporarily suspend the account and may give the user the opportunity to come into compliance."
Before it was suspended, the account in question, @DarthPutinKGB, bore the name "Vladimir Putin." The name on it now is "Darth Putin." A similar parody account with the handle @SovietSergey mocking the Russian foreign minister was also suspended Wednesday. That account previously bore the name "Sergey Lavrov." It's now "Soviet Sergey."
The person behind @SovietSergey said Twitter had sought a name change:
Now that I'm back, I'd like to point out that Twitter told me to change my name. See if you can find parody Merkel & Bill Murray. G'night.

— Soviet Sergey (@SovietSergey) June 1, 2016
The accounts had built up a following on Twitter with their use of humor to mock Russia's policies.
Arriving at Athens today:
Customs: Name?
Me: Vladimir Vladimirovich Putin
Customs: Occupation?
Me: No, this time i'm just here for 2 days

— Darth Putin (@DarthPutinKGB) May 27, 2016
Several other popular parody sites exist on Twitter, including @DPRK_News, an account that satirizes North Korea's state-run media.
Dung-eating incompetents at US computer company Twitter relent on policy of punishing critics of glorious Vladimir Putin, in utter disgrace.

— DPRK News Service (@DPRK_News) June 1, 2016