Turkey and Russia Reconcile
The Kremlin's spokesman says Turkish President Recep Tayyip Erdogan apologized for the death of a Turkish pilot who was shot down in Turkish airspace last November.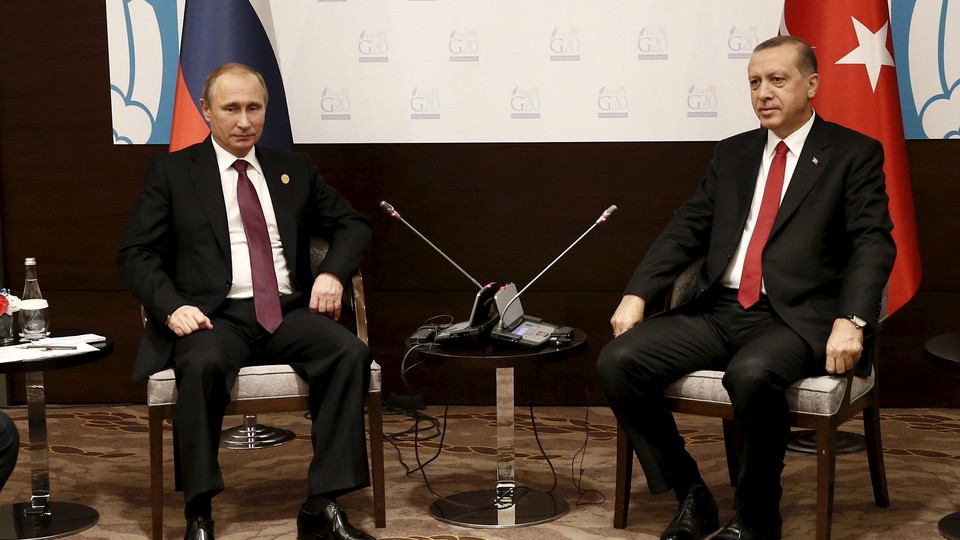 Turkish President Recep Tayyip Erdogan has apologized for the death of a Russian pilot whose warplane Turkey shot down last November, the Kremlin's spokesman said Monday.
Dmitry Peskov, the spokesman, said in a conference call: "The head of the Turkish state expressed his deep sympathy and condolences to the relatives of the deceased Russian pilot and said 'sorry.'"
A letter from Erdogan, posted on the Kremlin's website, said:
We never had a desire or a deliberate intention to down an aircraft belonging to Russia. … The Turkish side undertook all the risks and made a great effort to recover the body of the Russian pilot from the Syrian opposition, bringing it to Turkey. The organization of the pre-burial procedures was conducted in accordance with all religious and military procedures.
Hurriyet, the Turkish newspaper, reported: "Turkish presidential sources have also confirmed Erdogan's letter."
The step, if officially confirmed by Turkey, is significant. The downing of the Russian jet on November 24, 2015, sparked an angry response from Moscow, with President Vladimir Putin calling it a "stab in the back." Russia unleashed a barrage of invectives, as well as sanctions, against Turkey in response.
Russia sides with Syrian President Bashar al-Assad in the Syrian civil war and the warplane was flying over Syria's border with Turkey when it was shot down. (Russia maintained the plane was in Syrian airspace; Turkey said it had crossed over.) Turkey supports rebel groups opposed to Assad, whom it wants ousted. But with signs that Assad is firmly in power five years after the civil war began, Turkey found itself diplomatically isolated; it is also angry that the U.S., its major ally, is supporting Kurdish rebel groups that are fighting Assad. Turkey regards those groups as terrorists.
In another step that Erdogan is looking to end Turkey's diplomatic isolation, on Monday Turkey and Israel announced they were ending their six-year-old dispute over Israel's raid on a Gaza-bound flotilla that killed Turkish nationals.