Trump's U.K. Visit
The presumptive Republican presidential nominee will visit Britain on June 24—the day after the "Brexit" vote—for the opening of his golf resort.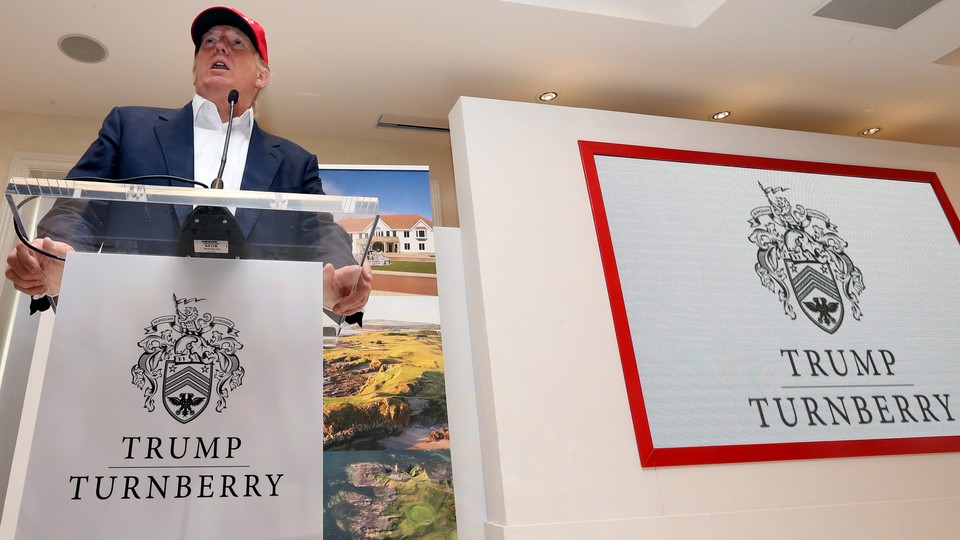 Donald Trump, the presumptive Republican presidential nominee, will visit the U.K. on June 24, a day after the country votes on whether to remain in the European Union, for the opening of his golf resort in Scotland, he announced Wednesday.
His statement:
Very exciting that one of the great resorts of the world, Turnberry, will be opening after a massive £200m investment. I own it and I am very proud of it. I look forward to attending the official opening of this great development on June 24.
Trump's visit would be his first to the U.K. after he proposed a temporary ban on Muslims visiting the U.S. Those remarks were criticized by David Cameron, the British prime minister, who called them "divisive, stupid, and wrong." Trump lashed out, saying, "It looks like we're not going to have a very good relationship" if he became president.
Trump's June 24 visit to Scotland, a place with which he has a tortured history, also comes a day after the U.K. votes on whether to remain in the EU. He previously said that if he were British he would probably vote to leave, calling the EU "very bureaucratic and very difficult" and a "disaster." He reiterated those comments in an interview published Wednesday in The Hollywood Reporter. Here's an excerpt:
"And Brexit? Your position?" I ask.

"Huh?"

"Brexit."

"Hmm."

"The Brits leaving the EU," I prompt, realizing that his lack of familiarity with one of the most pressing issues in Europe is for him no concern nor liability at all.

"Oh yeah, I think they should leave."

  
Trump bought Turnberry in 2014 for an undisclosed amount, and added his name to the golf resort. It's unclear if Cameron will meet Trump during his visit, though the prime minister said last week he was happy to meet the presumptive GOP presidential nominee if he were to visit.