Tinder, But for Brexit
A Manchester-based company has launched a dating app for Remain voters seeking other Remainers.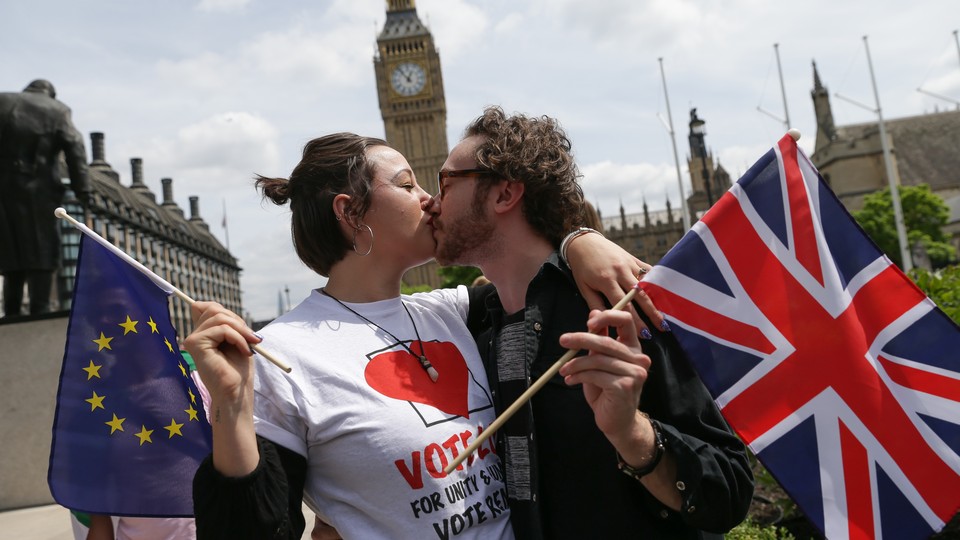 Remember that saying, "there's an app for that," from an Apple commercial in 2009? Several years later, the slogan's novelty has worn off—hundreds of apps are added to stores each day—and people expect to find something for, well, everything.
So it shouldn't be too surprising that someone went and made a Brexit dating app.
Better Together Dating, launched Tuesday, is a free dating service for the 48 percent of people who voted to remain in the European Union in last week's referendum in the United Kingdom. The logo is the flag of the EU, its stars replaced with hearts.
"Why wait until you're halfway through an evening before finding out your date voted Out?" its website reads.
The service was created by M14 Industries, a Manchester-based startup that builds custom dating apps for its clients. John Kershaw, 29, formed the company in late 2015 after he created Bristlr, a dating app that connects users with beards with users who like beards, as a joke—but then realized people liked it. Bristlr, which has been described as "Tinder for beards," has about 20,000 monthly users.
Better Together is slightly tongue-in-cheek, too, but Kershaw said it's a way to support the Remain cause, though it's probably too late. The morning after the referendum, Kershaw and his team of about six had woken up feeling "miserable."
"We've got Europe in our DNA; half my family are French, we've got staff here on an EU visa, and some of us are the children of immigrants," Kershaw told me over email. "I wanted something to cheer us up."'
The Android app launched Thursday morning, and Kershaw hopes an iOS app will become available next week. Better Together has several hundred users so far, mostly from the United Kingdom. The users are 60 percent male, 40 percent female, a gender split similar to apps like Tinder. Was Brexit really a deal-breaker for them? To find out, I signed up on the website version. Users can join with their Facebook accounts—as is the case with many dating apps, like Tinder, Bumble, and Hinge—or email accounts.
Better Together pulled in my default Facebook photo, and then prompted me to fill out my profile: "What is your favorite city to visit in the EU? What languages do you speak? What countries have you visited in the EU? Tell your favourite story!" I gave my current location as London (there was, unsurprisingly, no one around in Washington, D.C.) and set my parameters to "everyone" and "within 200 kilometers." At about noon Wednesday, there were seven men and three women using the service in the area, mostly in their 20s and 30s. Two people can begin communicating only when they have matched—signaled interest by clicking a star on each other's profiles. I clicked the stars on all of them and waited.
Better Together knows its market—and the current political landscape in Britain. The majority of young people—the ones who use online dating services most—chose to remain in the EU: 75 percent of voters between ages 18 and 24 reported picking Remain, along with 56 percent of voters between ages 25 and 49, according to a YouGov exit poll. Better Together's interface resembles Tinder, one of the most widely known and popular dating apps, with reportedly 9.6 million daily active users around the world. And who wants to be with someone who's just going to leave after 43 years, sinking your currency, roiling the markets, and promising two years of anguish and potential bickering?
Kershaw said he and his team are still reeling from the outcome of the referendum. "The situation is still so weird and fluid, it's hard to grasp," he said. "Every now and again I have a moment of realisation where it sinks in a bit more."
Better Together users have already begun matching and chatting, Kershaw said. No such luck for some of us, though: