The Investigation of Thailand's Tiger Temple
Officials are looking into whether the popular tourist attraction was involved in the wildlife trafficking after the discovery of 40 dead cubs.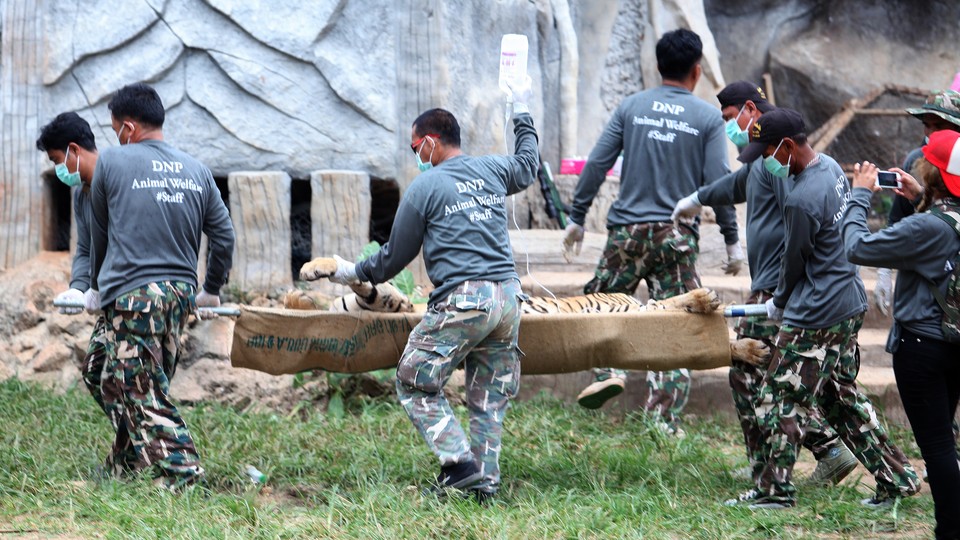 Thai wildlife authorities investigating the famed Tiger Temple have found the remains of 40 tiger cubs inside a freezer and are now looking into whether the tourist attraction engaged in wildlife trafficking.
Edwin Wiek, founder of the Wildlife Friends Foundation Thailand, tweeted an image of the carcasses and also noted:
"They must be of some value for the temple to have kept them," Adisorn Noochdumrong, deputy director-general of the Department of National Parks, told the Bangkok Post. "But what that may be is beyond me."
As we reported Monday, wildlife officials seized some of the more than 100 tigers held at the Wat Pa Luangta Maha Bua Yannasampanno, the official name of the Buddhist temple in western Thailand, in response to allegations of mistreatment of the animals.
The temple is a popular tourist spot in Kanchanaburi province, where visitors are allowed to play with tigers and cubs and even take selfies with them. Government officials plan to clear the temple of all tigers, and will spend the next week removing the remaining 131 animals. The tigers will be transported to government sanctuaries elsewhere in the country.