Texas Loses Its Syrian Refugee Lawsuit
A federal judge tossed out the case on procedural grounds Wednesday.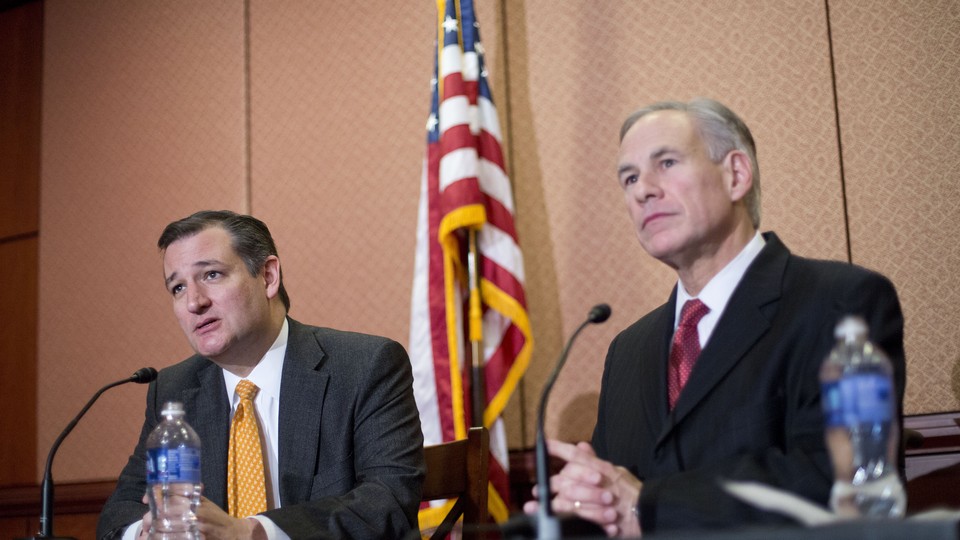 A federal district court rejected Texas's attempt to bar the federal government from resettling Syrian refugees in the state and dismissed the lawsuit on Wednesday.
The Texas Health and Human Services Commission failed to "state a plausible claim for relief" or prove it could challenge the government's actions under existing law, federal district judge David Godbey ruled.
Texas officials originally filed the lawsuit last December against the federal government and the International Rescue Committee, a nonprofit agency that assists with refugee resettlement. The legal fight came amid a broader backlash by some states, largely led by Republican officials, to resettling Syrian refugees after the terrorist attacks in Paris last November. Texas Governor Greg Abbott ordered the commission to suspend its cooperation with federal officials three days after the attacks. At the time, the agency also asked the court to halt the imminent arrival in Texas of a Syrian refugee family, but Godbey declined to intervene.
In the lawsuit, Texas accused the federal government of violating the Refugee Act of 1980, which requires resettlement agencies to "consult regularly" with state governments before placing refugees in a state. While both agencies provided Texas with advance notice of resettlements, state officials asked their federal counterparts and the IRC for more specific information about individual refugees in the weeks leading up to the lawsuit.
Godbey declined to address whether the federal government had actually violated the Refugee Act's consultation requirements. Instead, he ruled that Congress hadn't provided Texas or other states with the necessary legal means to challenge federal actions under the Act. Texas acknowledged Congress had provided no explicit mechanism, but argued the law implicitly included one. But this argument failed to convince Godbey, who cited the statute's history and structure to disprove it.
His order also dismissed the commission's allegation that the IRC violated its contract with Texas by resettling refugees without proper communication. Texas argued the Refugee Act required the IRC to provide "close cooperation and advance consultation." But that language is best read as advisory, Godbey wrote, contrasting its vague urgings with more explicit commands elsewhere in the Act.
Texas's defeat comes as other states continue to fight refugee resettlements in the courts. In March, the Obama administration asked a federal court to dismiss a similar lawsuit by Alabama. Tennessee Governor Bill Haslam declined to veto legislation last month that would allow a lawsuit to go forward in that state.