An Undue Burden in Texas
The U.S. Supreme Court strikes down two Texas abortion-clinic restrictions in a 5-3 decision.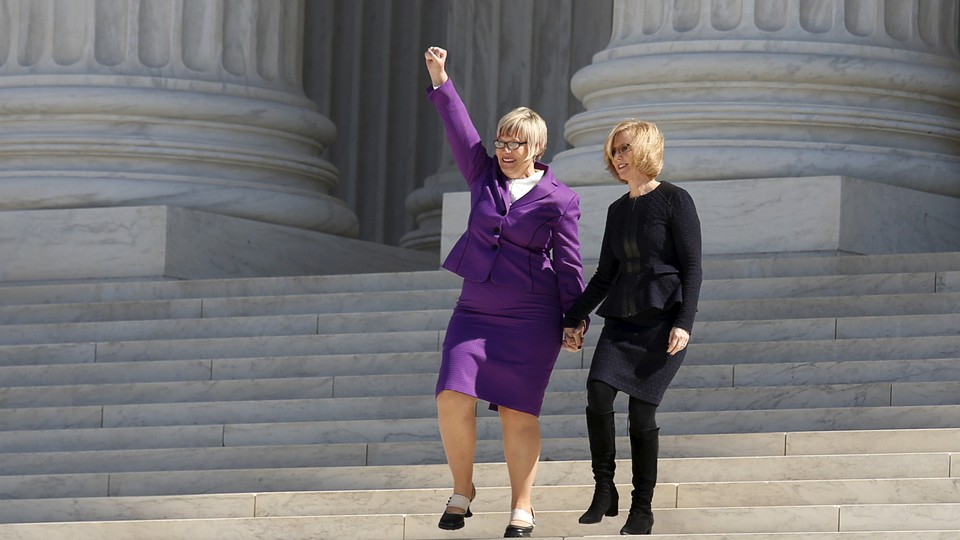 Updated at 1:48 p.m.
The U.S. Supreme Court struck down a series of restrictions on Texas abortion clinics Monday, turning back one of the most significant challenges to abortion rights in a generation.
"We conclude that neither of these provisions offers medical benefits sufficient to justify the burdens upon access that each imposes," Justice Stephen Breyer wrote for a five-justice majority in Whole Woman's Health v. Hellerstadt. "Each places a substantial obstacle in the path of women seeking a previability abortion, each constitutes an undue burden on abortion access, and each violates the Federal Constitution."
Justice Anthony Kennedy, who became the Court's swing vote on abortion cases after the retirement of Justice Sandra Day O'Connor in 2005, provided the Court's liberal wing with a crucial fifth vote.
The case centers on two abortion-clinic regulations enacted by the Texas legislature in 2013 in a bill known as H.B. 2. One of the regulations requires doctors who provide abortions to have admitting privileges at a hospital within 30 miles of the procedure's location. A second regulation also requires clinics that provide abortions to meet the same safety and staffing standards Texas requires for hospital operating rooms. The law rose to national prominence after Wendy Davis, a Texas state senator at the time, filibustered the bill for 11 hours in an attempt to halt its passage.
Abortion providers sued Texas shortly after it was signed into law, arguing that its strict requirements imposed an "undue burden" on women who seek abortions. That phrase comes from Planned Parenthood v. Casey, a landmark Supreme Court ruling in 1992 in which the justices struck down a state law for obstructing a woman's constitutional right to obtain an abortion. In June 2015, the Fifth Circuit Court of Appeals ruled that the two restrictions did not impose an undue burden on Texas women seeking abortions. The U.S. Supreme Court blocked its enforcement while they considered the case.
For Texas women, the impact could have been extraordinary. My colleague Garrett Epps noted the restrictions threatened to close all but a handful of Texas's 40 abortion clinics. For more than 1 million women of reproductive age in the vast state, those remaining clinics would be more than 150 miles away.
To Breyer and his colleagues in the majority, that qualified as an undue burden. "In the face of no threat to women's health, Texas seeks to force women to travel long distances to get abortions in crammed-to-capacity super facilities," he wrote. "Patients seeking these services are less likely to get the kind of individualized attention, serious conversation, and emotional support that doctors at less taxed facilities may have offered."
H.B. 2's proponents defended the law was a necessary measure to safeguard women's health and safety. Texas Governor Greg Abbott, a strong supporter of the regulations, quickly criticized the Court's ruling. "This decision erodes States' lawmaking authority to safeguard the health and safety of women and subjects more innocent life to being lost," he said in a statement. "Texas' goal is to protect innocent life, while ensuring the highest health and safety standards for women."
But the Court cast doubt upon those motives, noting the regulations seemed disconnected from their stated purposes.
"We add that, when directly asked at oral argument whether Texas knew of a single instance in which the new requirement would have helped even one woman obtain better treatment, Texas admitted that there was no evidence in the record of such a case," Breyer observed, referring to the admitting-privileges requirement.
"Another commonsense inference that the District Court made is that these effects would be harmful to, not supportive of, women's health," he later added.
In a brief concurrence, Justice Ruth Bader Ginsburg made the point about the regulation's true motives more directly.
"Many medical procedures, including childbirth, are far more dangerous to patients, yet are not subject to ambulatory surgical-center or hospital admitting-privileges requirements," she wrote. "Given those realities, it is beyond rational belief that H.B. 2 could genuinely protect the health of women, and certain that the law 'would simply make it more difficult for them to obtain abortions.'"
Justice Samuel Alito, who authored the main dissent in the case, said he would have upheld the regulations as constitutional. But he devoted most of his 43-page dissent to the legal principle of res judicata, which generally bars courts from hearing the same case or controversy twice. Alito argued the Whole Woman's Health plaintiffs wrongly filed the case weeks after the Fifth Circuit had ruled against many of them in another case, Planned Parenthood v. Abbott.
"In this abortion case, however, that rule is disregarded," he wrote, joined by Chief Justice John Roberts and Justice Clarence Thomas. "The Court awards a victory to petitioners on the very claim that they unsuccessfully pressed in the earlier case. The Court does this even though petitioners, undoubtedly realizing that a rematch would not be allowed, did not presume to include such a claim in their complaint."
Breyer strongly challenged that interpretation, noting the Abbott case challenged the law before its enforcement and the Whole Woman's Health case fought its actual application. "In our view, such changed circumstances will give rise to a new constitutional claim," he wrote for the Court. "This approach is sensible, and it is consistent with our precedent."
In previous years, Justice Antonin Scalia would have likely penned a dissent that also criticized the Court's abortion-rights jurisprudence as a whole. With Scalia now gone, that role instead fell to Thomas, who argued against what he described as the "putative right to abortion," as well as the Court's broader approach to scrutinizing laws that might violate constitutional rights.
"The undue-burden standard is just one variant of the Court's tiers-of-scrutiny approach to constitutional adjudication," he wrote, delving into the arcane foundations that underpin many of the Court's modern landmark rulings. These tiers, Thomas argued, amounted to "nothing but empty words separates our constitutional decisions from judicial fiat."
Ginsburg also offered a broader look at the context of Monday's ruling, but in the opposite direction of Thomas. Her separate concurrence instead suggested that other burdensome state laws targeting abortion providers could be the next to fall. In particular, Ginsburg singled out what abortion-rights activists call TRAP laws, short for "targeted regulation of abortion providers," which they describe as excessive regulations intended to shut down clinics.
"When a State severely limits access to safe and legal procedures, women in desperate circumstances may resort to unlicensed rogue practitioners, faute de mieux, at great risk to their health and safety," she concluded. "So long as this Court adheres to Roe v. Wade and [Casey], Targeted Regulation of Abortion Providers laws like H.B. 2 that 'do little or nothing for health, but rather strew impediments to abortion' cannot survive judicial inspection."