Israel's Response to the Deadly Tel Aviv Attacks
Israel said it was sending two additional battalions to the West Bank and was suspending permits for Palestinians to visit their relatives inside the country during Ramadan.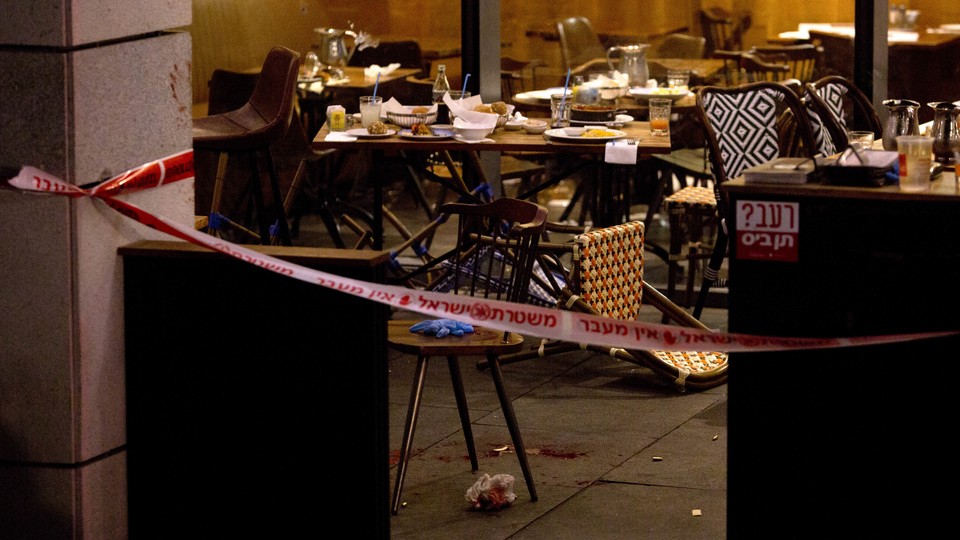 Israel announced new security measures Thursday, a day after two Palestinian gunmen from the West Bank opened fire and killed four people in a district popular with tourists in Tel Aviv.
The Israeli military, citing "situation assessment," said it will deploy two additional battalions in the West Bank, numbering hundreds of troops, in response to the attack. Separately, Coordination of Government Activities in the Territories (COGAT), the Israeli government body, said 83,000 permits for Palestinians in the West Bank to visit relatives inside Israel had been frozen. Similar permits for Palestinians in Gaza were also suspended. The permits had been granted as a goodwill gesture so Palestinians could visit family members inside Israel during the Islamic holy month of Ramadan.
The Associated Press has more:
In addition, the military said it had frozen Israeli work permits for 204 of the attackers' relatives, and was preventing Palestinians from leaving and entering the West Bank village of Yatta, the attackers' home village. COGAT said entering or leaving will only be permitted for humanitarian and medical cases.

The military was also making preparations to demolish the family home of one of the attackers. Israel often responds to attacks by demolishing the homes of the assailants or their relatives — a tactic that is criticized by the Palestinians and human rights groups as collective punishment. 
The gunmen, both in their 20s, are related and from Yatta, a village near the West Bank city of Hebron, Israeli police said. One gunmen was shot and injured; the other arrested.
"Life in the Yatta village won't carry on as usual," Deputy Defense Minister Eli Ben-Dahan said. "A village that has terrorists leaving from its midst will pay the price." 
The four people killed in Wednesday's attack have been identified as Michael Feige, 58, a sociologist and anthropologist at Ben-Gurion University; Ido Ben Arieh, 42, a Coca-Cola executive in Israel; Ilana Naveh, 39, and Mila Misheiv, 32.
Hamas and Islamic Jihad both praised the attack, but neither claimed responsibility.