Switzerland's 'Money for Nothing' Proposal
Voters rejected Sunday a measure calling for universal basic income for Swiss citizens whether they worked or not.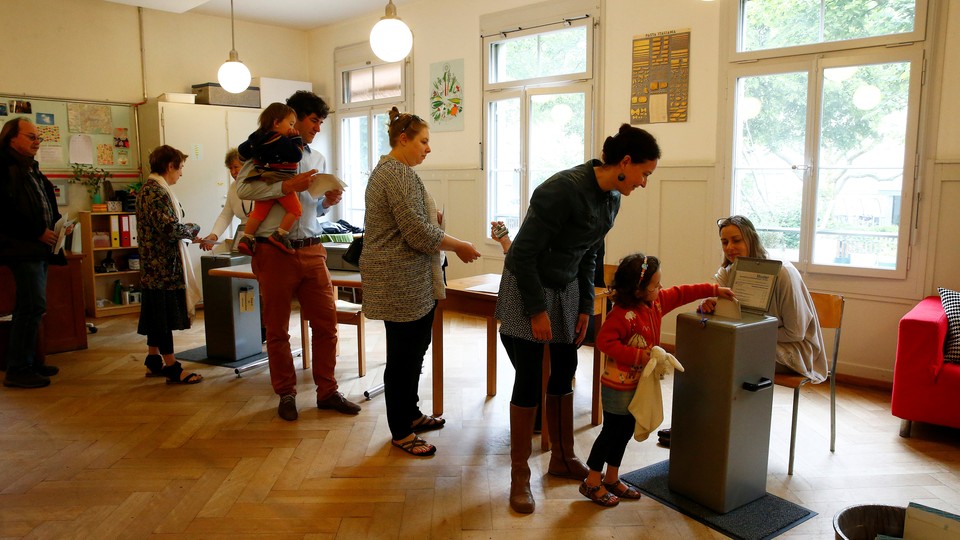 Swiss voters rejected a proposal Sunday that would have guaranteed every adult citizen in the country a minimum monthly income no matter how much or whether they worked, according to projections.
About 78 percent of voters opposed the measure and 22 percent voted in favor, according to Swiss polling company gfs.bern. The proposal had called for unconditional pay regardless of employment that supporters said would cover people's basic needs in the wealthy nation. It received a referendum under a federal system that allows citizens to suggest changes to the national constitution and opens for a public vote those that garner 100,000 signatures.
The proposal suggested paying Swiss adults a monthly income of 2,500 Swiss francs, or $2,560, and giving 625 Swiss francs, or $640, to each child. Salaried workers who earned more than that would not have been eligible.
The measure was not expected to pass. Daniel Häni, a cafe owner in Basel and one of the founders of the campaign, said he had expected a smaller percentage of voters to back the plan, and called the support "fabulous and sensational."
Supporters of the proposal said it would encourage household and volunteer work and could even replace the country's social welfare system. Critics said it would drain the government's funds, attract workers from other countries looking to profit from the policy, and remove the incentive to work. The Swiss government had urged voters to reject the proposal. Less than 10 percent of members of parliament support the proposal, according to gfs.bern.
"If you would offer every individual a Swiss amount of money, you would have billions of people who would try to move into Switzerland," Luzi Stamm, a member of parliament and the right-wing Swiss People's Party, told BBC Sunday.
The proposal's supporters had publicized the initiative by handing out money to commuters in Zurich in March and unfurling a giant, Guinness World Record-breaking poster that read "What would you do if your income were taken care of?" in Geneva last month.
Similar policies are being explored elsewhere. The Dutch cities of Utrecht, Tilburg, Groningen, and Wageningen are considering trial programs that provide universal monthly income, and last year the Finnish government said it was researching the idea.
Switzerland is the first country to hold a national vote on a fixed basic income. Switzerland's unemployment rate is 3.5 percent, well below the average for developed countries. According to statistics from the last five years, about 7.7 percent of the nation's 8 million people live below the poverty line, half that of many European nations.