The Stanford Rape Case's Judicial Fallout
Prosecutors successfully removed Judge Aaron Persky from a new sexual-assault case on Tuesday, citing his controversial role in Brock Turner's trial.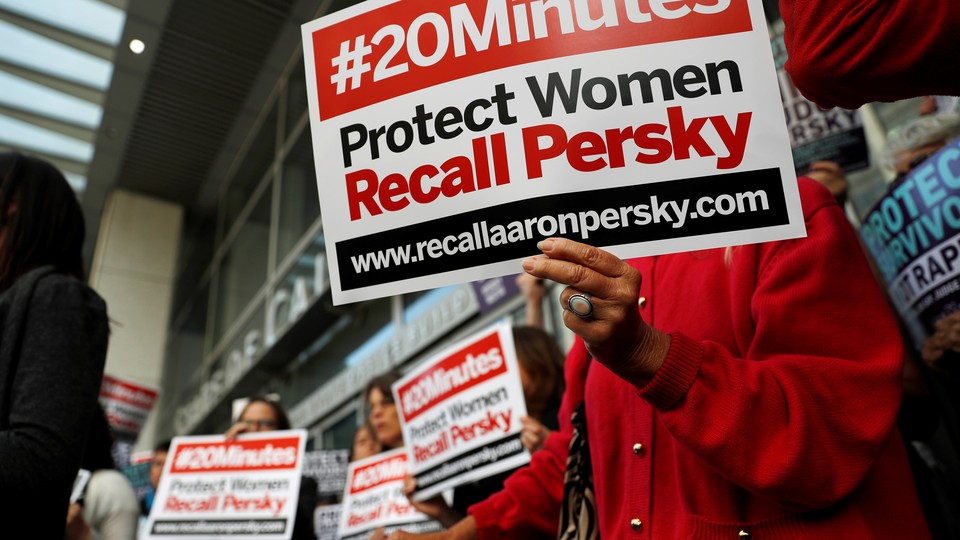 Local prosecutors in California successfully moved to remove Aaron Persky, the Santa Clara Superior Court judge, from a sexual-assault case Tuesday, citing his lenient sentencing of Brock Turner, the former Stanford student convicted of sexual assault, as a cause for concern.
The Santa Clara District Attorney's office told reporters it was also "disappointed and puzzled" by Persky's dismissal of a misdemeanor mail-theft case on Monday after the prosecution presented its case. According to the Mercury News in San Jose, Persky granted the motion to dismiss because the alleged thefts weren't recent enough; prosecutors argued he misunderstood the case law he cited.
The removal adds to the growing fallout from the Stanford rape case, which ignited a national debate earlier this month over sexual assault and the criminal-justice system.
Persky was widely criticized for his role in the trial and sentencing of Turner, a former Stanford University student convicted of three felony counts of sexual assault in March for raping an unconscious woman on campus in 2015. During the sentencing phase earlier this month, Turner's 23-year-old victim read a searing 12-page letter to her attacker in the courtroom that garnered international attention after it was published online by Buzzfeed.
Prosecutors originally asked Persky for a six-year sentence, essentially applying the two-year minimum guideline for each of the three felony counts. Instead, Persky instead sentenced Turner to six months in jail and probation. "A prison sentence would have a severe impact on him," the judge said. "I think he will not be a danger to others." Turner will also have to register as a sex offender for life.
Tuesday's removal also follows an extraordinary moment in Persky's courtroom during jury selection in the dismissed misdemeanor case. The Mercury News reported at least 10 prospective jurors refused to serve on a case assigned to the judge.
"I can't be here, I'm so upset," said one juror, who according to multiple sources, told the judge while the lawyers were picking the jury in the misdemeanor receiving stolen property case.

Another prospective juror stood up and said, "I can't believe what you did," referring to the six-month county jail sentence Persky handed to Turner, who was convicted for sexually assaulting an unconscious intoxicated woman last year outside a Stanford University frat party.

In each case, the judge said, "I understand," thanked the prospective juror and excused her or him from duty.
Jury nullification isn't unheard of in American legal history. But a jury pool's mass refusal to participate because of the presiding judge's actions in an unrelated case appears to be unprecedented, at least in the modern era.
Andrew Ferguson, a University of the District of Columbia law professor who specializes in juries, described the move as "interesting and troubling."
"Imagine if jurors regularly chose to reject jury service because they disagreed with the prior decisions of a judge or their political or legal philosophy," he said. "Jurors are the voice of the community, yes, and in one sense, these jurors should be commended for engaging in thinking about the application of criminal law in their courts. But this is a bad precedent."
Community members outraged by Turner's sentencing could soon have another way to express their displeasure. Stanford law professor Michele Dauber and other members of the local legal community are spearheading a recall effort to remove Persky, who is running unopposed for reelection in November, from the bench.