The Deadly 'Heat Dome' Scorching the Southwest
Record-breaking temperatures have put 30 million people in the U.S. under heat advisories or warnings.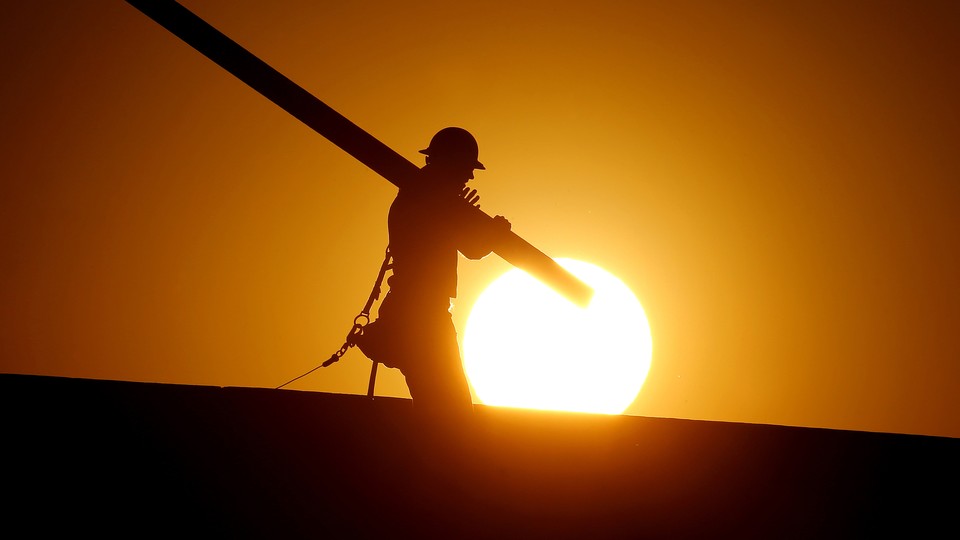 A heatwave across the American Southwest has been blamed for the death of four people in Arizona, and put 30 million people under heat warnings or advisories.
In Arizona, the cities of Flagstaff, Tucson, Yuma, and Phoenix all saw record-breaking temperatures—the hottest at 120 degrees Fahrenheit—over the weekend. The heat was blamed in the deaths of four hikers––two near Phoenix, and two near Tucson.
CNN reports the heatwave is the result of what is called a "heat dome":
... a pattern that can lead to record-setting temperatures and heat waves -- according to CNN Meteorologist Rachel Aissen. A heat dome occurs when air is capped by the upper atmosphere in the same location: The air hits the cap and returns to the surface, continuing to heat it like a convection oven.
In Southern California, near San Diego, the National Weather Service issued an excessive heat warning for everywhere but coastal areas, and temperatures in 14 cities broke heat records. To the north in Santa Barbara, a wildfire has grown to almost 8,000 acres and has burned for nearly a week thanks to the heat and dry winds. Another fire in New Mexico has burned nearly 18,000 acres, and one in Arizona has scorched almost 28,000 acres, doubling in size over the past day. In all, wildfires have burned nearly 2 million acres in the U.S. this year, which is 200,000 acres above average so far.
Extreme heat kills more people each year in the U.S. than flooding, tornadoes, cold, or hurricanes. Temperatures are expected to remain high until Thursday, after which they may cool slightly; in Phoenix, that means down to the low 110s.