South Sudan's Canceled Independence Day
The world's youngest country is short on cash as it fights a civil war.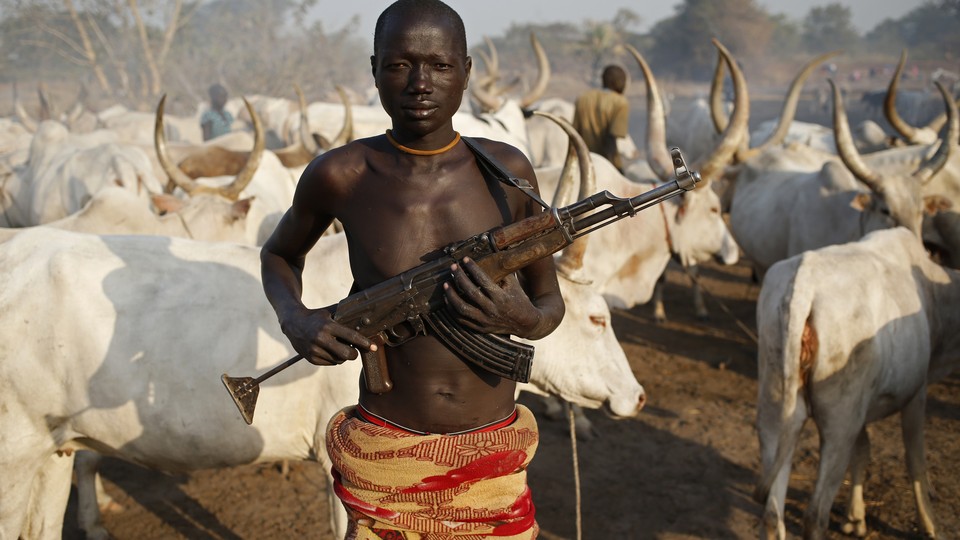 The world's youngest country canceled its upcoming independence-day celebrations.
South Sudan, plagued by a civil war and a struggling economy, will not have any official commemorations on July 9 to mark the fifth anniversary of breaking off from Sudan. On Tuesday, Michael Makuei, the minister of information, said, "We need to spend the little that we have on other issues."
The situation in South Sudan, as Al Jazeera describes, is critical:
South Sudan is struggling to stem soaring inflation caused by the war, rampant corruption and the near collapse of the oil industry, which accounts for 98 percentage of government revenues.

The International Monetary Fund  has warned that the economy is in ruins with inflation at almost 300 percent and the currency falling by 90 percent this year.

Civil war erupted in South Sudan in December 2013 but rebel chief Riek Machar returned to the capital in April as part of a peace deal that saw him become vice president, forging a unity government with [President Salva] Kiir.
Despite this agreement, fighting has continued throughout the country between different militia forces, leaving tens of thousands dead. This week, more than 50 people were killed in fighting between government forces and rebels in the remote town of Wau.
There are now around 10,000 people who have taken shelter at a nearby United Nations base. Moses Peter, humanitarian coordinator of the Caritas Diocese of Wau, told the Associated Press:
"The army, which is patrolling the streets here, has asked people to return to their homes but the displaced are still in fear. They do not want to return to their homes because they do not trust the army, because they say it is the army that killed civilians."
Another 160,000 people are sheltered at other UN bases in the country, as civilians fear future ethnic massacres, torture, rape, and the recruitment of child soldiers.
In previous years, despite the civil war, the country still held military parades on its independence day. This year, though, Kiir, the president, will just address the country.