A Bill for the South African President
The National Treasury ordered Jacob Zuma to repay part of the funds he used to improve his home.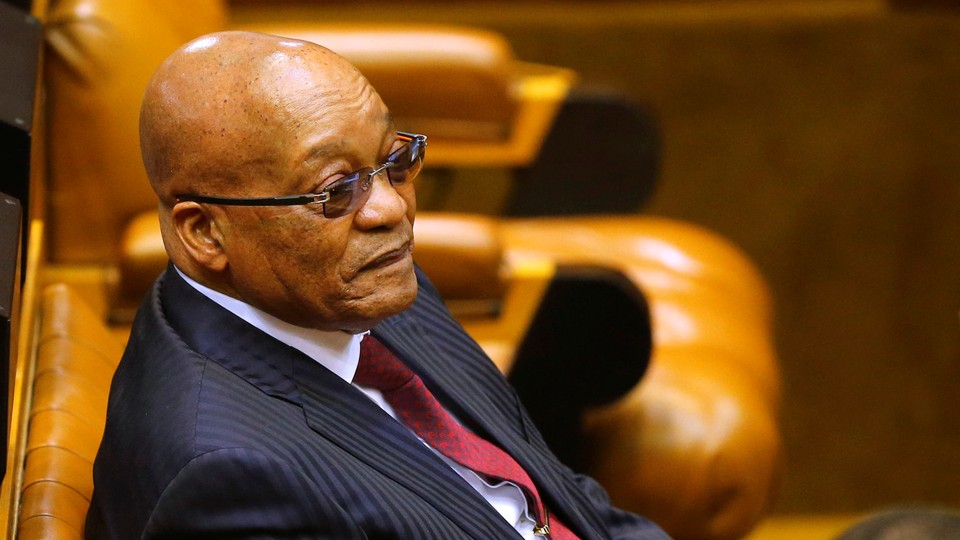 South Africa's National Treasury ordered President Jacob Zuma to repay $510,074 of state funds he used to upgrade one of his estates, Reuters reported Monday.
In March, after a protracted investigation, the Constitutional Court found Zuma used $16 million for non-security upgrades to his Nkandla home. From March:
In 2014, South Africa's public protector, Thuli Madonsela, issued a report that found funds were used for non-security renovations and recommended that Zuma repay the money. But Zuma said the public protector's recommendation was advice, not an order, and claimed other officials authorized the upgrades without his knowledge. He then ordered his own investigations conducted by the police and public-works ministries. One report described Zuma's swimming pool as a reservoir to fight fire and, therefore, a security measure. Two opposition parties—Economic Freedom Fighters (EFF) and the Democratic Alliance (DA)—appealed to the Constitutional Court.

On Wednesday, the Constitutional Court unanimously found Zuma's actions unconstitutional. The chief justice, Mogoeng Mogoeng, said by "failing to comply with the remedial action, the president thus failed to uphold, comply, and respect the constitution." He described Zuma's denials and investigations as "substantial disregard" for Madonsela.
But Monday's decision is unlikely to placate the opposition, which condemned Zuma after March's ruling and called for his impeachment. In a statement, Mmusu Maimane, leader of the Democratic Alliance, praised the Treasury's decision but demanded more.
The fact that President Zuma is now legally obliged to pay back a portion of the money spent at Nkandla is to be welcomed. President Zuma must pay this amount without delay, and he must pay it personally. However, paying back the money does not mean the original corruption is forgotten. This is not the end of the road for Jacob Zuma and his corrupt cronies; it has only just begun.