A Solar-Powered Transatlantic Flight
Solar Impulse, which took off from New York on Monday, landed in Seville, Spain.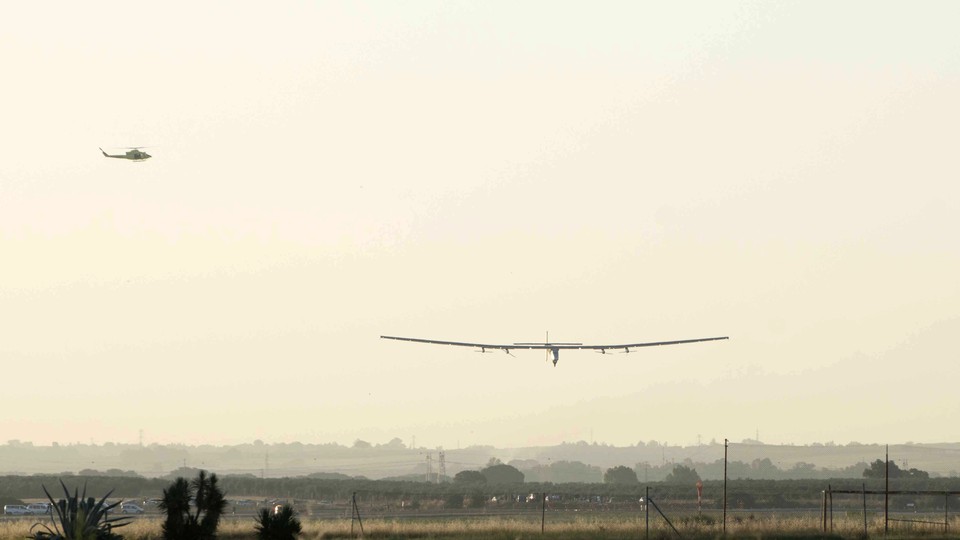 Solar Impulse, the sun-powered plane that's attempting to circle the globe, touched down in Seville, Spain, Thursday after a 70-hour flight across the Atlantic from New York.
Bertrand Piccard, the plane's Swiss pilot, is hoping to fly the aircraft to Abu Dhabi, where Solar Impulse began its mission in March 2015. The aircraft flew to Kalaeloa, Hawaii, where it ran into trouble. As my colleague J. Weston Phippen previously reported last month:
Solar Impulse 2's journey … was delayed for nine months after landing in Hawaii because the plane needed repairs to its solar batteries. Its carbon-fiber body has a wingspan larger than a Boeing 747, but weighs about as much as an SUV and cruises at highway speeds. [Andre] Borschberg has at time piloted the plane with Bertrand Piccard, who is also the project's co-founder.
The goal of the Atlantic leg was to emulate Charles Lindbergh, who in 1927 piloted the Spirit of St Louis across the ocean and became the first person to make the crossing alone. But because the forecast in Paris called for storms, the Solar Impulse team picked Seville instead.
The plane's mission managers will now map a route to Abu Dhabi, along north Africa.