The Russian Olympic Ban
The global governing body for track and field announced Russian athletes could not compete in Rio this summer.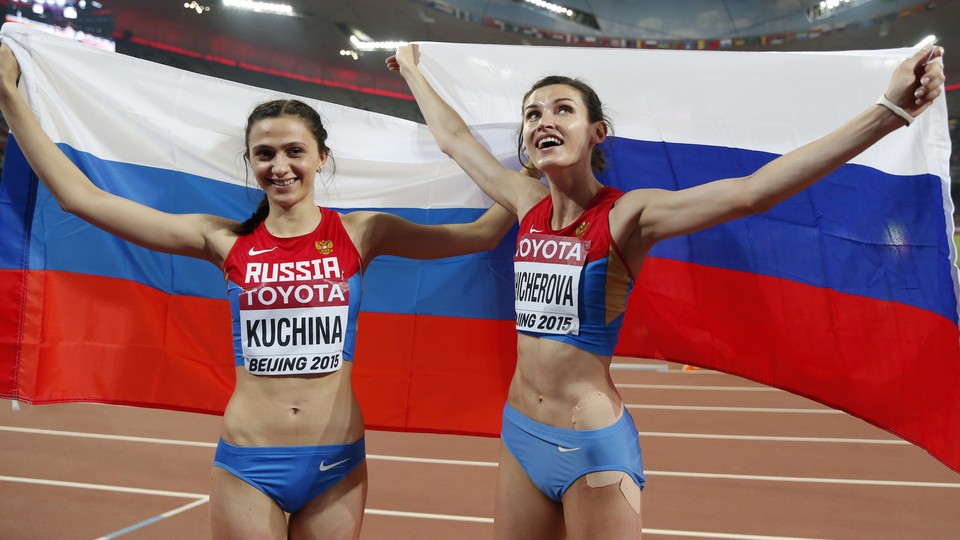 Updated on June 17 at 11:52 a.m.
Russian athletes will be missing from the track-and-field competitions at the Rio Olympics this summer.
The International Association of Athletics Federations (IAAF), the governing body for track and field, announced Friday that Russia had not done enough to fix its athletic system, which has been tarnished by a widespread doping scandal. Russian athletes have been banned from international competition for the last seven months following a damning report by the World Anti-Doping Agency.
While Russian Sports Minister Vitaly Mutko has said he was "very sorry" about the scandal, he never admitted the cheating was state-sponsored, as the WADA investigation had concluded. As The New York Times reports:
Since then, however, Russian officials have striven to persuade global decision-makers that they can be trusted in Olympic competition, volunteering to go beyond standard eligibility requirements and to send only athletes who have not been disciplined for drug use.

To allow athletes without a history of drug violations to compete – as the I.O.C. may discuss on Tuesday – could prove controversial. The sophistication of Russia's operation, whistle-blowers have alleged, has made athletes on steroids appear to be clean, be it through surreptitiously swapping out incriminating urine samples or imbibing drugs with liquor to minimize the period during which they can be detected.
This is a rare move by the international governing body. As the Times notes, whole teams are usually banned from competition because of politics—like the ban on South Africa from 1964 to 1988 because of apartheid—and not because of doping.
In response, the Russian Ministry of Sport said it was "extremely disappointed" by the decision, and said it would appeal the decision to the International Olympic Committee:
The IOC is scheduled to discuss the IAAF's ban next Tuesday.