A Shooting at a German Movie Theater
The motive of the gunman, who was shot dead by police in Viernheim, near Frankfurt, is not known.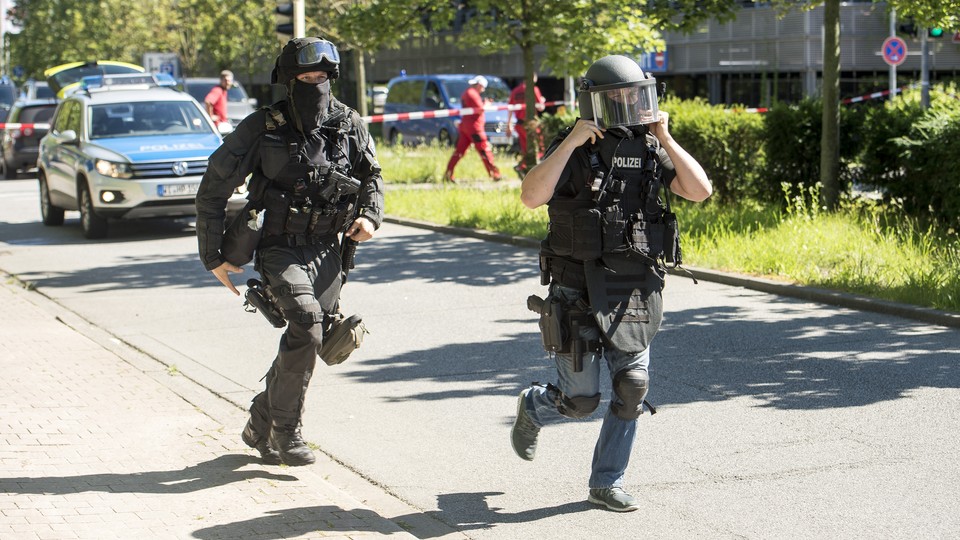 Here's what we know:
—A gunman, who opened fire in a movie-theater complex in Viernheim, Germany, has been shot dead.
—The people inside the theater whom he had reportedly taken hostage have been freed. Whether they sustained injuries is unclear.
—Follow the developing story below. All updates are in Eastern Standard Time.
---
1:27 p.m.
German news organizations reported that their security sources said the man was a confused person who was acting alone. Those sources dismissed suggestions he had links to a terrorist organization.
Peter Beuth, the minister, said: "The assailant moved through the cinema complex, according to the information we have now, and appeared confused."
He added: "There were hostages inside and there was a struggle [with police] until, in the end, he was dead." (via Deutsche Welle)
---
12:14 p.m.
The gunman was killed after elite forces stormed the cinema complex,  Bernd Hochstaedter, a police spokesman said. All the hostages were freed, he said.
Peter Beuth, the interior minister of Hesse state, was quoted by Deutsche Welle as saying it was unclear if the gunman's weapon was real.
---
11:34 a.m.
The gunman is dead, Peter Beuth, the state interior minister of Hesse, said.
German news reports say the injuries to those inside the Kinopolis movie theater may have come from tear gas used by the gunman.
---
11:08 a.m.
There are conflicting reports about the fate of the gunman: Frankfurter Allgemeine Zeitung tweeted he has been arrested. Reuters reported he had been shot dead.
---
11:04 a.m.
A gunman has opened fire at a movie-theater complex in Viernheim, near Frankfurt, Germany, news reports say.
Frankfurter Allgemeine, the German newspaper, reports the gunman is now holed up inside the theater. It's unclear if he has hostages, the newspaper said. It added that he fired four shots, and there appear to be injuries.