Remembering Pat Summitt, the Winningest College Basketball Coach
The legendary University of Tennessee women's basketball coach dies after battling Alzheimer's disease. She was 64.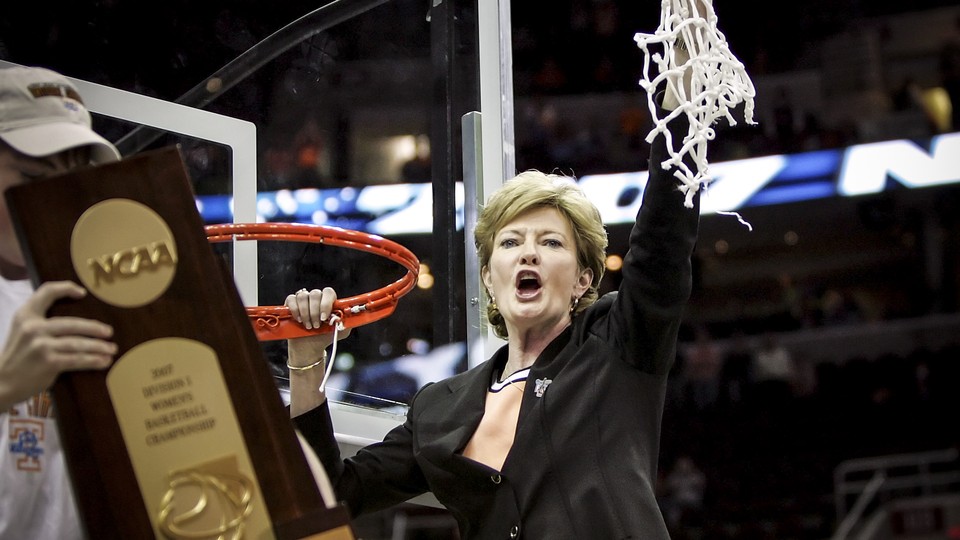 Pat Summitt, the winningest coach in men and women's college basketball, died Tuesday, five years after being diagnosed with early-onset Alzheimer's disease. She was 64.
By the time she ended her career in 2012, she had led the University of Tennessee women's basketball team to 1,098 victories and eight national championships in her 38 years as a head coach. She is one of the most successful coaches of all time in any sport.
"Of all the records, awards, and stats, Pat would point to one number as the most significant in her career – 161," read a statement from the Pat Summitt Foundation. "This is the number of Lady Vols who contributed to the 1,098 wins over the span of her illustrious career. To these 161 student-athletes she was more than a coach—she was a friend, mentor, and a loving mother.
Summitt started coaching the Lady Volunteers as a 22-year-old in 1974. The NCAA wouldn't recognize women's basketball as an officially sanctioned sport for another eight years. In those early years, she washed the players' uniforms, drove the van, and was paid just $250 a month. In the four decades that followed, she would transform women's basketball.
Summitt was a pioneer in the sport and role model for female athletes. She demanded a great deal from her players, and they succeeded in turn. Women who played under her said she used the game to teach them about themselves.
Her career was cut short by the disease that took away her memory and took her off the court she dominated for nearly four decades. In her final days, she was surrounded by close family, friends, and former athletes. When it was clear that her health had significantly declined, there was a widespread outpouring of support, including from her former rivals.
University of Connecticut coach Geno Auriemma, who now holds the record for the most NCAA championship titles for women's basketball with 11, said Summitt raised the bar for women's basketball. "She was the one that everyone tried to emulate," he recently said. "That was the program everyone tried to be."
Indeed, Summitt was a seven-time NCAA coach of the year, and led her team to 22 Final Four appearances and 16 Southeastern Conference Tournament titles. When her team won its third title in a row during the 1997-98 season, the Lady Vols had a perfect 39-0 record.
When Tennessee beat Arkansas on February 7, 2002, she was the first college basketball coach to win 1,000 games. She also had a .840 winning percentage, with just 208 career losses.
The light orange of the Tennessee uniforms was "a shade that our rivals hate, a bold, aggravating color that you can usually find on a roadside crew, or in a correctional institution," she said. When her team played at home—on the court that is now called "The Summitt"—the Volunteers were nearly unbeatable, with a 504-48 overall record.
Known for her piercing gaze during games, she was a tough coach who knew discipline. As one of her former players said in 2013:
"We got beat by Vandy, first time ever. And we got off the bus at 3:30, went straight to her office, watched the game film, everyone had to confess everything they did wrong in the game. She told us we had five minutes to get our uniforms back on that we just played in, and go to practice."
All 161 players that Summitt coached during her time at the University of Tennessee graduated from college. Her former athletes said she cared deeply for them. Summitt once said, "I won 1,098 games, and eight national championships, and coached in four different decades. But what I see are not the numbers. I see their faces."
And she never really left the team. Even in her final years, she held the position of head coach emeritus.
Her impact went beyond Tennessee and the university's basketball program. She was a national role model. When she was awarded the Medal of Freedom in 2012, President Obama noted:
"When I think about my two daughters, who are tall and gifted, and knowing that because of folks like Coach Summitt they're standing up straight and diving after loose balls and feeling confident and strong, then I understand that the impact that these people have had extends beyond me."
After she died, Obama mourned the loss to Rocky Top and the country. "For four decades, she outworked her rivals, made winning an attitude, loved her players like family, and became a role model to millions of Americans, including our two daughters," the president said in a statement.
Before she was a legendary basketball coach, Summitt was a star athlete at the University of Tennessee at Martin and co-captained the first U.S. women's national team for the 1976 Olympic Games in Montreal, winning a silver medal. She would return to the Olympics as a coach in 1984, leading the U.S. women's team to its first gold medal during the Summer Games in Los Angeles.
She played basketball from an early age, even growing up on a dairy and tobacco farm in Clarksville, Tennessee. When she wasn't working the fields as a young girl, she would play with her three older brothers in the loft of her family's barn, using the rafters as makeshift rims. She would often look back on those years. "I can fix a tractor, mow hay, plow a field, chop tobacco, fire a barn, and call the cows," she once said. "But what I'm really known for is winning."
When she stepped down from coaching in 2012, one year after her diagnosis, she became a leading voice in the fight against Alzheimer's disease. She set up the Pat Summitt Foundation, which helped patients and caregivers with services, while also educating and raising money for Alzheimer's research.
Even after she was diagnosed, Summitt continued coaching for another season. She was in the public eye, coaching from the sidelines even when she was fighting the disease. And despite the hardship, she led Tennessee to yet another SEC championship. Duke men's basketball coach Mike Krzyzewski, who is second behind Summitt for most wins by a college basketball coach, said she was courageous that year. But for Summitt, she was doing was she loved.
"It wasn't just a job," she said. "It was my life, my home, and my family, and the players were the second-deepest love of my life."