The First Vessel Through the New Panama Canal
The $5.25 billion expansion that opened Sunday will allow new "mega vessels" to pass through the canal's locks.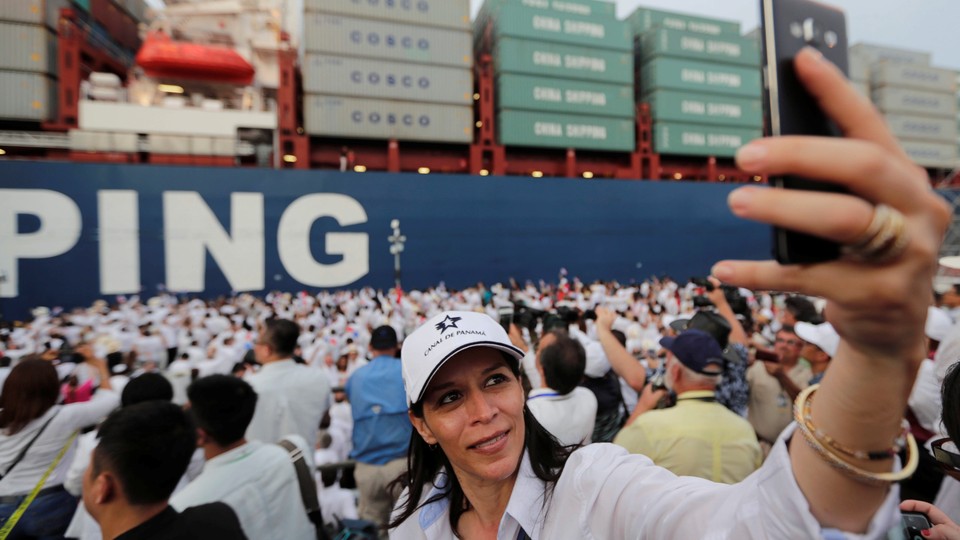 A Chinese ship carrying more than 9,000 containers became the first to travel through the Panama Canal's newly expanded locks, which are meant to double its capacity.
On Sunday, the 158-foot-wide and 984-foot-long ship, owned by Cosco Shipping Panama, was towed by tugboats into the locks. The ship represented a new type of boat, sometimes called mega vessels, that are seen as the future of the international shipping industry. Before the new expansion, a boat of that size could not have fit. More than 30,000 people came to watch the historic moment.
The original canal was completed in 1914. It was built by the U.S., and handed to Panama's control in 1999. Construction on the new expansion began in 2007, and was scheduled for completion in 2014, but delays and labor strikes had prolonged the inauguration date.
It cost $5.25 billion to expand the canal. About 40 ships use it every day and it is the quickest way to move goods by ship around the Americas. But it could face competition soon. A Chinese company has proposed to build a 172-mile canal through Nicaragua, and it would be both deeper and wider than the Panama Canal.