Orlando Nightclub Attack: What We Know
The FBI is seeking the public's help to piece together why Omar Mateen selected the Pulse nightclub as his target.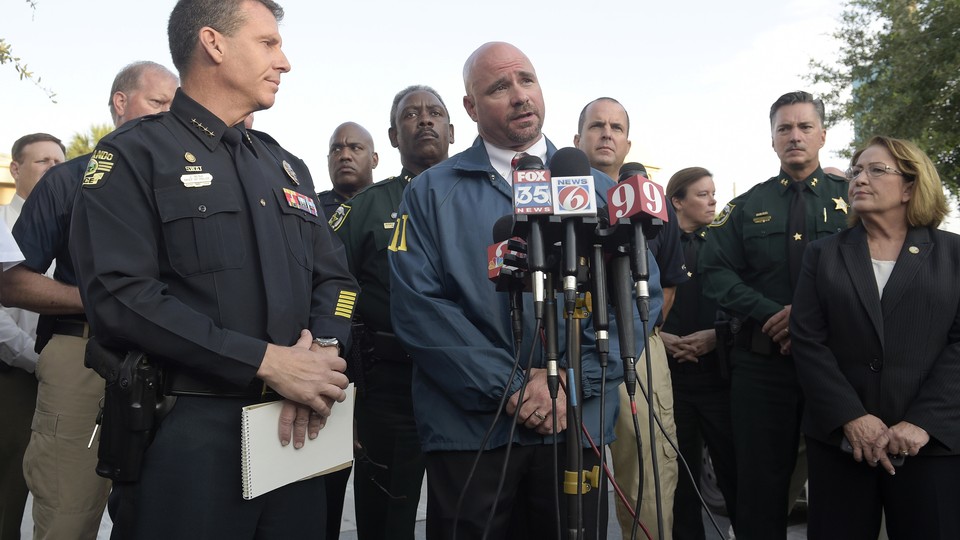 Here's what we know:
—Orlando's mayor says Omar Mateen threatened to strap explosives onto his hostages at the Pulse nightclub. He also said the attacker drove around several locations in the city before killing 49 people at Pulse, a gay nightclub.
—News reports say Mateen's wife might have been aware of the plot to attack Pulse. She told federal agents she tried to talk him out of Sunday's attack. The U.S. attorney declined to say if anyone would be charged in the attack.
—President Obama said at present investigators "do not have any information to indicate that a foreign terrorist group directed the attack in Orlando." But, he added, it's clear Mateen was radicalized over the Internet.
—Follow the developing story below. All updates are in Eastern Standard Time.
---
Updated on June 15 at 3:34 p.m.
Mateen's movements
The FBI sought the public's help Wednesday to construct what led Omar Mateen to select the Pulse nightclub as the target of his attack on Sunday.
''We need your help in developing the most complete picture of what he did and why he did it,'' FBI agent Ron Hopper said at a news conference.
Lee Bentley, the U.S. attorney, declined to comment on whether charges would be brought against anyone in the case, merely saying investigators were talking to several other people in connection with the attack that killed 49 people. On Tuesday, news reports said Mateen's wife, Noor Zahi Salman, helped him scout the Pulse nightclub.
Buddy Dyer, the Orlando mayor, said Mateen drove around several locations in the Orlando area Saturday evening, before he picked Pulse.
"What I know concretely is that he was driving around that evening and visited several locations," Dyer said. He did not elaborate.
And, Dyer said, Mateen had threatened to strap explosives onto the hostages, hastening the decision to send a SWAT team to the location to end the standoff.
---
7:13 p.m. ET
What did Omar Mateen's wife know?
NBC and others are reporting Omar Mateen's wife, Noor Zahi Salman, might have been aware of the plot to attack Pulse. She told federal agents she tried to talk him out of Sunday's attack, NBC reported.
Here's more:
News reports say she is cooperating with investigators.
---
12:50 p.m.
Obama addresses terrorism
The president, speaking at the White House, reiterated some of what we already know about Omar Mateen.
"We currently do not have any information to indicate that a foreign terrorist group directed the attack in Orlando," he said. "It is increasingly clear, however, that the killer took in extremist information and propaganda over the internet. He appears to have been an angry, disturbed, unstable young man who became radicalized."
Obama said lone-wolf actors like Mateen are hard to detect, but "we are doing everything in our power to stop these kinds of attacks.
"We work to succeed 100 percent of the time," Obama said. "The attacker, as we saw in Orlando, only has to succeed once."
Obama also took the opportunity to rail against the proposal by Donald Trump, the presumptive Republican presidential nominee, to temporarily ban Muslim immigration to the U.S.
"The Orlando killer, one of the San Bernardino killers, the Fort Hood killer, they were all U.S. citizens," Obama said. "Are we going to start treating all Muslim Americans differently? Are we going to start subjecting them to special surveillance? Are we going to start discriminating them because of their faith? We've heard these suggestions during the course of this campaign. Do republican officials actually agree with this? Because that's not the america we want."
We'll have a story on Obama's full remarks presently, and will provide a link to it here.
---
Updated on June 14 at 7:03 a.m.
Morning headlines
Here are some of the headlines we're seeing this morning on the attack in Orlando:
Omar Mateen, an 'Americanized Guy,' Shows Threat of Lone Terrorists (The New York Times)
Witness: Omar Mateen drank alone at Pulse before attack (The Orlando Sentinel)
What ISIS Wants (The Atlantic)
Meanwhile, the city Orlando has identified all 49 victims of the shooting at Pulse, a gay nightclub in the city.
---
6:11 p.m.
'America's Bataclan'
French and American media are drawing comparisons between the shooting at the nightclub and the terrorist attack at the Bataclan concert hall in Paris last year, in which 89 people were killed. Like in Paris, the victims of the Orlando massacre were mostly young people in their twenties and thirties, enjoying a night out. Like at the Bataclan, witnesses of the Orlando rampage initially thought the sounds of gunshots were part of the club's music.
"At first it sounded like it was part of the show, because there was an event going on —we were all just having a good time," Andy Moss, who was inside the club, told CNN. "But once people started screaming and shots just kept ringing out, you know that it's not a show any more, and you gotta do what you've gotta do ... My first instinct was to run and get out."
CNN also reported first responders heard the ringing of cellphones when they entered the nightclub after the shooting, the sounds of the relatives and friends of the victims trying to reach them. "That was, of course, the same at Bataclan," French journalist Anne-Elisabeth Moutet told the BBC. "That was one of the shocks that police came across."
---
3 p.m.
Donald Trump sounds off
The presumptive Republican presidential nominee in a speech that's still going on said: "The only reason the killer was in America in the first place is because we allowed his family to come here."
Trump used the occasion to criticize Hillary Clinton, his likely Democratic rival in November, as well as President Obama. He called Clinton's immigration policy "radical" and said he wants one that "promotes American values."
Earlier this morning, Trump appeared to suggest that Obama was somehow involved in the shooting. "He doesn't get it or he gets it better than anybody understands—it's one or the other and either one is unacceptable," he said.
My colleague David Graham is watching Trump's remarks and we'll update this with more from Trump's speech.
---
2:53 p.m.
Remembering the victims
The bodies of the victims were removed from the Pulse nightclub late Sunday night, and authorities spent Monday identifying the dead and notifying their families. Florida Attorney General Pam Bondi told CNN Monday afternoon that interpreters have been brought in to speak to relatives because many speak only Spanish.
The city of Orlando has created a page on its website with a list of the victims' names and their ages. So far, 46 of the 49 victims have been identified. The majority of the victims are men in their twenties and thirties. The youngest was 19, the oldest was 50. Here is the full list:
Edward Sotomayor Jr., 34 years old
Stanley Almodovar III, 23 years old
Luis Omar Ocasio-Capo, 20 years old
Juan Ramon Guerrero, 22 years old
Eric Ivan Ortiz-Rivera, 36 years old
Peter O. Gonzalez-Cruz, 22 years old
Luis S. Vielma, 22 years old
Kimberly Morris, 37 years old
Eddie Jamoldroy Justice, 30 years old
Darryl Roman Burt II, 29 years old
Deonka Deidra Drayton, 32 years old
Alejandro Barrios Martinez, 21 years old
Anthony Luis Laureanodisla, 25 years old
Jean Carlos Mendez Perez, 35 years old
Franky Jimmy Dejesus Velazquez, 50 years old
Amanda Alvear, 25 years old
Martin Benitez Torres, 33 years old
Luis Daniel Wilson-Leon, 37 years old
Mercedez Marisol Flores, 26 years old
Xavier Emmanuel Serrano Rosado, 35 years old
Gilberto Ramon Silva Menendez, 25 years old
Simon Adrian Carrillo Fernandez, 31 years old
Oscar A Aracena-Montero, 26 years old
Enrique L. Rios, Jr., 25 years old
Miguel Angel Honorato, 30 years old
Javier Jorge-Reyes, 40 years old
Joel Rayon Paniagua, 32 years old
Jason Benjamin Josaphat, 19 years old
Cory James Connell, 21 years old
Juan P. Rivera Velazquez, 37 years old
Luis Daniel Conde, 39 years old
Shane Evan Tomlinson, 33 years old
Juan Chevez-Martinez, 25 years old
Jerald Arthur Wright, 31 years old
Leroy Valentin Fernandez, 25 years old
Tevin Eugene Crosby, 25 years old
Jonathan Antonio Camuy Vega, 24 years old
Jean C. Nives Rodriguez, 27 years old
Rodolfo Ayala-Ayala, 33 years old
Brenda Lee Marquez McCool, 49 years old
Yilmary Rodriguez Sulivan, 24 years old
Christopher Andrew Leinonen, 32 years old
Angel L. Candelario-Padro, 28 years old
Frank Hernandez, 27 years old
Paul Terrell Henry, 41 years old
Antonio Davon Brown, 29 years old
Interviews with relatives and friends have provided a glimpse into the lives of some of the victims. WFTV, the ABC affiliate in Orlando, spoke to Robert Guerrero, the cousin of Juan Ramon Guerrero, one of the victims. Robert Guerrero said his cousin came out as gay earlier this year. More from WFTV:
The Tampa Bay Times spoke to Rosalia Ramos, the mother of Stanley Almodovar. Ramos had made her son tomato-and-cheese dip to eat after he returned from Pulse. More:
---
2:16 p.m.
Mateen's father speaks
Seddique Mateen Mir, speaking to reporters at his home in Port St. Lucie, Florida, earlier Monday:
Here are more of his remarks, via The New York Times: "The United States is my home and it has always taken care of me and my family. wish I knew what he was doing. I would have arrested him myself."
---
2:06 p.m. EST
Forty-five of 49 victims identified
The City of Orlando has named all but four of the victims in Sunday's attack. Full list here.
---
1:31 p.m.  
Hillary Clinton gives her first speech since the shooting
The presumptive Democratic presidential nominee described the Orlando shooter as a "lone wolf." The threat of ISIS is "metastasizing," Clinton said. "We saw this in Paris and we saw it in Brussels. We face a twisted ideology and poisoned psychology that inspires the so-called lone wolves, radicalized individuals who may or may not have contact and direction from any formal organization."
Clinton began her remarks by saying "today is not a day for politics," but minutes later she began to list several prescriptions for combating ISIS abroad and gun violence on U.S. soil. Here's an excerpt:
Clinton was referring to the fact that the shooter, Omar Mateen, was placed on an FBI terrorism watch list in 2013 and 2014 when the agency investigated him for potential ties to terrorism. Mateen was not on a watch list at the time of the shooting. The guns Mateen used in the shooting were purchased legally.
---
1:10 p.m.
FBI Director James Comey in a news conference detailed what investigators have learned about Mateen. "There are strong indications of radicalization by this killer and a potential of inspiration by foreign terrorist organizations," Comey said.
Comey purposely did not use Mateen's name throughout his remarks, saying  "part of what motivates sick people to do this kind of thing is some twisted notion of fame or glory, and I don't want to be part of that for the sake of the victims and their families, and so that other twisted minds don't think that this is a path to fame and recognition."
He said investigators are examining Mateen's electronic devices. He said there is no indication so far that Mateen received instruction from abroad or was part of a terrorist network. Mateen was "radicalized, and at least, in some part, through the internet." Investigators are "working to understand what role anti-gay bigotry played in motivating this attack," he said.
"We are looking for needles in a nationwide haystack," Comey said. "But were also called upon to figure out which pieces of hay that someday become needles."
Comey said Mateen first came to the attention of FBI in May 2013, when he worked as a security guard at a local courthouse. Mateen had told his coworkers he was a member of terrorist group Hezbollah, his family had ties to al-Qaeda, and he told coworkers that "he hoped law enforcement would raid his apartment and assault his wife and child so he could martyr himself." The FBI spent 10 months investigating him, which including interviewing him twice, following him, recording his conversations with informants, and surveilling his communications. Mateen said he made those remarks because he felt his coworkers were discriminating against him for being Muslim, and the investigation was dropped.
The FBI looked into him again in July of 2014, when they learned Mateen and the American suicide bomber who died in Syria attended the same mosque in Florida.
Comey also gave more details of the phone calls the shooter made to 911 dispatchers during Sunday's attack. Mateen dialed 911 twice. The dispatcher called him back after that, and then Mateen pledged loyalty to Abu Bakr al-Baghdadi, the leader of ISIS, and expressed solidarity with the bombers of the 2013 Boston Marathon and an American citizen who carried out a suicide bombing in Syria in 2014.
---
11:26 a.m.
President Obama says it appears Omar Mateen was radicalized by extremist propaganda disseminated on the Internet. Here's an excerpt from his remarks at the White House made after he received a security briefing:
The president's remarks also touched on gun control, the Islamic State, and violence against the LGBT community.
---
10:06 a.m.
Omar Mateen's former wife, Sitora Yusufiy, is speaking to reporters about the Orlando gunman, recalling his "instability" and his violence toward her.
Here's what she said about Mateen, via USA Today:
Yusufiy's family extricated her from her marriage when Mateen became violent toward her, she said, and they no longer were in contact.
---
8:48 a.m.
The Orlando Police Department has revised the death toll in Sunday's shooting at Pulse, a gay nightclub in the city, to 49. The 50th body belonged to the shooter, Omar Mateen, the department said.
Forty-eight of the 49 victims have been identified, the department said, and the next of kin of 24 of the victims have been notified. At a news conference Monday, which was tweeted by the department, Chief John Mina described what happened at Pulse early Sunday morning:
---
5:52 a.m.
Good morning. New details are emerging about Omar Mateen, the man who killed 50 people and wounded 53 others at the Pulse nightclub in Orlando.
Here's how The New York Times begins its story:
We are also learning the names of more of the victims at the popular gay nightclub. The City of Orlando says it will update the list as the families of the victims are notified.
Meanwhile, the Islamic State radio called Mateen "one of the soldiers of the caliphate in America." What that means isn't exactly clear: We don't know if Mateen was affiliated with the group or inspired by it.
---
June 12, 10:26 p.m.
We're signing off for the night. Coverage will resume at 6 a.m. Monday morning.
---
10:17 p.m.
Santa Monica Police Chief Jacqueline Seabrooks says earlier reports that a man arrested earlier today in Los Angeles intended to harm the L.A. Pride Festival were inaccurate.
The Los Angeles Times has more:
---
8:14 p.m.
Host James Corden opened tonight's Tony Awards in New York City on a somber note by paying tribute to the Orlando shooting victims.
The New York Daily News reported that the cast of "Hamilton," a popular Revolutionary War musical, won't use muskets in their performance during tonight's ceremonies out of respect for the victims.
---
6:57 p.m. ET
Donald Trump's condolence message also took aim at his likely Democratic opponent Hillary Clinton. In a statement, the Clinton campaign fired back against him and his comments on the shooting.
---
5:42 p.m.
In New York City, two towers will make two different tributes tonight.
New York Governor Andrew Cuomo announced Sunday afternoon that One World Trade Center will "be lit [in] the colors of the pride flag in a tribute to LGBT Americans and the lives that were lost."
At the same time, the Empire State Building announced its upper floors will not be lit at all in memory of the deceased.
---
5:19 p.m.
Presumptive Republican presidential nominee Donald Trump offering his condolences. He also said President Obama "should step down" and his likely Democratic rival Hillary Clinton "should get out of this race for the Presidency" for not calling the attacks "radical Islamic terrorism."
He added:
Trump added that he planned to make a "major speech" on foreign policy on Monday. He did not acknowledge that the victims were members of the LGBT community.
In a subsequent tweet, Trump also seemed to reference his proposed ban on Muslim immigration, which he first suggested last December after the San Bernardino shootings.
In May, Trump said the ban was "just a suggestion." Mateen was born in New York.
---
5:03 p.m.
Democratic presidential contenders Hillary Clinton and Bernie Sanders have both offered their condolences to the victims in Orlando. Clinton's statement focused on terrorism, the LGBT community, and gun control:
Sanders' statement touched on the same themes. He issued it before President Obama and the FBI said they believed the shooting was an act of terror:
---
4:29 p.m.
The city of Orlando is posting the names of victims whose families have been notified on the city website. Only four names have been released so far.
---
3:21 p.m.
FBI Special Agent Ronald Hopper definitively identified the gunman as 29-year-old Omar Mateen at an afternoon press conference. He said Mateen died in an exchange of gunfire at the Pulse nightclub. Mateen, who was born in New York, was an American citizen of whom the bureau had been aware since 2013, Hopper said. He'd been investigated and questioned in 2013 and 2014, but the FBI didn't find enough to merit a continued investigation of Mateen, Hopper said.
Hopper said Mateen had made 911 calls before his death. He declined to elaborate on the content of those calls, but said they had "become federal evidence [and] ...it was general to the Islamic State." News reports had previously said Mateen had in the 911 calls pledged allegiance to ISIS, as the group is also known.
Trevor Velinor, an assistant special agent from the Bureau of Alcohol, Tobacco, Firearms, and Explosives, said Mateen had legally purchased both of the weapons used in the attack in the past few days.
---
3:05 p.m.
The Islamic State has claimed responsibility for the attack, via its Amaq news agency.
To put this in context, we'll turn to Rukmini Callimachi, The New York Times reporter, who has been tweeting about the attacks:
---
3:04 p.m.
The U.K. royal family says it is shocked by the killings. Here's a tweet from its official account:
---
2:59 p.m.
CNN and others are reporting that Omar Mateen, the man named by several news organizations and a U.S. congressman as being responsible for the shooting, worked as a security guard for G4S Secure Solutions. Here's a statement from the firm, via CNN:
---
2:58 p.m.
Here's Canadian Prime Minister Justin Trudeau's reaction:
---
2:16 p.m.
"Today marks the most deadly shooting in American history," President Obama said as he addressed the nation from the White House. He stressed the FBI's investigation was just beginning and he offered no details on the attacker's motives or associations. "Although it is early in the investigation, we know enough to say this is an act of terror and an act of hate," he said.
He added:
While paying tribute to the victims, the president also noted the singular role of gay bars and nightclubs in the LGBT community, describing them as "a place of solidarity and empowerment, where people have come together to raise awareness, to speak their minds, and to advocate for their civil rights."
While Obama did address gun violence in general, he spoke with a sense of resignation about the intractable debate over gun control. "This massacre is … a further reminder of how easy it is for someone to get their hands on a weapon that let's them shoot people in a school, or in a house of worship, or a movie theater, or in a nightclub," he said. "And we have to decide if that's the kind of country we want to be. And to tactically do nothing is a decision as well."
"In the face of hate and violence, we will love one another," Obama said. "We will not give in to fear and turn against each other."
---
1:52 p.m.
Pope Francis condemned "this new manifestation of homicidal folly and senseless hatred" in a statement about the Orlando shootings, Vatican Radio said.
"Pope Francis joins the families of the victims and all of the injured in prayer and in compassion," the Vatican's statement said. "Sharing in their indescribable suffering he entrusts them to the Lord so they may find comfort."
---
1:32 p.m.
The Los Angeles Times is reporting a man with guns and possible explosives was arrested in Santa Monica on Sunday. He reportedly told police he was going to the city's gay-pride rally. Hillary Clinton, the presumptive Democratic presidential nominee, is scheduled to take part in the celebrations in LA. Several cities around the U.S., including Boston and Washington, D.C., held gay-pride celebrations this weekend. Here's a complete list.
---
1:27 p.m.
Sunday's shooting comes during LGBT Pride Month, and law-enforcement agencies in major U.S. cities are stepping up their presence at LGBT sites and events. District of Columbia Mayor Muriel Bowser said D.C. police will bolster their presence this weekend at Capitol Pride, the region's annual LGBT-pride event, during Sunday's festival.
In New York City, the NYPD said it placed its patrol and counter-terrorism units on alert. A New York Daily News reporter tweeted that armed NYPD officers have been placed outside the historic Stonewall Inn.
---
12:24 p.m.
Florida Governor Rick Scott has declared a state of emergency in Orange County, freeing up more state law-enforcement resources to assist in Orlando.
Addressing reporters in Orlando, Scott said the state "would provide all the resources anyone needs" in response to the shooting.
---
12:12 p.m.
President Obama will make a statement about the Orlando shooting at 1:30 p.m. ET, the White House says. Vice President Joe Biden has also canceled his planned appearance at a campaign fundraiser in Florida tonight.
---
11:31 a.m.
OneBlood, a blood-donation organization in Orlando, is asking for donations on its Twitter feed:
But gay men, under current FDA rules, will be unable to donate blood to those in need after the attack.
---
10:26 a.m.
Mayor Buddy Dyer said 50 people have been killed and 53 others taken to local hospitals.
"There's blood everywhere," he said at a news conference, adding the shooter used an assault rifle during the attack. He said he had asked the governor to declare a state of emergency.
Orlando Police Chief John Mina said a handgun and an AR-15-type assault rifle was recovered from the scene. He said an unknown number of rounds were fired.
FBI said the investigation was in its early stages, and the bureau was investigating all angles, including whether it was a hate crime and if it was terrorism.
Imam Muhammad Musri, president of American Islam and the Islamic Society of Central Florida, urged the media not to rush to judgment. "It's our worst nightmare, and we are sorry to know it happened to us," he said.
---
10:19 a.m.
Congressman Alan Grayson, Democrat of Florida, at a news conference identified the shooter as Omar Mateen. He said Mateen was in his late 20s. He said the gunman was a U.S. citizen, but that is "not true of some of his family members." Grayson's congressional district includes part of Orlando.
---
10:01 a.m.
USA Today has more on Pulse, the club where the attack took place, and which labels itself as "not just another gay club." An excerpt:
---
9:42 a.m.
Multiple news organizations, including CBS News and NBC, citing anonymous law-enforcement sources, have identified the suspect as Omar Mateen, 27, of Port St. Lucie, Florida. We have not independently confirmed their reporting.
---
9:27 a.m.
The presumptive Republican and Democratic presidential nominees shared their thoughts:
---
9:24 a.m.
Florida's governor responds to the attack:
---
9:19 a.m.
The White House says President Obama has been briefed on the attack.
---
7:14 a.m.
Multiple people have been killed and at least 42 people are being treated at local hospitals after a gunman opened fire and took hostages at a gay nightclub in Orlando, Florida, early Sunday, police said. The gunman is dead.
At a news conference Sunday, Orlando Police Chief John Mina said "multiple people are dead inside" the Pulse nightclub in downtown Orlando, but he declined to provide an exact number, saying the number was about 20. Forty-two people have been transported to local hospitals, he said. Mayor Buddy Dyer called it a "crime that will have a lasting effect on our community." Orange County Sheriff Jerry Demings, at the same news conference, called it a "domestic terror incident," and an FBI official said there are "suggestions that the individual may have leanings towards (Islamist) ideology," but he added the bureau was pursing other angles as well.
Here's what happened, in Mina's words:
The shooter was found dead inside the club, Mina said. One officer was lightly injured, he said.
The shooter had an assault-type rifle, a handgun, and some type of device on him, he said. Officials at the news conference described the gunman as well-prepared and well-organized. He was not from the area, they said.
Earlier, the Orlando Police tweeted:
Pulse is a popular nightspot that hosts what it calls "Upscale Latin Saturdays" with three DJs and a show a midnight. On its Facebook page, the club warned customers to "get out of pulse and keep running." A subsequent message said:
The shooting comes a little more than a day after a gunman shot and killed Christina Grimmie, the singer, at a concert venue in the city. Officials at the news conference said the two incidents were not connected.