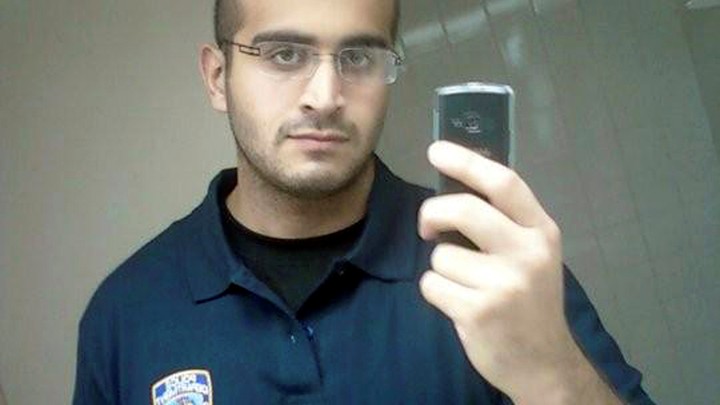 Updated on June 20 at 3:24 p.m. ET
Hours after releasing a partial transcript of the conversations between the police and Orlando shooter Omar Mateen, the FBI and the Justice Department released a full transcript of the conversation, saying the redaction had "caused an unnecessary distraction from the hard work that the FBI and our law enforcement partners have been doing to investigate this heinous crime."
"As much of this information had been previously reported, we have re-issued the complete transcript to include these references in order to provide the highest level of transparency possible under the circumstances," they said in a statement.    
Mateen killed 49 people at Pulse, a gay nightclub in Orlando, Florida, on June 12. The new transcript names Mateen as the shooter, and in it, he says: "My name is I pledge of allegiance to Abu Bakr al-Baghdadi of the Islamic State."
The earlier redacted transcripts, details of which are included below, named neither the shooter nor the group to which he pledged allegiance.
Here's his first call with a police dispatcher:
Soon after that, the shooter spoke three times with the Orlando Police Department's crisis-negotiation team. Here's the transcript:
The FBI's news release then describes a timeline of law-enforcement authorities' actions to rescue those still inside Pulse.
Ron Hopper, the FBI's assistant special agent in charge of the Tampa field office, said the bureau was not going to name the shooter or the militant group because it did not want to aid in terrorist propaganda.
On Sunday, Attorney General Loretta Lynch said on ABC's This Week that the goal of the partial transcript was for "people [to] … see the type of interaction that was had there."
Mateen was killed by police after a three-hour standoff inside the Pulse nightclub. He reportedly pledged allegiance to the Islamic State during the conversations with police, though at this point it appears Mateen was radicalized over the internet and inspired by the group rather than directed by it to stage the attack that has been described as the worst mass shooting in U.S. history.
We want to hear what you think about this article. Submit a letter to the editor or write to letters@theatlantic.com.