Obama in Orlando
The president on Thursday traveled to the scene of the worst mass shooting in modern U.S. history.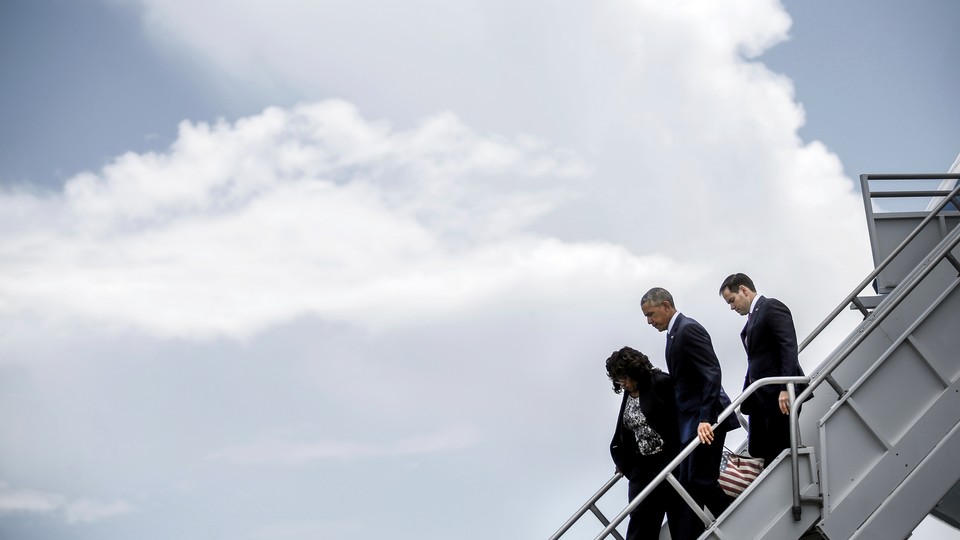 President Obama traveled to Orlando Thursday to meet with families of the victims of this weekend's shooting rampage and reprise his role of national comforter in chief after the deadliest mass shooting in modern U.S. history.
Obama and Vice President Joe Biden met with survivors and families of the victims of Sunday's attack at a gay nightclub in Orlando. They also met with members of law enforcement and the owners and staff of the nightclub, Pulse, who were working when the attack occurred. Obama and Biden visited a makeshift memorial for the shooting near city hall, and laid bouquets of white roses among the candles, pictures, and other tokens in remembrance of the victims.
Obama said Orlando was "shaken by an evil, hateful act," but today, "most of all, there is love," according to White House press pool reports. He said the grieving parents he met "don't care about politics," and repeated his call for Congress to enact stricter gun regulations that would make it harder for people to buy assault-style weapons.
On Sunday, at about 2 a.m., 29-year-old Omar Mateen entered Pulse and opened fire, unleashing round after round of bullets from an assault-style rifle, at the helpless crowds. During the siege, which lasted three hours, Mateen pledged his allegiance to the Islamic State and other terrorists in a phone call to a 911 dispatcher. When it was all over, 49 people were dead and more than 50 were wounded, and Mateen was shot and killed by the Orlando police's SWAT team.
In the days since, the public and politicians have debated multiple aspects of the shooting and its repercussions. Religious extremism, because Mateen said he supported ISIS, Hezbollah, and the Boston Marathon bombers. Muslim immigration, because Mateen, a devout Muslim, was born to Afghan parents in the U.S. Discrimination against LGBT individuals, because he attacked a space they consider a sanctuary, and may have battled with his own sexuality. Discrimination against Latinos, because he attacked on the club's Latin Night. And gun violence, because Orlando now joins the list of U.S. cities, Newtown, Columbine, and Aurora, whose names have become synonymous with the deadly shootings that occurred there.
Obama, as he has done before, refused to use the term "radical Islam" to describe the violence in Orlando, saying that doing so would provide legitimacy to terrorist groups and alienate Muslims in the U.S. and abroad. Obama's critics have pointed to the omission as a sign the president is not committed to or misunderstands the fight against Islamist terrorism. The loudest this week has been Donald Trump, the presumptive Republican presidential nominee, who called on Obama to say the words or resign, and even suggested the president may sympathize with Islamic extremists. Obama on Tuesday gave a fiery speech aimed at these critics, particularly "politicians who tweet and appear on cable-news shows," and called the focus on his choice of language a "distraction."
Most of the Orlando shooting victims were men in their 20s and 30s, enjoying a night out. Survivors have described scenes of chaos and terror from that night as club-goers tried to flee the building, hide in bathroom stalls or under the bodies of their friends and strangers, and play dead as the shooter picked over the carnage.
Federal investigators so far have found no evidence to indicate the attack was organized with help from terrorist organizations abroad, or that Mateen was part of a larger terrorist network in the U.S. Investigators say Mateen was "radicalized," in part, by material he read on the internet. The FBI investigated Mateen for connections to terrorism in 2013, after Mateen told coworkers at a courthouse where he was a security guard that he was involved in terrorist organizations, and in 2014, when agents learned Mateen and an American suicide bomber who died in Syria attended the same mosque in Florida.
Back in Washington, Senate Democrats, led by Chris Murphy of Connecticut, wrapped up 15 hours of speeches early Thursday morning that demanded stricter gun regulation. Murphy told NBC News Thursday he ended the filibuster after Republican Party leaders agreed to allow votes on gun legislation that would prevent people on the government's terror-watch list from purchasing firearms and expand background checks for buyers at gun shows and internet sales.