'O Canada' Goes Gender-Neutral
The Canadian House of Commons tweaked the national anthem toward inclusion Wednesday.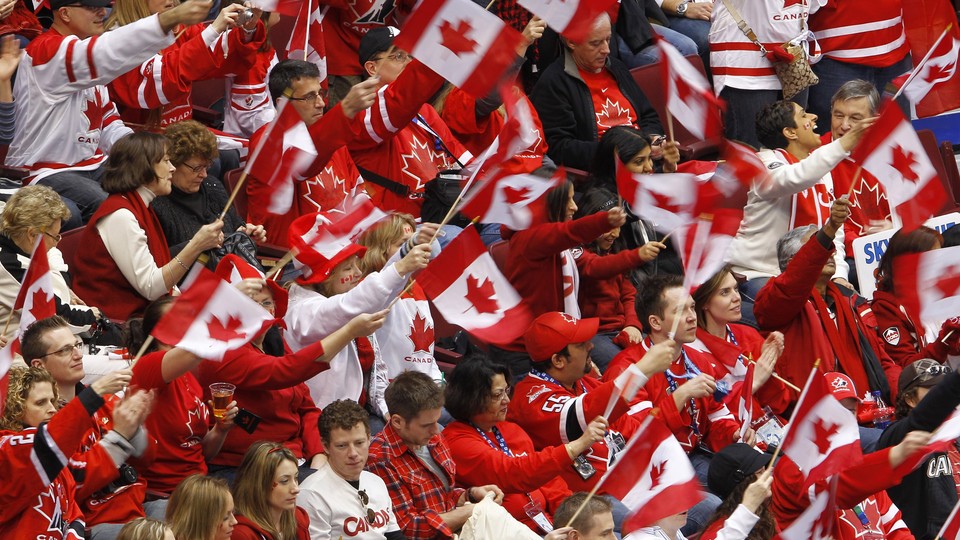 Canada's national anthem no longer excludes half the country's population.
The Canadian House of Commons overwhelmingly passed Bill C-210 by a vote of 225 to 74 on Wednesday, tweaking the third line of "O Canada" to incorporate gender-neutral phrasing.
Quebecois judge Robert Stanley Weir wrote the most famous English version of the anthem's lyrics in 1908, which read:
O Canada

Our home and native land!

True patriot's love in all thy sons command…
The new version replaces the third line with a less gendered phrasing:
O Canada

Our home and native land!

True patriot's love in all of us command…
The French-language version of the anthem, which uses different lyrics than its Anglophonic counterpart, is already gender-neutral.
Canadian Prime Minister Justin Trudeau and his government supported the change, as did members of the left-leaning New Democratic Party. The Guardian has more:
The status of women minister, Patty Hajdu, speaking before the vote, said the change was an important step toward ensuring inclusivity in Canada's cultural symbols.

"I think it's really important as a very strong symbol of our commitment to gender equality in this country," she told reporters.

Some Conservative lawmakers opposed the change, which they said was being made without adequate consultation with Canadians. The former Conservative government suggested changes to the anthem's lyrics in 2010, but backed off after a public outcry.
Final passage of the bill came after an emotionally powerful appearance on Friday by Mauril Belanger, a longtime Liberal member of parliament who drafted the legislation. Belanger was diagnosed with Lou Gehrig's disease last November shortly after his re-election and his condition rapidly deteriorated in recent months.
Parliamentary rules require a bill's author to be present ahead of its final vote, so Belanger made a difficult trek to the chamber to see it completed. Once there, he received a standing ovation from his fellow MPs.
The bill now heads to the Canadian Senate where senators are expected to approve it, according to CBC News.