The NYPD's Corruption Scandal
Two businessmen who allegedly bribed four officers were major campaign fundraisers for Mayor Bill de Blasio.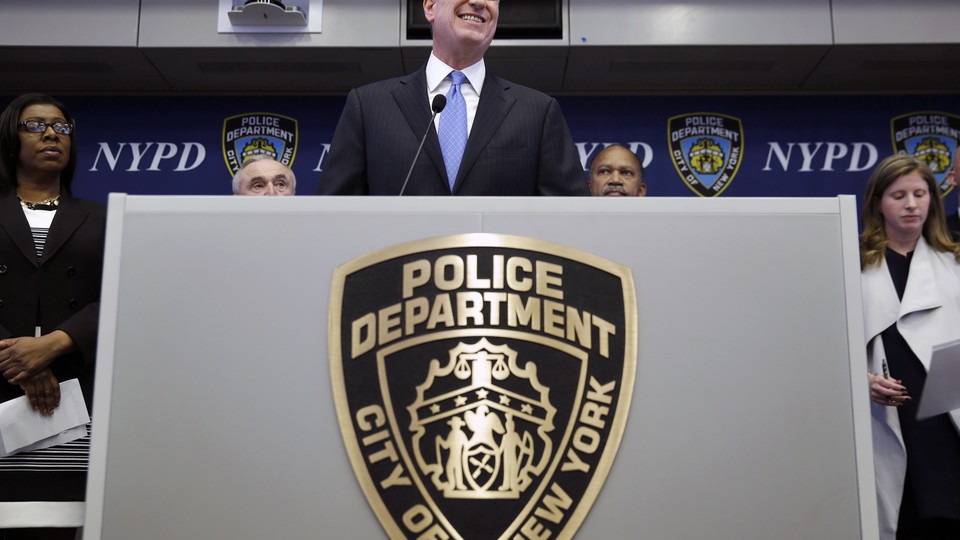 A scandal within the New York Police Department, which led to four arrests Monday, has its roots within an investigation into Mayor Bill de Blasio's fundraising.
The four officers were arrested Monday on corruption charges, including accepting gifts for favors. At the center of this controversy are two businessmen, Jeremiah Reichberg and Jona Rechnitz, who just happen to be major campaign donors for de Blasio.
The two men have for years allegedly tried to increase their political influence in the city and use the police department for their own personal interests, including using officers as chauffeurs or bodyguards. Federal authorities, who are investigating de Blasio's many fundraising efforts, uncovered just how far the two businessmen's reach had gotten throughout the city.
Investigators found that four officers—Deputy Chief Michael Harrington, Deputy Inspector James Grant, Officer Richard Ochetal, and Sergeant David Villanueva—had accepted more than $100,000 in gifts from the two businessmen. The New York Times reported Monday:
The court papers in the case detail lavish gifts the two senior police officials are accused of receiving in exchange for taking official action, including expensive meals and free overseas and domestic trips; and the referral of business to a security company associated with one of the officials. The deputy inspector was also accused of receiving a trip on a private jet to Las Vegas for the Super Bowl weekend in 2013, accompanied by a prostitute. The sergeant was charged in a separate but related scheme that involved aiding applicants for firearms licenses, the papers said.
Reichberg was charged along with the four officers. Rechnitz, the other businessman, recently pleaded guilty to corruption charges for allegedly bribing the head of the union that represents the city's corrections officers as well as a hedge-fund financier, and has started cooperating with investigators.
To be sure, the mayor has not been linked to these latest arrests, but they come amid five ongoing investigations into de Blasio's campaign fundraising. Some relate to Nyclass, an animal-rights group that donated heavily to influence legislation to take horses off New York City streets. The Times has reported on other aspects of the investigations:
Mr. de Blasio, a Democrat elected in 2013, has made no secret of his attempts to raise significant sums to bolster his agenda through that group, the Campaign for One New York, and through an effort in 2014 to wrest control of the State Senate from the Republicans by supporting several Democratic candidates. Donors to the mayor's political endeavors include major unions and real estate developers, and many of them have business before the city.
De Blasio has shut down his group, the Campaign for One New York, and said he has stopped raising money through it. But, de Blasio's fundraising efforts—State Senate Democrats, the Campaign for One New York, and his mayoral election—are tied back to the two businessmen, Rechnitz and Reichberg.
A company run by Rechnitz, JSTD Madison, donated $50,000 to the Campaign for One New York and $102,300 to New York's Democratic Senate campaign committee (the limit for contributions to statewide committees), while Rechnitz himself donated $4,950 to de Blasio's general-election campaign (the limit for individual donors) and collected $41,650 for the campaign as a bundler.
Investigators want to see if the city gave the two businessmen, who were both members of the mayor's inaugural committee, favorable real estate deals. In April de Blasio said: "I know of no favorable municipal action that they got."
In May, the mayor returned $32,200 in contributions from seven "straw donors," whose donations were funneled through a Queens beauty wholesaler to avoid campaign finance limits. Meanwhile, de Blasio continues to face criticism that he has rewarded large donors with political appointments. The mayor maintains that his fundraising, while aggressive, was legal. "I feel fine," he said in April, "because everything we've done was legal."