The Uncelebrated Local War Reporters
David Gilkey, an NPR photographer, and Zabihullah Tamanna, an Afghan translator for the network, were killed Sunday in Afghanistan. Both men are being remembered.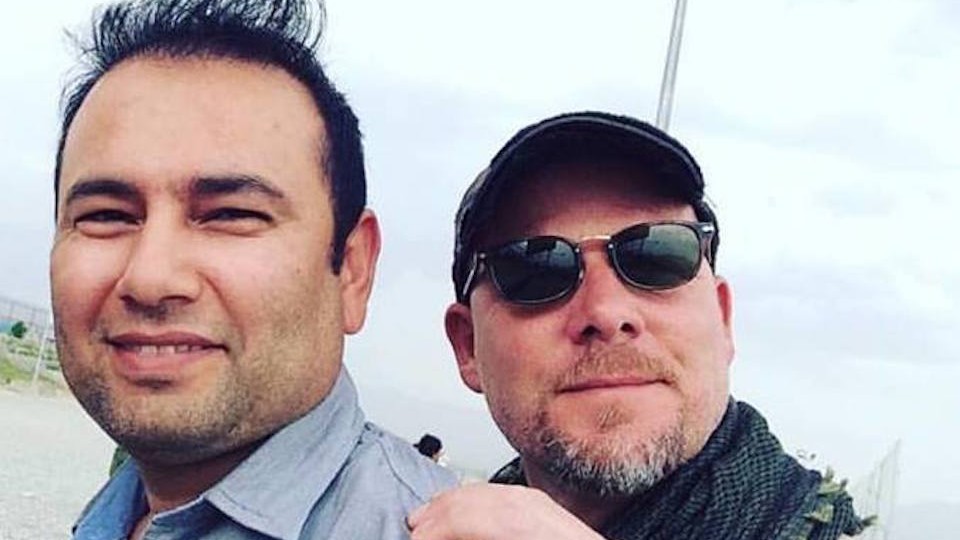 Updated on June 6 at 4:16 p.m. ET
David Gilkey, the NPR photographer, and Zabihullah Tamanna, a translator for the network, were killed Sunday in Afghanistan as the Afghan military convoy with which they were traveling came under fire from the Taliban.
Two other NPR journalists—Tom Bowman, the Pentagon correspondent, and Monica Evstatieva, a producer—were also part of the convoy but were unharmed.
Gilkey was one of the world's most acclaimed photojournalists. (I worked with Gilkey at NPR, but never directly.) He was known for covering challenging stories: conflicts, diseases, and earthquakes, and he was awarded several times over for that work. As NPR's Two-Way blog noted: "His images were haunting—amid the rubble, he found beauty; amid war, he found humanity."
"He was a real sensitive soul," Bowman told NPR on Monday, "and he was a real, complete artist." But Gilkey, in a 2010 documentary, said his work (you can see some of it here) was about more than journalism. "It's not just reporting, it's not just taking pictures," he said, "it's do those products do the visuals, do the stories, do they change somebody's mind enough to take action?"
Michael Oreskes, NPR's senior vice president of news and editorial director, told me Gilkey's goal was "to find visual ways to tell NPR-style stories."
"One of the very important things that is true here is that we are deeply, deeply committed  to international news coverage," Oreskes said. "And David was one of the key people in our international enterprises. We have 17 bureaus, but in a way David was an 18th bureau."
Oreskes saisd NPR had been in touch with Gilkey's parents in Portland, Oregon, adding the network was working to make sure the photographer's work is looked after.
Gilkey is the first Western journalist to be killed in Afghanistan since 2014, when Anja Niedringhaus, a German photographer for the Associated Press, was shot dead by an Afghan police officer who walked up to her car and opened fire. Overall, 24 journalists and a media worker have been killed in Afghanistan since the U.S.-led invasion of the country following the attacks of September 11, 2001, according to data maintained by the Committee to Protect Journalists. (The numbers do not include Gilkey and Tamanna.) The invasion resulted in the ousting of the Taliban and the establishment of a democratically elected government, but 15 years later Afghanistan is still dangerous and the Taliban remain a potent force. In Afghanistan, CPJ notes, three-quarters of those killed since 2001 are international journalists.
That number is an anomaly from the rest of the world, where the overwhelming majority of journalists killed are, like Tamanna, locals. Men and women who, as my colleague Kathy Gilsinan wrote in Columbia Journalism Review in 2013, "did not leave comfortable lives in the West to record someone else's tragedies; they wrote about, filmed, and photographed their own." Indeed, while Tamanna was an interpreter for NPR, he also worked as a reporter and photographer for Anadolu, the state-run Turkish news agency, and was tweeting from the field as recently as two days ago.  Bowman, the NPR correspondent, described the 38-year-old father of three young children as a "real steady guy. A very nice man. Unflappable."
"He would help us more than you can imagine: getting interviews and going places," he said. "Just a very kind, kind man."
Graham Smith, an NPR producer who has covered Afghanistan, Iraq, and other war zones several times for the network, noted in 2009, that Western news organizations rely heavily on men like Tamanna—local translators and journalists who often do much of the work themselves. As Smith pointed out:
NPR reporters don't do all the work you think they do, especially in war zones. The same could be said of reporters for The New York Times, The Washington Post and the TV networks — we rely, and rely heavily, on people called "fixers."

They are locals with good English who drive us around, interpret for us, set up interviews and sometimes even do the interviews. They assume an immense amount of risk in exchange for little recognition, but a decent paycheck.

 

 
Indeed, until 2001, Tamanna was training as a pediatrician, but began working with Western journalists after the U.S.-led invasion. He abandoned his medical studies to continue working as a journalist so he could chronicle what was happening to his country. At night he took "classes for a degree in law and political science," Anadolu reported. The Turkish news agency described him as a regular fixture on its English news team, covering major stories such as the Afghan presidential election, the death of Mullah Omar, the Taliban's founder, and ISIS's rise in Afghanistan.
Oreskes, the NPR executive, said the network regarded Tamanna as a colleague and staff member since he was hired by the network last year. And, he said, the network was in touch with Tamanna's family and would make sure they are looked after.
"If you are one of the fewer and fewer organizations that are truly committed to international coverage, people like Zabi are essential," Oreskes said. "In truth, it's inaccurate to describe him as a translator or just a fixer. He was a quite distinguished journalist. He had a wonderful eye for photography ... and he was a terrific reporter."
Here's more about Tamanna from Anadolu's Kaamil Ahmed, who worked closely with the slain reporter:
He … wrote about efforts to empower women economically, communal solutions to wedding expenses and the long, dangerous journeys young Afghans risked to get to Europe.

Political tensions and two of the worst years of Taliban violence since 2001 meant Zabihullah usually wrote several stories a day. On one unusual day when he had not, he e-mailed: "Nothing special so far. Sometimes no news is good news."