Fraud Charges for a New York City Union Boss
Norman Seabrook, longtime president of the Correction Officers' Benevolent Association, was arrested Wednesday.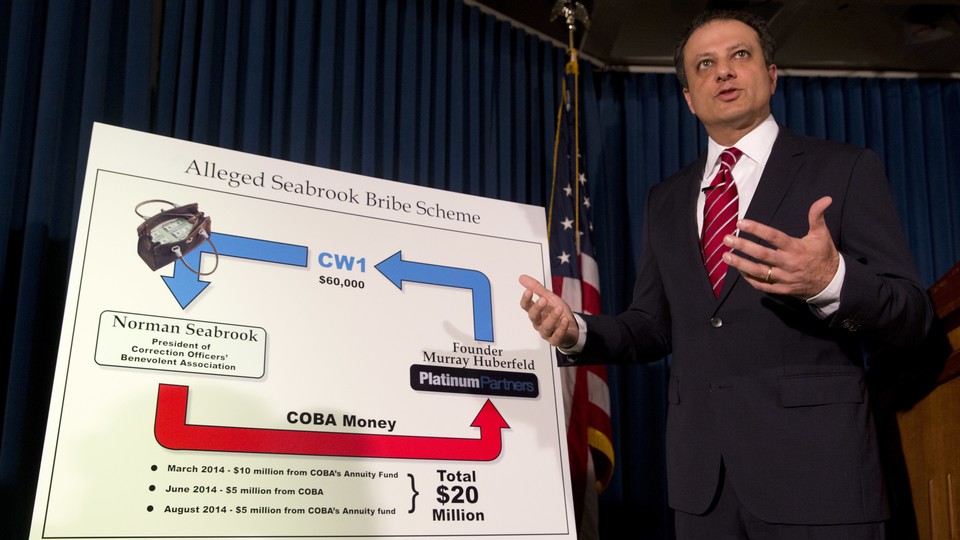 Federal agents arrested Norman Seabrook, the domineering president of New York City's correctional-officers union for more than two decades, on federal fraud charges Wednesday.
In a 17-page criminal complaint, prosecutors allege Seabrook invested $20 million from the New York City Correction Officers' Benevolent Association's pension fund in Platinum Partners, a Manhattan hedge fund run by Murray Huberfeld. As a kickback for the investment, Huberfeld allegedly gave Seabrook a Ferregamo bag containing $60,000 in cash through an intermediary. Huberfeld was also arrested Wednesday.
"Norman Seabrook, as COBA's president for over two decades, allegedly made decisions about how to invest the nest egg for thousands of hard-working public servants, based not on what was good for them, but on what was good for Norman Seabrook," said Preet Bharara, the U.S. Attorney for the Southern District of New York, when announcing the charges at a Wednesday press conference.
During his 21-year tenure as union president, Seabrook wielded tremendous influence in local and state politics. A December 2014 profile by The New York Times described him as a "roadblock to reform" at the troubled Riker's Island jail.
Under his leadership, correction officers, long overlooked among the city's uniformed services, have seen large gains in salary and pension benefits, reaching parity with firefighters and police officers. Like Mr. Seabrook, the overwhelming majority of his members are black. They have risen to dominate the top ranks of the department, making it far more diverse than the Police and Fire Departments, where most of the leadership is white.

But current and former city officials repeatedly described Mr. Seabrook as the biggest obstacle to efforts to curb brutality and malfeasance at Rikers. He has vigorously resisted stiffer penalties for the use of excessive force by guards and has fought stronger screening measures designed to stop correction officers from smuggling weapons and drugs into the jails. Time and again, Mr. Seabrook has shielded his members from serious punishment when investigators like [former city corrections chief investigator Florence] Finkle have tried to go after them.
Bharara's office has earned a national reputation for doggedly pursuing public-corruption investigations in New York. In 2015, two separate investigations brought down New York State Assembly Speaker Sheldon Silver and State Senate Majority Leader Dean Skelos. The Times reported in April that a federal corruption probe was looking at "some aspects" of New York City Mayor Bill de Blasio's campaign fundraising. That probe is linked to Seabrook's prosecution, although officials have not elaborated on its connections.