The Starvation Deaths in a Nigerian Refugee Camp
Doctors Without Borders was allowed into the camp in Bama for the first time and found 1,233 recently dug graves.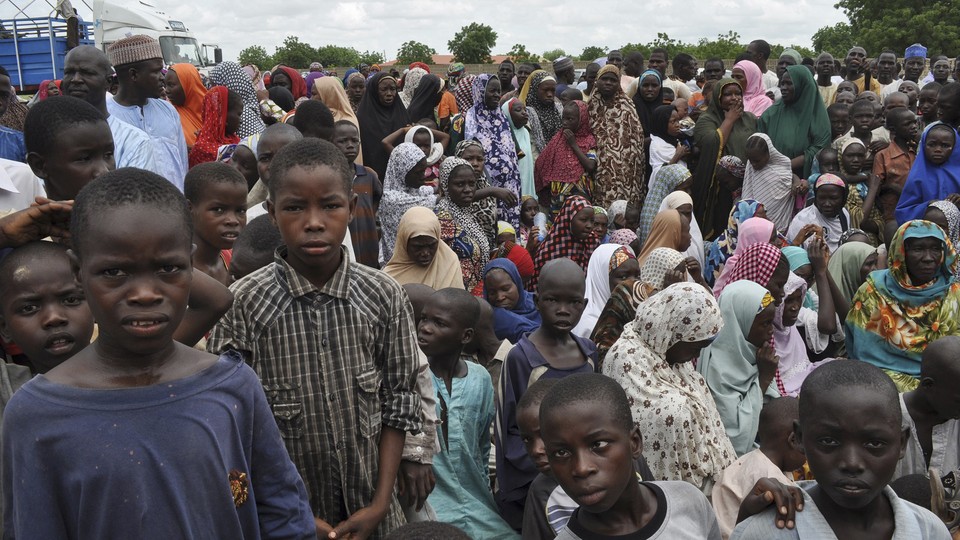 A medical team with Doctors Without Borders (MSF) that entered a Nigerian refugee camp housing those fleeing Boko Haram found 1,200 people had died, many from illness or malnutrition.
The aid group, which released its findings Thursday, said it was the first time its workers were given access to the refugee camp in the northeastern town of Bama.
In a statement, Ghada Hatim, MSF's  head of mission in Nigeria, said:
Bama is largely closed off. We have been told that people there, including children, have starved to death. According to the accounts given to MSF by displaced people in Bama, new graves are appearing on a daily basis. We were told on certain days more than 30 people were dying due to hunger and illness.  
About 24,000 people are sheltered in the camp inside a hospital compound, more than half of them children, MSF said. The team, which was granted access to Bama for several hours on Tuesday, also found 1,233 graves that had been dug in the past year. Of those, 480 belonged to children. Since the end of May, nearly 200 people have died in the camp.
The refugees had fled Boko Haram, which has displaced more than 2 million people in Nigeria, Chad, and Cameroon.