The Arrests of NYPD Officers
The New York Times and others are reporting three senior officers were charged with corruption.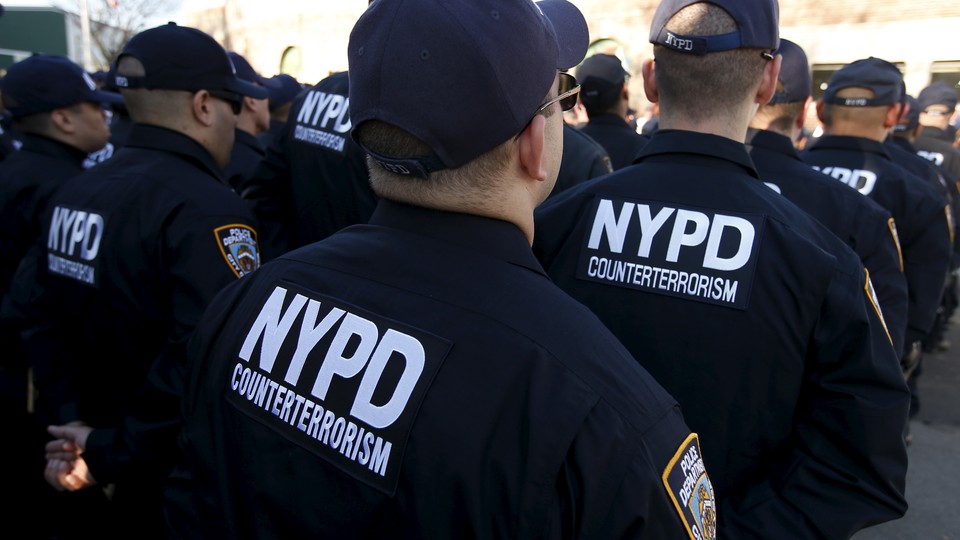 FBI agents and officers from the New York Police Department's Internal Affairs Bureau arrested Monday three senior police commanders on federal corruption charges, The New York Times, CBS 2, and others are reporting.   
Those arrested include Deputy Chief Michael Harrington, Deputy Inspector James Grant, and Sergeant David Villanueva, as well as Jeremiah Reichberg, a Brooklyn businessman, the Times reported. They are expected to appear at the U.S. District Court in Manhattan later Monday. The charges stem from one of the investigations into New York City Mayor Bill de Blasio's campaign fundraising. Here's more from the Times on the charges:
The charges detail lavish gifts the two senior police officials are accused of receiving: complimentary Super Bowl tickets, expensive meals and free overseas trips, including at least one taken in the company of a prostitute, the people said. The sergeant was charged in a scheme that involved aiding applicants for firearms licenses.

The gifts were largely paid for by two businessmen, both of whom have been generous supporters of the mayor. Jeremiah Reichberg, 42, of Borough Park, Brooklyn, was charged along with the officers, the people said. Jona S. Rechnitz, 33, of the Upper West Side, had been a target of the fund-raising investigation until recent weeks, when he pleaded guilty to corruption charges and began cooperating with the federal authorities, the people said.
There has been no attempt to link the charges against the officers with the  investigation into de Blasio's fundraising. And, as the Times reports, the scope of the fundraising investigation remains unclear.