The Cathedral and the Confederacy
The Washington National Cathedral is removing two images of the Confederate battle flag from its windows.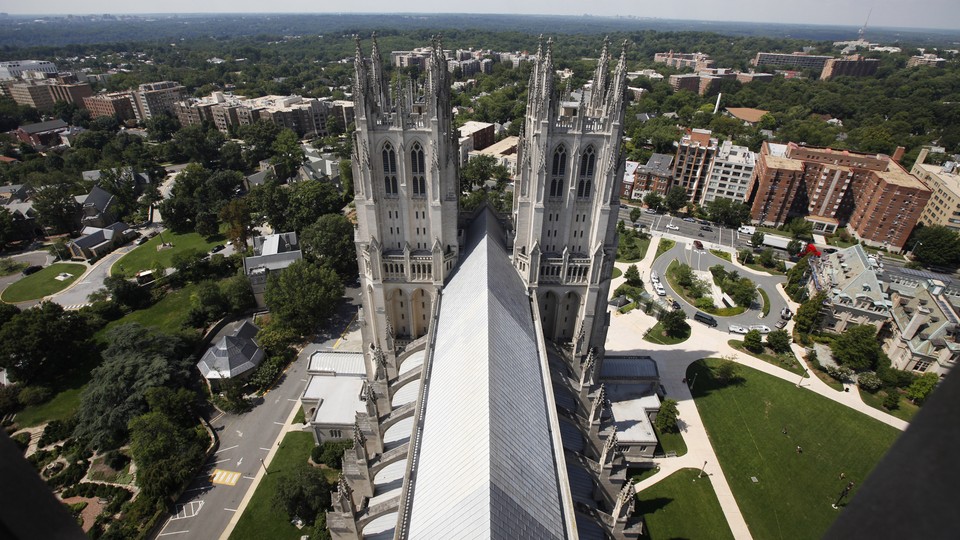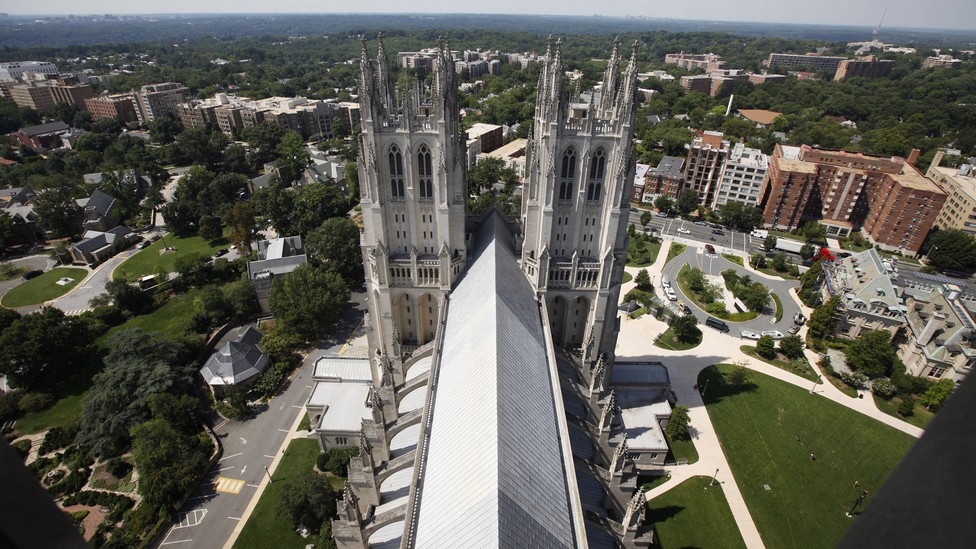 Last June, after a 21-year-old white gunman, entered a church in Charleston, South Carolina, declared he was there "to shoot black people," and killed nine, the image of the Confederate battle flag began disappearing across the country. The shooter had posed with the flag in pictures before the shooting, and his car had Confederate license plates. The massacre catalyzed a bipartisan movement to erase the symbol from public display. The Confederate flag was removed from South Carolina's statehouse, and monuments and memorials honoring Confederate soldiers were taken down. Walmart, Amazon, and other big-name retailers stopped selling any merchandise bearing the symbol. Last month, the Republican-controlled House passed legislation that would ban the flag from some military cemeteries.
This week, the National Cathedral in Washington, D.C., one of the country's most prominent churches, followed suit, voting unanimously to remove the two images of the Confederate battle flag from its windows. The cathedral said in a statement Wednesday the images will be replaced by plain glass, and the removal will be paid for by private donors.
Mariann Edgar Budde, bishop of the Episcopal Diocese of Washington and the interim dean of the cathedral, told The New York Times Thursday she only learned of the images' existence last summer.
"They were brought to our attention after the Charleston massacre last year," she said. "That's when it resurfaced in our consciousness that the Confederate flag was part of our stained-glass artistry."
The glass windows were installed in 1953 to commemorate Confederate Army Generals Thomas "Stonewall" Jackson and Robert E. Lee. The cathedral announced it will hold public forums next month to discuss "issues of racism, slavery, and racial reconciliation as part of the next phase of considering the future of stained-glass windows" that pay tribute to the pair of Confederate leaders.
"Instead of turning away from that question, the Cathedral has decided to lean into it," the Reverend Kelly Brown Douglas, the cathedral's canon theologian, said in this week's statement. "Instead of simply taking the windows down and going on with business as usual, the Cathedral recognizes that, for now, they provide an opportunity for us to begin to write a new narrative on race and racial justice at the Cathedral and perhaps for our nation."