The Tributes to Muhammad Ali
Tributes are pouring in for the boxer who died Friday at at the age of 74.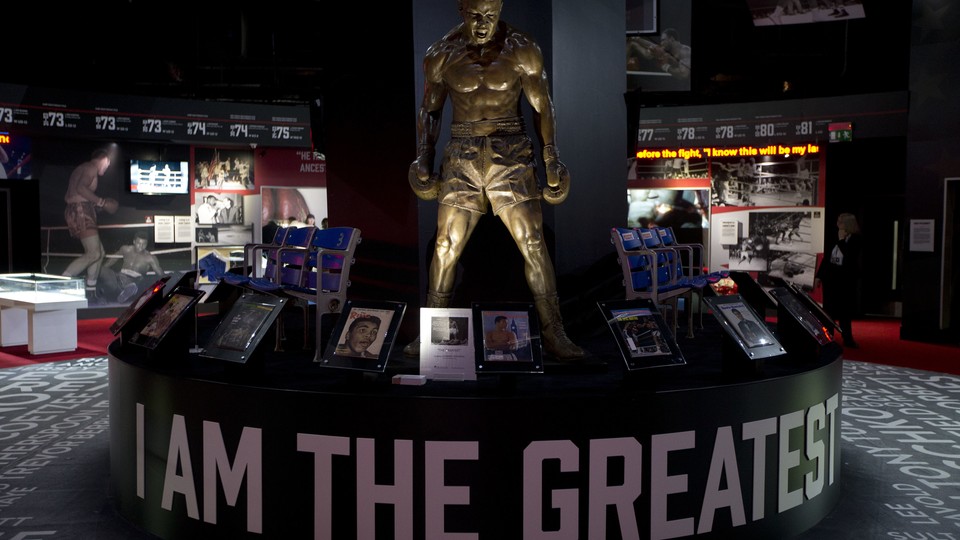 Updated on June 4 at 11:01 a.m. ET
He stood with leaders, was adored by the common man, became arguably the most famous face of the 20th century, and when Muhammad Ali died Friday at age 74, the tributes poured in from as far afield as Louisville, Kentucky, where he was born in 1942 and the Philippines where he fought one of his most stories contests.
"The values of hard work, conviction and compassion that Muhammad Ali developed while growing up in Louisville helped him become a global icon," said Greg Fischer, the Louisville mayor. "As a boxer, he became The Greatest, though his most lasting victories happened outside the ring." Flags in Louisville will fly half-staff to honor Ali.
Ali's influence, as Fischer pointed out, was felt far outside the ring. He was an important voice during the civil rights era and became an icon for the movement against the Vietnam War in which he refused to fight, saying: "Why should they ask me to put on a uniform and go 10,000 miles from home and drop bombs and bullets on Brown people in Vietnam while so-called Negro people in Louisville are treated like dogs and denied simple human rights?"
That stand earned him much disdain at the time, as well as cost him his heavyweight title and, in his words, millions of dollar, but it's a position for which he was ultimately vindicated.
Kareem Abdul-Jabbar, the NBA great, said Ali's willingness to "stand tall and fight for what he believed was right" came during an era where many African Americans who spoke about injustice "were labelled uppity and often arrested under one pretext or another." Ali's stand, he said, "made all Americans, black and white, stand taller."
"I may be 7ft 2in," Abdul-Jabbar wrote on Facebook, "but I never felt taller than when standing in his shadow."
The tributes from the world of boxing reflected the status of the man dubbed The Greatest of All Time.
Floyd Mayweather, the current five-division boxing champion, said on Instagram:
And Mayweather's rival, Manny Pacquiao, the Filipino boxer, said: "We lost a giant today. Boxing benefitted from Muhammad Ali's talents but not nearly as much as mankind benefitted from his humanity."
Mike Tyson, who dominated the sport a decade after Ali, wrote:
And George Foreman, Ali's rival in the Rumble in the Jungle said he, Joe Frazier, and Ali "were 1 guy. A part of me slipped away. The greatest piece."
Don King, the boxing promoter behind some of Ali's biggest fights, including the "Rumble in the Jungle" and the "Thrilla in Manila," told Fox News: "Ali will never die. He was a fighter for the people and to become a champion of the people he demonstrated the type of character he was."
The stars of the NBA, NFL, soccer, and entertainment paid their tributes, as well—as did those from the world of politics. President Obama reiterated what Ali himself knew: that the champ was the greatest. But the president added:
In my private study, just off the Oval Office, I keep a pair of his gloves on display, just under that iconic photograph of him – the young champ, just 22 years old, roaring like a lion over a fallen Sonny Liston.  I was too young when it was taken to understand who he was – still Cassius Clay, already an Olympic Gold Medal winner, yet to set out on a spiritual journey that would lead him to his Muslim faith, exile him at the peak of his power, and set the stage for his return to greatness with a name as familiar to the downtrodden in the slums of Southeast Asia and the villages of Africa as it was to cheering crowds in Madison Square Garden.

"I am America," he once declared. "I am the part you won't recognize. But get used to me – black, confident, cocky; my name, not yours; my religion, not yours; my goals, my own. Get used to me."

That's the Ali I came to know as I came of age – not just as skilled a poet on the mic as he was a fighter in the ring, but a man who fought for what was right.  A man who fought for us.  He stood with King and Mandela; stood up when it was hard; spoke out when others wouldn't.  His fight outside the ring would cost him his title and his public standing.  It would earn him enemies on the left and the right, make him reviled, and nearly send him to jail.  But Ali stood his ground.  And his victory helped us get used to the America we recognize today.
Here's the statement from Donald Trump, the presumptive Republican presidential nominee:
Muhammad Ali is dead at 74! A truly great champion and a wonderful guy. He will be missed by all!

— Donald J. Trump (@realDonaldTrump) June 4, 2016
Former President Clinton in a statement said he and his wife, Hillary Clinton, the Democratic presidential candidate, "are saddened by the passing of Muhammad Ali."
"From the day he claimed the Olympic gold medal in 1960, boxing fans across the world knew they were seeing a blend of beauty and grace, speed and strength that may never be matched again," Clinton said.
Bernie Sanders, Hillary Clinton's rival for the Democratic nomination, called Ali the "greatest, not only an extraordinary athlete but a man of great courage and humanity."
Asked once about how he'd like to be remembered, Ali replied: "I would like to be remembered as a man who won the heavyweight title three times, who was humorous and who treated everyone right. As a man who never looked down on those who looked up to him...who stood up for his beliefs...who tried to unite all humankind through faith and love.
"And if all that's too much, then I guess I'd settle for being remembered only as a great boxer who became a leader and a champion of his people. And I wouldn't even mind if folks forgot how pretty I was."
Muhammad Ali (1942-2016) achieved that and far more. A funeral will be held in Louisville, where the city will hold a memorial service on Saturday.