Remembering Muhammad Ali, the Greatest of All Time
The legendary boxer died Friday at age 74 from a respiratory illness aggravated by Parkinson's disease.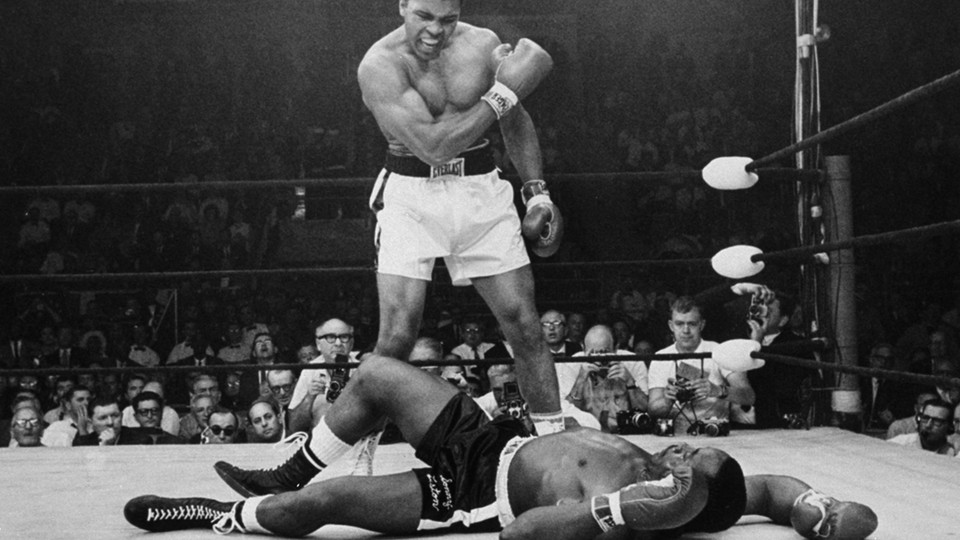 Muhammad Ali, the fleet-footed, trash-talking, butterfly-floating, bee-stinging heavyweight boxing champion of the world, died Friday at a hospital in Arizona. He was 74.
The cause of death was a respiratory illness aggravated by Parkinson's disease, the debilitating affliction from which he suffered in the latter decades of his life.
Provocative, polarizing, and passionate, Ali rose to the upper strata of the boxing world amid the turbulence of the 1960s, claiming the heavyweight title in 1964 in a stunning upset against Sonny Liston. But his conscientious refusal to serve in the Vietnam War led to his criminal conviction on draft-evasion charges and to his title being stripped, transforming him into a social-justice icon and anti-war hero.
Ali returned to boxing in 1970, and the U.S. Supreme Court unanimously reversed his conviction the following year. He reclaimed the title in 1974 against Big George Foreman in the legendary "Rumble in the Jungle" in Zaire and faced Smokin' Joe Frazier in the "Thrilla in Manila" in 1975, two of the most epic bouts in modern boxing. As age and illness steadily took their toll, Ali retired for the final time in 1981.
Adept at both social activism and athleticism, Ali set a precedent for future generations of athletes to wade into the social and political issues of the day. His brash, ebullient outspokenness earned him a global following, eventually making him one of the most universally known figures of the 20th century.
Muhammad Ali was born Cassius Marcellus Clay, Jr., a name he later renounced as his "slave name" after his conversion to Islam, on January 17, 1942, in Louisville, Kentucky. His father, Cassius Clay, Sr., was a commercial painter and musician; his mother, Odessa, was a domestic worker in local white households.
Boxing came to him by chance. While hunting for a beloved stolen bicycle in 1954, the 12-year-old Clay crossed paths with Joe Martin, a black officer in the Louisville Police Department. Clay told Martin he wanted to pummel the thief when he found him.
"You better learn to fight before you start fighting," Martin replied.
Martin filled out the police report, then invited Clay to join him at the Columbia Gym he ran, Louisville's only integrated boxing gym at the time, for lessons on weeknights. Clay agreed, and soon found he had a knack for the sport, to say the least.
Under Martin's tutelage, Clay's frantic punches evolved into bone-jarring jabs and tooth-rattling hooks. He won his first amateur bout later that year against a white boxer, Ronnie O'Keefe, in a split decision broadcast on Kentucky television. Clay eventually racked up six Kentucky Golden Glove titles and two national ones in his amateur career. In 1960, at age 18, he earned a spot on the U.S. team at the Summer Olympics in Rome, where he trounced Zigzy Pietrzykowski of Poland in a 5-0 decision for gold. Clay went professional two months later.
Clay soon carved out his reputation for brash talking and bold showmanship. "Boxing is not as colorful as it was in the past," he told a group of New York boxing writers in 1962. "We need more guys to liven it up and I think I can help." While training for a 10-round fight in Madison Square Garden against Doug Jones in 1963, Clay participated in a poetry-reading competition at a Greenwich Village coffeehouse. He read a personal composition: "Ode to a Champion: Cassius Marcellus Clay, by Cassius Marcellus Clay."
Marcellus vanquished Carthage, Cassius laid Julius Caesar low

And Clay will flatten Doug Jones with a mighty muffled blow

So when the gong rings out and the referee sings out, 'the winner'

And Sonny Liston will fall

Cassius Marcellus Clay will be the noblest Roman of them all
To applause, he declared himself the competition's victor "by unanimous decision." Jones lost the next week—not in the sixth round as Clay had predicted, but by unanimous verdict for the Louisville Lip. In the Garden, the crowd booed. Clay cared little.
"Jones came here as fat as a hen, but he tricked me and lasted to 10," he quipped.
Then came February 1964, perhaps the most stunning month in boxing history. Clay, now near the top of the boxing world with a 17-0 record, faced off against Sonny Liston, the world heavyweight-boxing champion and the most dominant fighter of the age, in Miami Beach. Liston was expected to win with seven-to-one odds. But Clay pounded him relentlessly, damaging his left arm. Liston quit in the seventh round, and Clay, 22 years old, was suddenly the undisputed heavyweight champion.
Two days later, he surprised the world again: Clay announced he had converted to the Muslim faith and joined Elijah Mohammad's Nation of Islam. He changed his name to Cassius X, then to Muhammad Ali a few weeks later. He later left the Nation of Islam and converted to Sunni Islam in the mid-1970s. His faith became a guiding force of his life, and his celebrity status made him perhaps the most prominent Muslim American in the nation's history.
In April 1967, Ali refused to be drafted to fight in the Vietnam War and was charged with draft evasion, resulting in a five-year prison sentence—he remained free pending appeal—and a large fine. The World Boxing Association stripped him of his heavyweight title, and Ali was effectively cast out of the boxing world in his physical prime.
When Ali appealed his case to the U.S. Supreme Court for the final time in 1971, liberal stalwart Justice William Brennan convinced his colleagues to hear the case. Justice Thurgood Marshall recused himself because he had been solicitor general when Ali was prosecuted. That left eight justices, who on a first vote sided with the Justice Department in a 5-3 decision.
Ali claimed he qualified for conscientious-objector status because he opposed the war as a black Muslim. The Justice Department challenged that status, citing his statements that he would fight the Vietcong in a "holy war" if they fought Muslims. The justices began drafting their opinions when one of Justice John Marshall Harlan II's clerks convinced him to take home Elijah Muhammad's Message to the Blackman in America. Harlan returned to the Court the next day and, convinced of Ali's sincerity after reading the text, switched sides.
Harlan's move raised the prospect of a 4-4 split, which would preserve Ali's conviction and send him to jail without explaining why. The justices instead chose to resolve it on narrow technical grounds and unanimously vacated the conviction.
Ali had already returned to boxing in 1970, winning two fights before facing off against Big Joe Frazier, who had claimed the heavyweight title in Ali's forced absence. During the "Fight of the Century," as it became known, Ali employed for the first time what would be known as the "rope-a-dope" tactic—absorbing an opponent's blows on the edge of the ring before launching a vicious counterattack. But it was not enough. Frazier kept his title by unanimous verdict, and Ali's undefeated record ended.
Ali kept fighting in preparation to reclaim the title, culminating in the "Rumble in the Jungle" in 1974 against George Foreman, a bruising boxer who had toppled Frazier two years earlier. The fight was held in Zaire, now known as the Democratic Republic of the Congo, under the auspices of dictator Mobute Sese Seko. This time the rope-a-dope worked, and Ali endured Foreman's blows long enough to land a jarring right hook and knocking him to the ground, reclaiming the title.
As the 1970s wore on, so did Ali. He defeated Frazier in their third and final fight in the "Thrilla in Manila" in 1975, but only did so after a brutal 15-round slugfest that Ali later compared to dying. He reclaimed the one last time title in 1978, defeating Leon Spinks, but felt the pressures of age and injury catch up with him. In 1981, with hands starting to tremble, he fought his final match. Three years later, doctors diagnosed him with Parkinson's disease.
Ali stayed in the public eye for the most of the three decades after his diagnosis, championing humanitarian and civil-rights causes and earning numerous accolades, including a Presidential Medal of Freedom in 2005. Acknowledging his status as America's greatest living athlete—indeed, the Greatest—he represented the United States when lighting the Olympic Flame at the 1996 Summer Olympics opening ceremonies in Atlanta.
Ali, stoic despite the trembling induced by his illness, held the torch aloft before a deeply moved stadium crowd and international audience. It was a transcendental moment in sports—powerful, emotional, and unforgettable. Just like him.