Another Prison Term for Egypt's Former Leader
Mohammed Morsi, who was deposed in 2013, received a life sentence Saturday.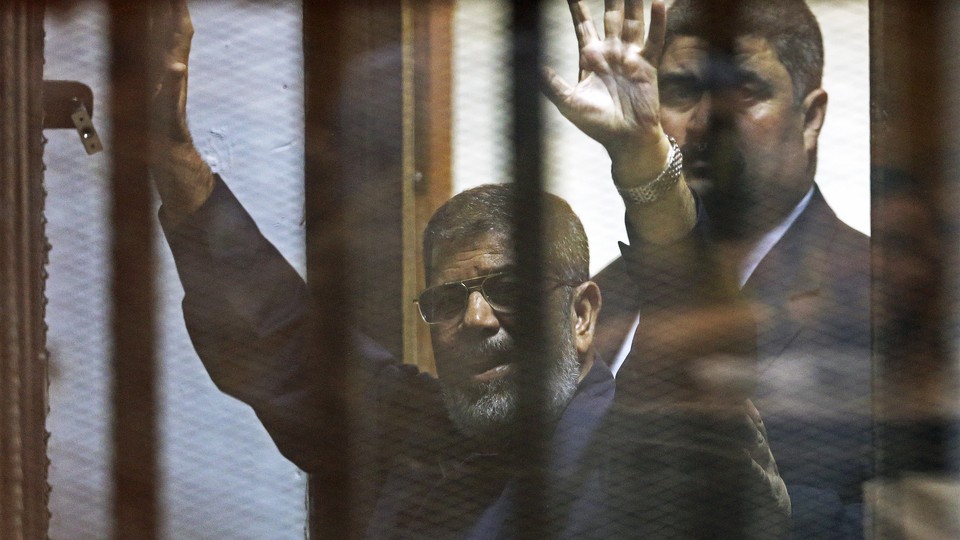 An Egyptian court sentenced former Egyptian President Mohammed Morsi to life imprisonment Saturday for allegedly passing state secrets to Qatar, a regional rival.
Two of Morsi's aides also received 25-year sentences. Six defendants in the trial received death sentences, including two al-Jazeera journalists tried in absentia. (Al-Jazeera is owned by the Qatari government.)
Voice of America has more:
The court on Saturday also sentenced to death six of Morsi's co-defendants, including two al-Jazeera employees and another reporter. Two other defendants who had worked in Morsi's office were sentenced to life in prison.

All of Saturday's sentences can be appealed. Seven of the 11 defendants, including Morsi, remain in custody.

The two al-Jazeera employees were identified by the judge as news producer Alaa Omar Mohammed and news editor Ibrahim Mohammed Hilal and the third reporter sentenced to death was identified as Asmaa al-Khateib, who worked for Rasd, a media network widely suspected of links to Morsi's Muslim Brotherhood.
Morsi was previously sentenced to 20 years in prison after a 2015 trial on charges of inciting violence and allegedly torturing protesters in 2012. Amnesty International described those proceedings as a "travesty of justice." He also received a death sentence last year for allegedly inciting mass jailbreaks during the 2011 uprising that ousted longtime President Hosni Mubarak.
A longtime member of the Muslim Brotherhood imprisoned under Mubarak, Morsi became Egypt's first democratically elected leader in 2012. One year later, a coup led by Abdel Fattah al-Sisi, then a senior army general and now president, deposed him amid large-scale street protests against Morsi's rule in the summer of 2013.
Under al-Sisi, Egypt has struggled with a sluggish economy, an ISIS-linked insurgency in the Sinai Peninsula, and widespread human-rights abuses. A 2015 report by Human Rights Watch condemned the government's use of unfair trials and mass imprisonment to suppress political opponents.