The Murder Charges in the Kalamazoo Bicycling Crash
The county prosecutor charged the 50-year-old man who struck nine bicyclists Tuesday, killing five of them, with five counts of second-degree murder.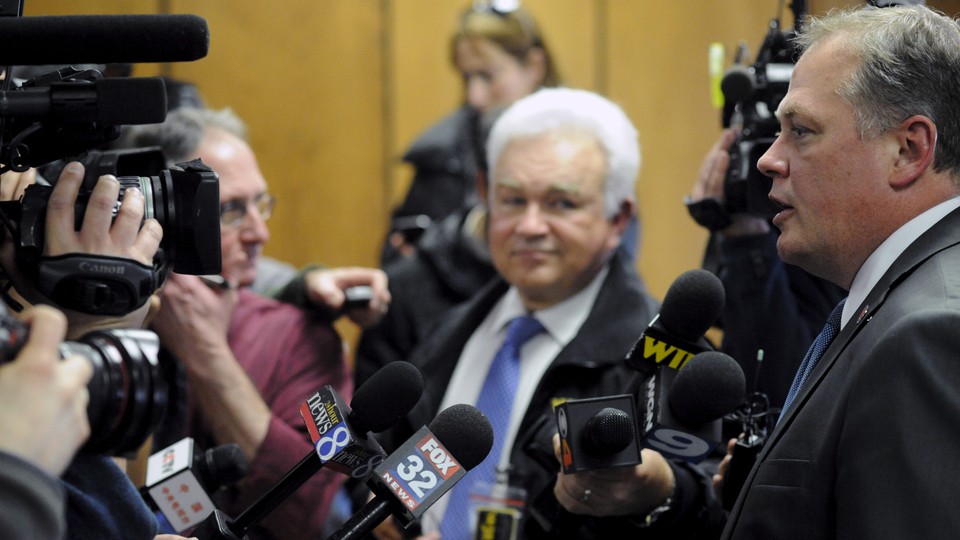 Updated on June 9 at 4:23 p.m. ET
A 50-year-old man who struck nine bicyclists Tuesday, killing five of them, was charged Thursday by the Kalamazoo County prosecutor with five counts of second-degree murder.
Charles Pickett Jr. faces five counts of second-degree murder for the bicyclists that died in the crash, and four counts of reckless driving causing serious impairment for the bicyclists injured in the crash. He could face up to life in prison if convicted of murder. The reckless driving counts are punishable by up to five years in prison.

 
Also identified were the five people killed and four who were injured. Those killed are Debra Ann Bradley, 53, Melissa Ann Fevig-Hughes, 42; Fred Anton "Tony" Nelson, 73; Lorenz John "Larry" Paulik, 74; and Suzanne Joan Sippel, 56. The injured are: Paul Douglas Gobble, 47; Sheila Diane Jeske, 53; Jennifer Lynn Johnson, 40; and Paul Lewis Runnels, 65.
---
Our original post:
Five cyclists are dead and four others injured after they were struck Tuesday evening by a pickup truck north of Kalamazoo, Michigan, and a local bicycling advocate called it "one of the worst" crashes involving bicycles and motorists in the county.
Here's what happened Tuesday in Cooper Township, according to MichiganLive.com:
The bicyclists were struck by a blue Chevrolet pickup truck just after 6:30 p.m. in the 5500 block of North Westnedge Avenue, near Markin Glen County Park, in a hit-and-run crash.

The driver was found a short distance away by police officers and is in custody, Kalamazoo County Prosecutor Jeff Getting said at an 11 p.m. press conference at Kalamazoo Township Hall. The driver is a 50-year-old man from West Michigan, Getting said.
WOODTV reports the Kalamazoo County Sheriff's Office is leading the investigation into the crash while Michigan State Police are handling crash reconstruction.
The group of nine adult bicyclists were riding in an organized group together at the time they were struck. Getting, the Kalamazoo County prosecutor, said police had received calls about the blue pickup prior to the crash, but declined to elaborate. 
"I think this is one of the worst, if not the worst, bicycling-motorist accidents in the county," Paul Selden, director of road safety with the Kalamazoo Bicycle Club, told MichiganLive.com.
Of the four people injured in the crash, two are being treated at the Bronson Methodist Hospital; two others—one of them in critical condition and other in fair condition—are being treated at Borgess Medical Center.
In 2014, 4,884 pedestrians and 726 bicyclists were killed in crashes with motor vehicles (National Highway Traffic Safety Administration).

— Brian Sterling (@BriSterling) June 8, 2016