Pharma Bro Pleads Not Guilty
Martin Shkreli, the former pharmaceutical CEO, pleaded not guilty to a new charge of conspiracy on Monday.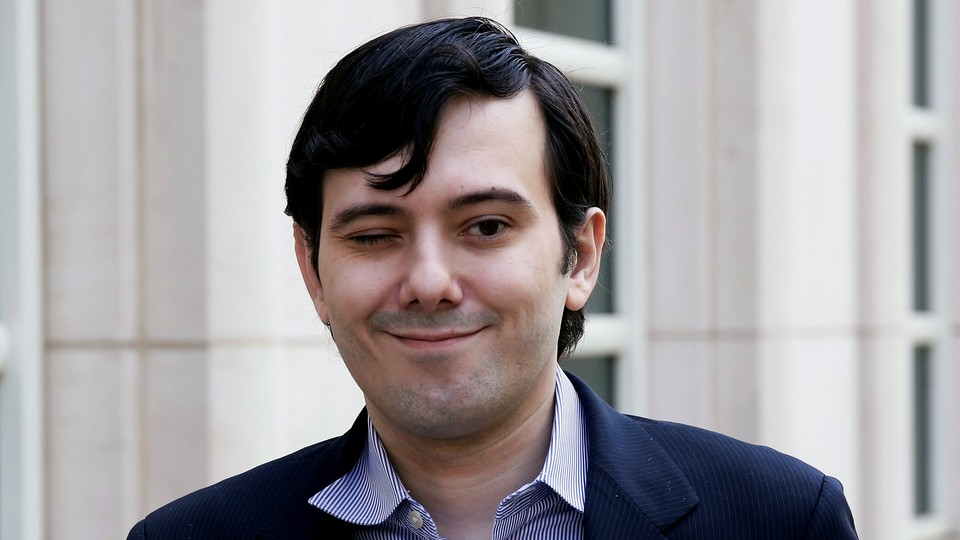 Martin Shkreli, the former drug company CEO and hedge fund operator colloquially known as "Pharma Bro," pleaded not guilty Monday to a conspiracy charge, Reuters reported.
Both Shkreli and his lawyer were arrested last December and charged with scheming to steal money from Retrophin Inc., the pharmaceutical company Shkreli ran, and plotting to defraud investors. Investigators said he planned to use the stolen money to cover up losses in one of the hedge funds he operated, and that he misled potential investors by hiding his ownership of the company's stock. Shkreli, 33, has pleaded not guilty to seven criminal counts of securities fraud and conspiracy since last year.
Shkreli's rise to public contempt, criminal charges, and a reputation as "Pharma Bro" has been well-documented, as my colleague, Adam Chandler, recounted shortly after Shkreli's arrest at the end of 2015:
In September, Shkreli raised the price of a life-saving drug from $13.50 to $750 and spent $2 million to buy the only copy of a Wu-Tang Clan album. Writing inThe Atlantic in September, James Hamblin called him "the face of unapologetic profiteering from the suffering of humans."

Shkreli was arrested on Thursday on securities-fraud charges. Earlier this week, Daisy Hernández wrote in The Atlantic that Shkreli had a new gambit that would raise the price of a drug used to a treat Chagas, a disease mostly affecting Latin American immigrants. "Chagas is a disease of the poor," said an adviser for Doctors Without Borders, "so it's not a disease where people have access if prices are high."
Schkreli is being tried in a federal district court in eastern New York. None of the criminal charges are connected to Shrekli's medication price hike, but he has said in interviews he believes that is why investigators looked into him. A trial date has not been set.