Maria Sharapova's Two-Year Suspension
The Russian tennis star tested positively for performance-enhancing drugs in March. She says she will appeal the ITF's ban.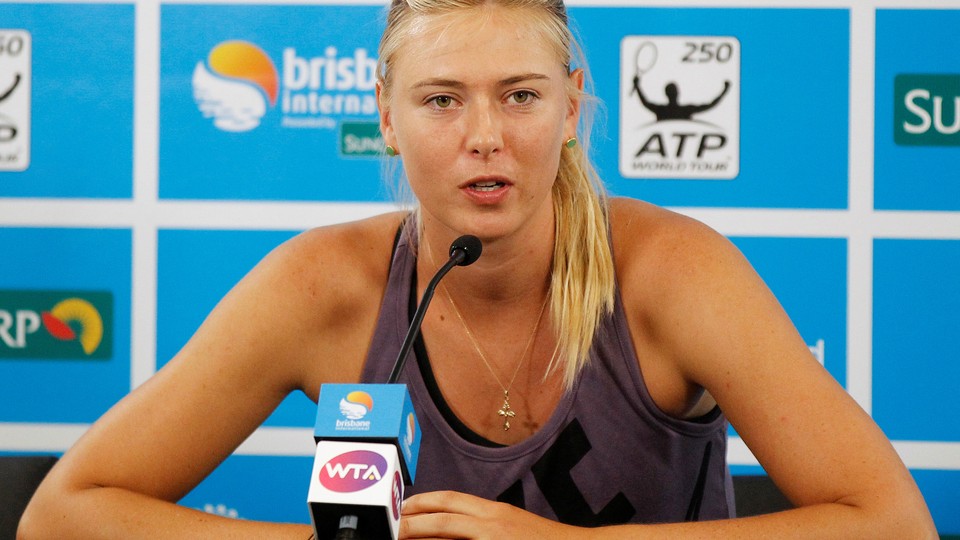 The International Tennis Federation has banned five-time Grand Slam champion Maria Sharapova for two years for doping violations.
Sharapova failed a drug test in March for the 2016 Australian Open. At the time, she admitted to testing positive for meldonium, a banned performance-enhancing  substance. In its decision, the ITF said:
The Independent Tribunal determined that (1) Ms. Sharapova should serve a period of ineligibility of two years; (2) due to her prompt admission of her violation, that period of ineligibility should be back-dated under Article 10.10.3(b) of the Programme to commence from 26 January 2016 (the date of sample collection) and so should end at midnight on 25 January 2018; and (3) her results at the 2016 Australian Open should be disqualified, with resulting forfeiture of the ranking points and prize money that she won at that event.
In a statement on Wednesday, Sharapova said she would appeal the suspension to the Court of Arbitration for Sport, arguing she did not purposely seek a performance-enhancing substance from her doctor. She continues:
While the tribunal concluded correctly that I did not intentionally violate the anti-doping rules, I cannot accept an unfairly harsh two-year suspension. The tribunal, whose members were selected by the ITF, agreed that I did not do anything intentionally wrong, yet they seek to keep me from playing tennis for two years.
Sharapova is an Olympic silver medalist, competing for Russia at the 2012 Summer Games in London. She has been been a top-ranked tennis player five times by the Women's Tennis Association.